Aveeno Skin Relief Moisturizing Lotion for Sensitive Skin, 12 fl. oz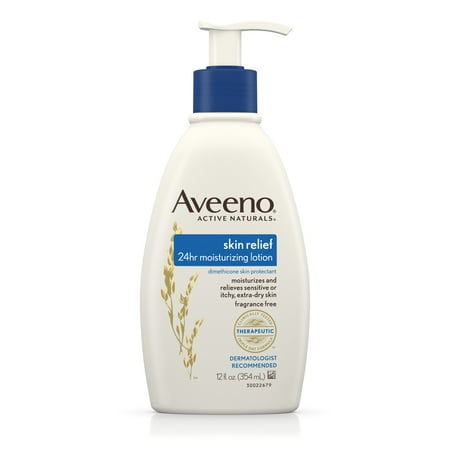 MSRP :

$8.89





Sale :

$5.47

Sold & shipped by Walmart
Product Description

Additional Information

Reviews
Product Description
When you need relief from dry, itching skin, you need Aveeno Skin Relief Moisturizing Lotion. This lotion features a patented triple oat formula with shea butter extract to provide fast relief. Get softer skin with Aveeno Daily Moisturizing Lotion when used every day. This 12 oz bottle of Aveeno Body Lotion provides moisturizing action for up to 24 hours and is gentle enough on your skin to use on a regular basis. It is fragrance free and dermatologist recommended for even the most sensitive skin or people with allergies. You will notice a difference quickly. This Aveeno Skin Relief Moisturizing Lotion helps protect your skin from dehydration and offers a rich formula that feels soothing when you apply and yet absorbs quickly so there is no greasy feeling left behind.
Additional Information
12-fl. oz of Aveeno Skin Relief Moisturizing Lotion to hydrate and soothe sensitive, dry skin
Unscented lotion starts working immediately to moisturize sensitive or extra-dry, itchy skin
Natural shea butter & dimethicone skin protectant work to help restore skin's essential moisture
Specially formulated with soothing Triple Oat Complex containing oat flour, oat oil & extract
Clinically proven to moisturize for a full 24 hours for long-lasting, all-day hydration
Our therapeutic lotion is fragrance-free, steroid-free and gentle enough for use on sensitive skin
Shea moisture lotion is rich, yet fast-absorbing & leaves skin feeling softer & looking healthier
Effective dry skin lotion from the dermatologist-recommended skincare brand for over 65 years
Reviews
NorTexGal
Best Moisturizer I've Found
I just want to rave about what this product has done for my face. Not many people think to use a body lotion on their face, but I cannot stress enough how much this has helped the dryness, acne-scarring, and redness - not just on my body. It's the most sensitive, gentle, yet effective product I've had the honor of trying. I'm already dry-skinned and easily dehydrated as it is, and the moisture-wicking North Texas weather does me no good, so this isn't too heavy for my face as some would think. This product keeps me moisturized well into the next day until I take a shower and apply it again. I put it on my face in the morning and my make-up looks great over it. Then I put it on before bed like a night cream and wake up with smooth, healthy looking dewy skin. I used to break out really bad and I hated the redness in my cheeks, but the oat complex and dimethicone in this moisturizer have significantly soothed my skin. Aveeno got it right with this product, because it's working. I love it.
Happyfeet
My cracked heels and feet.have never felt better.
This is the best lotion I have ever used. I have always had problems with with cracked callus heels. I have tried many different lotion to no avail. They have gotten so bad that they bleed. I have sometimes been embarrassed in front of my own family. I could not walk barefoot across carpet or rugs without my feet catching on them. I have used every kind of foot/heel product known to man. I started doing water aerobics 3 times a week. My skin was becoming dry from being in the pool. I bought this lotion and started to use it after swimming and my feet have been cured. No more cracked sore feet. I ran out and have been traveling so I have not had a chance to get more. It is now 2 AM and I have been awake for the last 3 hours because my feet and legs itch really bad. I finally got up, found my empty tube. I actually cut it open and put a small amount on my legs and feet. They no longer itch and I'm going to be able to go back to sleep. Thank you, Thank you ,Thank You.
llbanks6
Wonderful lotion!
I started using Aveeno Skin Relief lotion when I was working as a floor nurse in Greenville, NC. I was washing my hands on the average of every fifteen minutes for 12 hours a day and my hands were so dry they were cracked and splitting. At night, I was greasing them with petroleum jelly and wearing socks over my hands to cover them, but just two weeks of using this ~~Wonderful Lotion~~~ Aveeno Skin Relief made my poor worn out hands feel 200% better. I would use it immediately after each wash. In fact, in the beginning, I would pump it a few times into the soap in my hand before I washed, then wash and rinse and then use it (by itself, this time) after each wash as well... and the healing began! I never had a problem with stinging and it didn't feel greasy... just healthy. I don't know what I would have done without Aveeno Skin Relief last winter. I bought four bottles last fall in preparation of the cold weather, and I recommended to all my fellow nurses as a miracle! Thank you, Aveeno for saving my hands! :)
Jayy
Quite Moisturizing!
This is a great, moisturizing lotion. I even cut open the bottle to get out the last bit. I just wish it was a little cheaper for the amount you pay. One bottle lasted me about two months.
lowquat
DRY SKIN
IF YOU HAVE EVER SUFFERED FROM DRY SKIN, HAVE NO FEAR!!!! AVEENO IS HERE! THIS IS , BY FAR, THE ONE & ONLY LOTION THAT ACTUALLY WORKS! THANKS BARB