Tena Serenity Ultimate Overnight Pads 30 Ct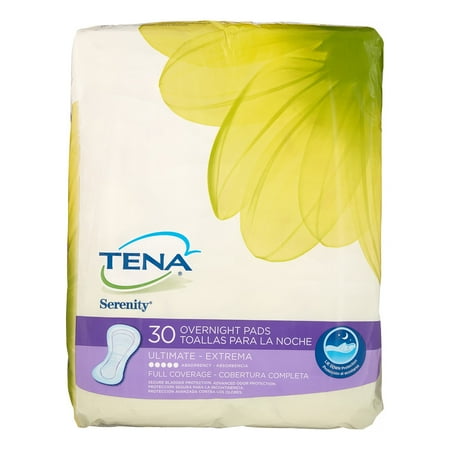 MSRP :

$26.377





Sale :

$13.86

Sold & shipped by Homeline Medical Inc
Product Description

Additional Information

Reviews
Product Description
Secure bladder protection. Advanced odor protection. Discover the proven personal care system of protection for the Unexpected Leak. Specially designed to be wider in the back for protection while lying down. Targeted absorption area for faster fluid intake where it's needed most. Advanced odor protection--pH balanced to fight odors. Dry Fast Dual Core technology with super-absorbent micro beads. Top core wicks fluid away from skin to keep you feeling dry and fresh.
Additional Information
Tena Serenity Ultimate Overnight Pads 30 Ct
Reviews
Gatorbaby2000
GREAT PROTECTION FROM LEAKAGE
THIS IS THE BEST PRODUCT I HAVE EVER CAME ACROSS AS FAR AS IN PROTECTION FOR US LADIES. THIS KEEPS THOSE HEAVY MONTHLY TIMES IN CHECK DURING THE DAY OR NIGHT. IT COMFORTABLE FIT IS AMAZING AND IT GIVES YOU THE COMFORT OF KNOWING THAT YOUR PROCTED FROM ANY LEAKAGE WITHOUT OTHERS BEING ABLE TO TELL YOU HAVE SUCK A SUPER PAD ON. I PERSONALLY USE THEM AND I HIGHLY RECOMMEND IT TO ANYONE WITH A BLADDER CONDITION OR A EXTREEMLY HEAVY BLEEDING PROBLEM. TO GET ME FROM USING THIS PRODUCT, MY TEENAGER USES THIS ALSO. THEY WOULD HAVE TO CREATE SOMETHING BETTER AND I CAN'T SEE HOW THAT IS POSSIBLE. BUY IT, TRY IT, I PROMISE YOU WILL NEVER USE ANOTHER PAD OTHER THAN THIS ONE AGAIN.
okieeddy
Tena Overnight pads vs Tena Serenity Ultimate Pads
3 TENA Serenity Ultimate Pads Regular Length Pads 36ct per package are the best pads that I have found for incontinence and I have tried most all Walmart has that are the heavier pads over the past few years. The first time I saw one of the Overnight pads is when I noticed the difference: Overnight pads are extremely LARGE (in width, but about the same length) BUT they are THINNER than the Serenity Ultimate. It seems to me that they have simply taken the SAME AMOUNT OF STUFFING and mashed it thinner and made it somewhat longer and wider.... BUT it doesn't begin to compare to the Serenity Ultimate. What I wish that the pads producers would do is SHORTEN the length of the Serenity Ultimate REGULAR-LENGTH pads about 2 inches.. Apparently they don't know what REGULAR length should be, but to me it will always be what size the KOTEX pads always were since the 1950s on...about 8 or 9 inches in length. I feel that the Serenity Ultimate Regular Length are still about one and a half inches too long. BUT, after I have found them I will continue to purchase them because of the great job that they do. My advice: Try the Tena Serenity Ultimate Regular Length pads and YOU'LL LIKE THEM.
Smiley4756
Surprisingly FANTASTIC!
As a 56 yr old woman needing that extra protection from the heavy accidental nightly urinary slips (due to medical probs & meds) this is the ONLY product I've found complete 100% satisfaction & trust in - (whew!# After trying one brand & that brand's many styles one after another, I felt so defeated #waking up wet, soaked sheets & all) until I tried Tena Serenity Ultimate Overnight pads. Oh, plus what a Great price!!! Three packages at once at such an affordable price. Thank you Thank you Thank you
Whiteviffer
Caregivers request
My father's caregivers requested that I purchase these for him for the following reasons: - Highly absorbent - Good shape for a man (I think they would work equally well for a woman) - Stick to the disposable underwear without slipping They use these several times a day and continue to request them over any other brand or size. They are definitely professionally approved.
twintalk
Mom is extremely happy
My mom is going to be 82 soon and has a severe bladder control problem. She had been using 2 pads inside the brief type pads and still having problems, especially with leaking. When she tried these she found that 1 (added to the brief) worked better than the 2 she used before. She said the extra cost is worth it because she uses less. I am sooo glad she is happy because as everyone knows 'when Mama ain't happy ain't nobody happy'!