Mosco: Maximum Strength Corn Remover Pads, 8 ct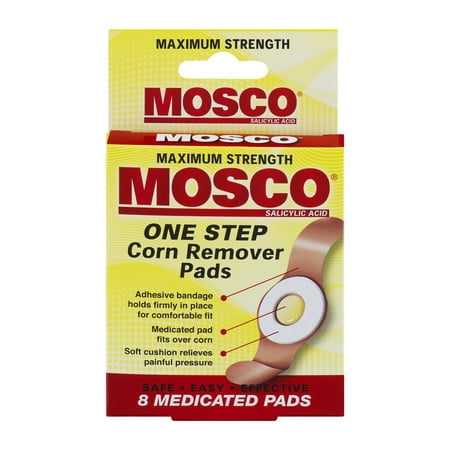 MSRP :

$7.03





Sale :

$2.94

Sold & shipped by Walmart
Product Description

Additional Information

Reviews
Product Description
Additional Information
Mosco® One Step Corn Remover Pads - 8 CT:
Maximum Strength MoscoOne Step Corn Remover Pads helps remove corns with added comfort.
The adhesive bandage with its soft medicated cushion stays firmly in place while protecting the corn from additional friction
Reviews
Robinsons
corn removal
OK it does work but you have to do a little more then just use the pads if you have bad corns first you must wash your feet with soap in water give them a good scrub then wash it off then soak your feet in apple cider vinegar with the mother in it for maybe 30 minute rinse dry feet then use a corn cutter to shave off the dead hard skin on your corns if it hurts stop whip off with a alcohol then wipe away with warm water the dry your feet then add corn remover in try to do this every day until corn is removed after it has gone away use real Shea butter with nothing added to it on your toes until original color of your skin comes back. That's how i removed my nasty really bad hard corns off my feet.So if your want remove corns it really takes hard work in time and money. Need a new camera so I can not show pics of my feet but soon as a go in get a new camera I will show pics of my feet.Thank you
Dean
Side of toe soft corn solution works!
I used this Mosco brand for the same soft corn issue in between the 4th and 5th toe on the side. It's more than a blster and blster pads do not work and made it worse. I bought these again because they worked a couple of years ago very well. Being a repeat buyer speaks for itself.
LG505c
Hallelujah -- Mosco works!
Dr. Scholl's didn't help me, but Mosco did the trick! I had a large, raised, quarter-sized stone-hard corn over a plantars wart on my foot beneath the little toe. Ugh. It became extremely painful to walk -- like a nail in my foot. I went through several packs of Dr. Scholl's, to little avail. Then I tried Mosco, based on positive reviews online and the fact that Mosco was on the shelves at the local Walmart. After just four treatments over eight days, the corn is GONE and so is the pain! I still have a tiny pain point from the wart (which is no longer visible) that I will continue to treat but walking is painless, thank Heavens. The Mosco adhesive strip is quite strong, however, some medical tape ensures that it stays put through showering etc. during the 48-hour application period. I would remove the pad in the morning and soak my poor foot for 10-15 minutes in hot water. Then, I used the scissors part of a small Swiss Army knife to scrape off the dead skin. Then, with a pair of tweezers, I could literally lift off sizable pieces of the former corn, now soft skin. I scraped and tweezed away as much as possible while doing no damage to healthy skin. Finally, a pumice stone helped smoooth out some edges, then it was time to apply a fresh Mosco pad. Just four treatments with Mosco, and the vast majority of the problem is solved, YAY! :) I'll continue treating that tiny wart-related pain point with a Mosco pad, or try turmeric with olive oil on a Band-Aid -- there are many reports online of turmeric (available on the Walmart spice shelf) being an effective treatment for a stubborn plantars wart.
rudyard
Hallelujah -- Mosco works!
Easy to apply. Stays in place. Medication pad works over time. Treatment successful.
elwash
Mosco corn remover
I had a corn on the side of foot, I have tried Dr Scholls, even went to a foot doctor, no luck with either, corn survived both. I read the reviews on this product, and said what the heck, may as well give it a try for $3. I used the pads for 3 treatments 48 hrs each, and the pain is gone from the corn. There is still dead skin there where I will pumice, and use body crème to keep it moisturized. Give this a try if you have a stubborn corn, and go pain free while walking. Thanks Walmart, and Mosco.