Compound W Wart Remover One Step Pads Maximum Strength - 14 CT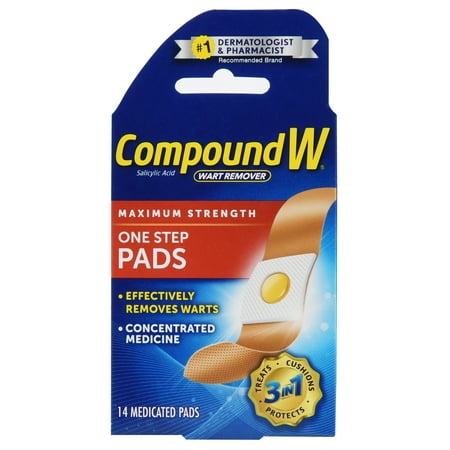 MSRP :

$7.9





Sale :

$6.96

Sold & shipped by Walmart
Product Description

Additional Information

Reviews
Product Description
Compound W Wart Remover One-Step Pads, 14-Count, are an effective skincare solution. They feature salicylic acid to dry out and remove disfigurements. These Compound W one-step pads are easy to apply and start working right away. They're waterproof to keep from coming off in the rain or shower. This product is recommended by pharmacists and dermatologists as safe and effective.
Additional Information
Compound W Wart Remover One Step Pads 14-Count:Conceal, protect and remove stubborn common warts with maximum-strength medicationPart of the Salicylic Acid Wart Removal LineUnique, waterproof, self adhesive padsExtra cushioning for greater comfortMaximum-strength medication14 wart removal pads per package
Reviews
LovesCheapShipping
Good but read reviews first
Palmer Wart: Was glad I read reviews about white spot appearing after bandage removal and glad you can post photos of results - I had 4 total. Guess they only allow 2 photos max. The first one is before and the 2nd photo is after i took 2nd bandage off on day 4 (I left each bandage on 48 hours) . The questions I have are: 1) how long will the white spot be present before it goes away? I applied ointment and Gold Bond lotion. I thought at first I had a type of dermatitis called Dyshidrotic eczema but when I showed this to my endocrinologist, I was rold it was a wart. I was pretty shocked but my nurse told me about the Compound W bandage. My other question is: 2) how do you know if in fact the wart is gone? Some reviews say the wart falls off (sounds gross) but i have never in my life had a wart until now so may just look it up or contact a dermatologist Bandage works well for the most part and fact that it's waterproof was a big factor for me as I wash my hands on a regular basis. Would definitely say go for it on this product!
ForDaughtersRoom
Pleasantly surprised!
I've been dealing with a wart, almost the size of a pea, on the side of my index finger for several years now. Had it removed, it came back. I read somewhere that wearing a band aid or taping it helped kill the virus and during my internet search I came across these. Why not, I had tried everything else, including Compound W gel which didn't work for me. I think mine was too large and dense. For me it took 10 days and the wart is actually gone. I keep worrying it will come back but so far so good, wart free for 5 days and that's a record for me. NOTE: 1) as stated in other reviews they're not waterproof. 2). The stickiness of the bandaid does not allow for error so be accurate with positioning the first time around or you'll waste one. 3). Each time I removed the bandaid a layer came off, again, mine was pretty big and thick. 4). When I removed the last one within a day the white coloring went away and the wart was gone! I hope you get the same results because I am thrilled!!
deen17
Something that FINALLY worked
I had a fairly large, ladybug-sized wart on my thumb. After using Dr. Scholl's freeze off twice, I saw nothing happen to my wart at all. I finally used these bandages and after applying the first one, my wart had turned completely white looking under the bandage. I followed directions by keeping the bandage on for two days and then replacing it immediately, until the wart was gone. After removing my second bandage after four days, the wart had stuck to the medicated patch of the bandage and came off with it! The only thing left behind is the skin outline of the wart but the entire central part had fallen off. It took some dedication to leave the bandage on for two days (getting it wet makes it really want to come off) but following the directions made it effective. One less star only because it isn't completely waterproof but more waterproof than your average band-aid.
Mommaofthreeangels
Help without the burn.
Help without burn. My child has several plantars warts and the liquid burns when the wart starts to come off. These pads are great. They don't burn. They stick well. They are very convenient. Just wish they cost a little bit less...
Courtney
Worked eventually
I had a few warts on my foot that other OTC removers didn't do anything too. After using a lot of these honestly almost two full boxes all of my warts were gone. They were planters warts so they are tough to get rid of. Even though it took quite a few of these band-aids nothing else was working AT ALL.