Coleman Deet-Free Skin Smart Insect Repellent, 6 oz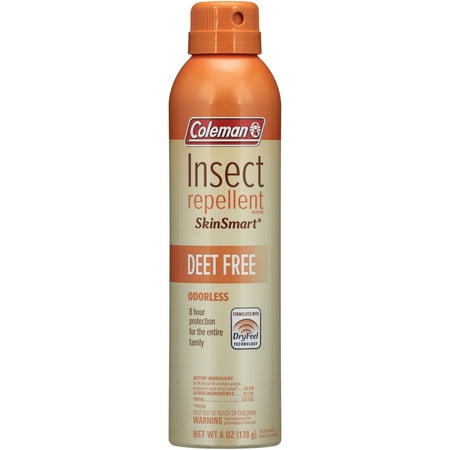 MSRP :

$9





Sale :

$7.66

Sold & shipped by GearBargain.com
Product Description

Additional Information

Reviews
Product Description
• Complete protection against mosquitoes and ticks for up to 8 hours • Odorless, fast drying formula with dry-feel technology for non-greasy coverage • Family friendly • Aluminum can with twist locking cap is lightweight, rust resistant, and sprays at any angle • 6.0 Ounce Can
Additional Information
Coleman DEET-Free Skin Smart Insect Repellent, 6 oz:
Protects for up to 8 hours
Safe for infants and children
Effective against mosquitoes and ticks
Coleman Skin Smart Insect Repellent, 6 oz, comes in an aerosol spray
Odorless
Dries quickly
Reviews
CaseyMom
Best Deet Free Mosquito Spray!
I'm one of those people that mosquitoes LOVE and have been having a hard time finding a spray that doesn't contain Deet, doesn't have that 'insect repellant' smell and actually works. Until I found this spray. It has a soft spray that is dry before you can blink. When I first spray it on, I do smell a very light 'alcohol' smell,. But it's gone immediately. You aren't left with 'that smell' that tells everyone within a 10 yard radius that you used a bug repellant today. lol But the best thing I can say about this spray, is that it WORKS! I can actually go out in my backyard now. I can walk around doing work, or just sit and enjoy being outside without fear of being attacked by mosquitoes! LOVE IT!!
sbville
Odor free and effective
This is THE BEST mosquito repellent out there. DEET-free and odorless, it keeps mosquitoes away so long as you spray it everywhere on your person. I have been outside in high mosquito populations after spraying this on my skin, and have mosquitoes find me through my clothes (where I had not sprayed) but stay completely off of my skin. If you spray it on your clothes you will be invincible. The other night I watched a confused mosquito hovering around me to find me...she likely smelled the CO2 from my breath and knew a mammal was in front of her, but she simply could not figure out where to land. I trust this stuff implicitly. I am docking it one star because it is very irritating when you first spray it on. If you inhale, you will cough. I just take a deep breath before spraying, and don't breathe in again until I'm away from the spray site. So it takes a bit of effort to not cough, but it's totally worth it.
howelllocal
Good product
My family used this last year and experienced very good results. We were able to purchase this in a drug store last year, but had to buy it online this year. The best part of this product is it is deet-free. Each application seems to last several hours, unless you get wet, then you have to dry off and re-apply. If applying sunscreen also, let the Coleman dry for 10 minutes or so before doing so.
2Shooter
The Best Insect Spray
This stuff works great, and does not break my wife's sensitive skin out!!!! Insect repellent with deet make my skin turn red and burn and this stuff doesn't!!! Great Product that keeps away ticks, chiggers, and mosquitoes!!!
SophieButtons
This Works
This goes on dry and was effective at keeping mosquitoes away. I would but this again.