alli Diet Weight Loss Supplement Pills, Orlistat 60mg Capsules, 120 Ct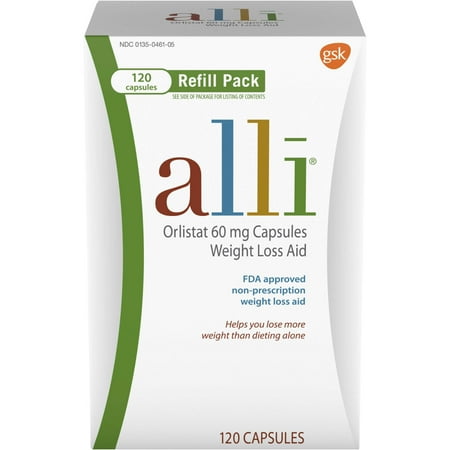 MSRP :

$60.83





Sale :

$59.89

Sold & shipped by Walmart
Product Description

Additional Information

Reviews
Product Description
You've already made the decision to lose some weight by committing to a healthy lifestyle, but kickstarting your weight loss program can be a real obstacle. Luckily, help is here: for safe, effective weight loss, choose alli® (orlistat capsules, 60 mg), the only FDA-approved over-the-counter weight-loss aid. alli® works by preventing about 25% of the fat you eat from getting absorbed, so for every 2 pounds you lose through diet and exercise, alli® can help you lose one more. The active ingredient in alli® is orlistat, the most throughly-studied weight loss drug in the world. Since its introduction in 1997, orlistat has been the subject of more than 100 clinical studies. And in the real world, orlistat has been used by more than 50 million people. Make a commitment to your yourself, and to your health lifestyle with alli®.
Additional Information
alli is an FDA approved weight loss supplement that helps block about 25 percent of the fat you eat from being absorbed
Acts as an effective weight loss product and diet pill for both women and men
For every 5 pounds you lose through diet and exercise, alli can help you lose 2 to 3 more
alli weight loss supplement works in the digestive tract and is minimally absorbed into the bloodstream, so there are no direct effects on the cardiovascular or central nervous system
alli capsules are a weight loss pill for overweight adults, 18 years and older, when used along with a reduced calorie and low fat diet
Reviews
lynda86
alli truely work!!!!
i love alli i went from 150lbs down to 128lb in 4 months. it really does work.
Brownbee123
Not like before...
I took Alli a couple years ago and it worked great. It disciplined me when I ate fatty meals. I am addicted to food and after infertility treatments and depression I have gained weight once again and thought I'd give Alli another go around. I got my package and started the next day and didn't have any side effects like before. I went to their Facebook page and read how other people were having the same issues. I decided I would eat a fatty meal to test the effectiveness so I got a fast food combo, came home, took a pill, then ate. Nothing happened. No side effects, nothing. I also read on their Facebook site how people were having problems with getting refunds and exchanges from the defective product so I have decided not to waste anymore money on Alli. Yes it worked before, but it isn't working now and their customer service isn't worth the stress. I hope everyone looking for weight loss can achieve their goals, but please take caution before making a purchase on Alli.
Beancounter
So far, so good
Background: Female, age 59, 5'6", 60lbs overweight, junk food junkie, tried almost every diet plan out there. Just completed week 1 - I have known about Alli for years but have been paranoid about the side effects. After topping my highest weight ever I decided I'm going to give it a try. I have had very minimal side effects, if any. I don't know if Alli acts as a appetite suppressant but I have not found myself starving or craving junk food. I have only focused on fat grams alone (not calories, carbs, etc) and found that in most cases it cuts calories as well. I still eat the things I love just in "fat" moderation and have LOST 7lbs!!
mickeysgrl
Very Pleased!
I started using Alli a couple of weeks or so after I started a low fat eating plan. I didn't experience the dramatic "treatment" effects because I had already begun limiting the amount of fat I was eating. I was already losing weight, but when I took the Alli I started losing even more weight. Not crazy huge amounts, but enough to know that it was making a difference. I lost 27 lbs in a little over 6 weeks (with inconsistent exercise). When I stopped using the Alli, the weight loss slowed in a pretty big way. From 3-4 lbs per week to 1-2 per week. As long as I work my plan, Alli works to give me better results - just as it says. And when I get off track, I experience the "treatment" effects just as is says, too! Alli helps me to keep going in the right direction. I am sold on Alli!
belexes76
GREAT PILL!
I recommend these pills, I researched a lot before making the decision and was a great success, I have been taking these pills 8 weeks and have lost 20 pounds by themselves these are not miracle pills I have changed my lifestyle by eating less fat, I have begun to have a more active life spinning 40 minutes daily, my weight was 267 pounds at the beginning which put my health at risk, I measure 5-10 and I'm still far from my goal but I know I can achieve with hard work, changing my feed and doing more exercise and these pills are the perfect addition to my diet. On the other hand only on one occasion have had negative effects (orange oil in the toilet) but it was totally my fault as fried chicken abuse ... If you want to change your life and lose those extra pounds make us so much damage, do not expect more there is a great pill and safe if you follow the recommendations properly.