alli Diet Weight Loss Supplement Pills, Orlistat 60mg Capsules, 120 Ct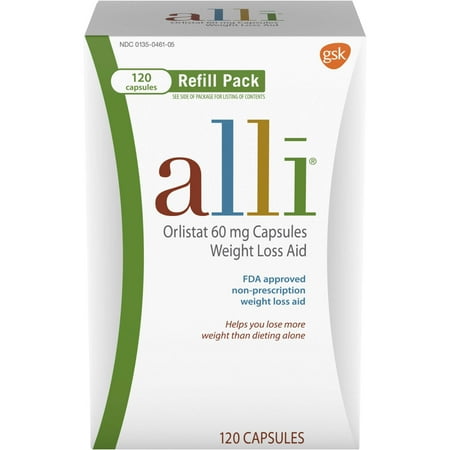 Sale :

$61.99

Sold & shipped by Walmart
Product Description

Additional Information

Reviews
Product Description
You've already made the decision to lose some weight by committing to a healthy lifestyle, but kickstarting your weight loss program can be a real obstacle. Luckily, help is here: for safe, effective weight loss, choose alli® (orlistat capsules, 60 mg), the only FDA-approved over-the-counter weight-loss aid. alli® works by preventing about 25% of the fat you eat from getting absorbed, so for every 2 pounds you lose through diet and exercise, alli® can help you lose one more. The active ingredient in alli® is orlistat, the most throughly-studied weight loss drug in the world. Since its introduction in 1997, orlistat has been the subject of more than 100 clinical studies. And in the real world, orlistat has been used by more than 50 million people. Make a commitment to your yourself, and to your health lifestyle with alli®.
Additional Information
alli is an FDA approved weight loss supplement that helps block about 25 percent of the fat you eat from being absorbed
Acts as an effective weight loss product and diet pill for both women and men
For every 5 pounds you lose through diet and exercise, alli can help you lose 2 to 3 more
alli weight loss supplement works in the digestive tract and is minimally absorbed into the bloodstream, so there are no direct effects on the cardiovascular or central nervous system
alli capsules are a weight loss pill for overweight adults, 18 years and older, when used along with a reduced calorie and low fat diet
Reviews
Beancounter
So far, so good
Background: Female, age 59, 5'6", 60lbs overweight, junk food junkie, tried almost every diet plan out there. Just completed week 1 - I have known about Alli for years but have been paranoid about the side effects. After topping my highest weight ever I decided I'm going to give it a try. I have had very minimal side effects, if any. I don't know if Alli acts as a appetite suppressant but I have not found myself starving or craving junk food. I have only focused on fat grams alone (not calories, carbs, etc) and found that in most cases it cuts calories as well. I still eat the things I love just in "fat" moderation and have LOST 7lbs!!
Nita
I Love it!!!!!
This product is grate!!!!!
Mary the fighter
Safe and Effective
I have used off and on for some time and find no bad effects. If I stick to the right way to use this I have wonderful results. Thank You Alli.
Tina
I buy this product monthly
With this product, I have lost over 25 pounds
ariurban
Have been using it for many, many years..
This stuff works, if you don't believe me, check your stool.. (i work in the medical profession, no pun intended).. it binds to fat.. you will see it come out... >< Using this with a regulated cycle of off/on carb restricted diet can make you lose weight, per reduction in calories and carbs in my opinion.. Been doing this for years.. Any fat that's passed through your intenstines and not absorbed is a plus, but if you decide to eat a bunch of greasy foods (cheeseburgers, chili cheesefries), and take this, you will likely pass a certain amount of fat through your system, but any excess of absorbtion will definitely be absorbed and result in possible weight gain.. There is no miracle drug that can make you lose weight and let you eat everything in my opinion, but Alli definitely helps reduce the fat calories that were intake thus reducing overall calories.. and that is a huge gain in weight loss in my opinion.. being realistically.