alli Diet Supplement Pills, Orlistat 60mg Capsules, 120 Ct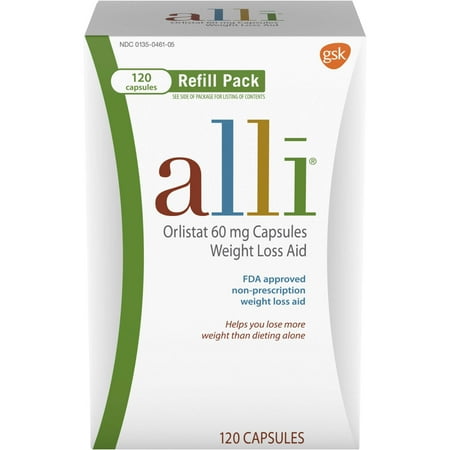 Sale :

$62.99

Sold & shipped by Walmart
Product Description

Additional Information

Reviews
Product Description
alli (orlistat 60 milligram capsules) is your smart edge for weight loss. Among weight loss products, itâs the only FDA-approved over-the-counter weight loss aid. Orlistat, the active ingredient in alli, is a lipase inhibitor and works by binding to specific enzymes that break down fats. As a result, about 25 percent of the fat you consume is not absorbed and passes through the digestive system. Since the calories associated with this unabsorbed fat are not used, the number of calories that enter your system is reduced. Youâre ready with alli by your side. alli (orlistat 60 milligram capsules) is a weight loss aid for overweight adults, 18 years and older, when used along with a reduced-calorie and low-fat diet. Read and follow label directions. alli orlistat 60 mg capsules weight loss pill refill pack (120 capsules) contains: A read me first brochure and up to 40-day supply. It is designed for people who are already using alli and have previously purchased the starter pack. Helps you lose more weight than dieting alone. Read the enclosed brochure for other important information. Diet and exercise are the starting points for any weight loss program.
Additional Information
alli is an FDA approved weight loss supplement that helps block about 25 percent of the fat you eat from being absorbed
Acts as an effective weight loss product and diet pill for both women and men
For every 5 pounds you lose through diet and exercise, alli can help you lose 2 to 3 more
alli weight loss supplement works in the digestive tract and is minimally absorbed into the bloodstream, so there are no direct effects on the cardiovascular or central nervous system
alli capsules are a weight loss pill for overweight adults, 18 years and older, when used along with a reduced calorie and low fat diet
Reviews
Northchickadee
I have lost 20#'s in 4 months! Pleased with myself!
I have lost 20 #'s in 4 months and feel so much better. I started walking 2 miles a day every other day and cutting out bread and potatoes. Nothing else. I still eat a pint of Ben and Jerrys Cherry Garcia twice a week because I am making my own rules that I can stick with. I reached my 20# goal and now am starting a 10# weight loss goal. Its not about a dress size. Its about how I feel about me and my health. I would recommend Alli to any adult who wants to feel better about what life is truly about. Enjoying my days and my nights. Thank you
Squirt
Excellent-Highly Recommend
Could be negative-if you eat a lot of fatty foods, you'll have oil in the "toilet". But the whole point of staying healthy is to NOT eat a lot of Fatty Foods so then you won't have this problem!! Alli keeps me healthy & on target. I now only take it a few times a week. Start strong, stay focused and then you can cut back on the qty of pills. Good Luck
Thornbird
I buy this monthly
It does keep the weight off & also helps if you tend to be constipated/
Dottie
Positive Results
Product help me lose 100 pounds. Something that helped significantly.
chermelle
yes
I use it as directed and it is working for me i have lost 19 pounds so far.