FRONTLINE Plus for Dogs Large Dog (45 to 88 pounds) Flea and Tick Treatment, 3 Doses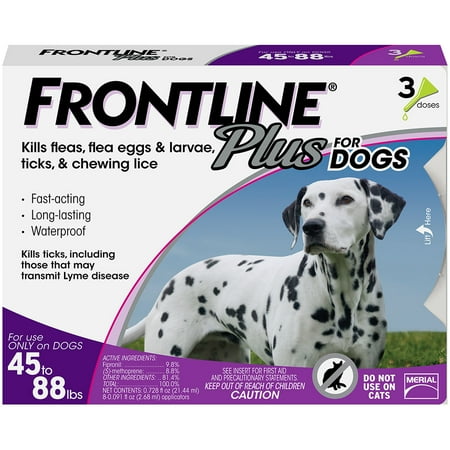 MSRP :

$36.56





Sale :

$36.49

Sold & shipped by Walmart
Product Description

Additional Information

Reviews
Product Description
FRONTLINE Plus for Dogs has been trusted by veterinarians for flea and tick control for dogs for nearly 20 years. Made with 2 tough killing ingredients, fipronil and (S)-methoprene â one to kill adult fleas and ticks and the second to kill flea eggs and larvae â this fast-acting, long-lasting protection provides flea and tick control for dogs and puppies 8 weeks and older, 45-88 lbs.
Additional Information
Frontline Plus Flea and Tick Prevention for Large Dogs, 3 Monthly Treatments:Flea, flea egg, lice, and tick control for dogs and puppiesFor all 45 to 88-pound dogs aged 8 weeks and olderEasy 3-step application processPackaging may vary; includes limited Satisfaction Guarantee
Reviews
Sandy
Purchase Another Product if Ticks are Prevalent
I purchased Frontline for my german shepherd that's 80 lb. I've used it for the last several months after trying a collar from the veterinarian which I did not care for. Front line seemed to be working okay. This last batch I bought I put on my dog on October 21st. 5 days later I was petting her and felt something on her jawline. It was a huge engorged tick. I pulled it out, kept feeling for more and found four more also partially engorged. I was able to pull them out wholly and they are still alive several days later in a plastic bag. Frontline did not work at all. And they were all around the area where I put the application. I called the 1-800 number to complain about it, that possibly it was a bad batch and the representative said that I had to at my expense return the other two that I didn't use and the receipt and I would have to wait 3 to 4 weeks to get a replacement. My dog is going to need a replacement before then and I would have to purchase another batch of Frontline on my own to cover that while I was waiting. She told me that it is possible due to what kind of tick it was, if they were male or female, that they could be in different states of engorgement and I questioned her can they put the Lyme's disease bacteria into the dog in order to get to feed off of them? She said yes that can happen. We do not guarantee that Lyme's disease won't happen. So what's the point??? I'm not going to use Frontline anymore, They lost me as a customer. I will go back to my vet to get the Liquid tick treatment Vectra 3D that I used to purchase before I purchased the collar. Hugely disappointed in Frontline!!I would not recommend Frontline Plus if you live in an area where ticks are prevalent.
Carol
Flea and tick prevention
Frontline plus for small dogs works great for my three dogs. I live in a pet friendly apartment complex and not all pets are treated and maintenance does not treat the yards so fleas can be bad. This has been the most effective treatment for my furbabies.
zoomFX777
Happy Dog!
My boy Cooper is happy again. No more scratching and bitting. The product does the job.
PONDMAN52536
Ticks and Fleas Begone
Easy to apply and works great.
Linda
no more fleas or ticks
easy to use and does the job well