Vicks Filter-Free Cool Mist Humidifier, V4600, White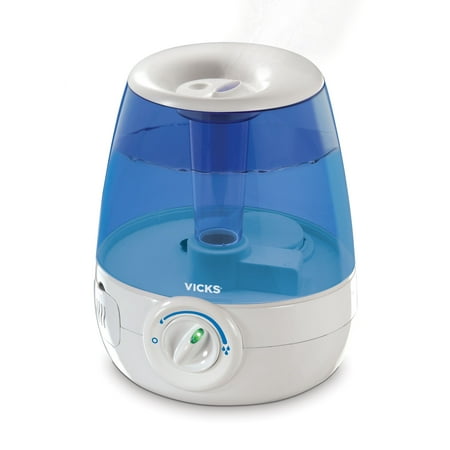 MSRP :

$49.99





Sale :

$34.48

Sold & shipped by Walmart
Product Description

Additional Information

Reviews
Product Description
The Vicks Filter-Free Cool Mist Humidifier with its 1.2 gallon tank adds necessary moisture to the air for up to 33 hours to temporarily relieve dry air discomforts like cough and congestion.
Additional Information
Quick and easy to use: no filters required, variable humidity controlHolds up to 2 Vicks VapoPads for additional soothing comfortVisible cool mistCapacity: 4.5 liter / 1.2 gallonRoom Size: MediumRun Time: up to 33 hoursAccessories: Vicks VapoPads (VSP-19 and VSP-19FP)
Reviews
rclarksworld
UPC : 328785046007 - Vicks Filter-Free Cool Mist Humidifier, V4600, White - PickPanda.com
Doesn't work new out of the box. The water won't come out of the tank unless you keep bumping it. That makes it worthless. It is forming a large air bubble under the rubber valve and not allowing water through. This is going straight back and I'm going to be researching different brands.
AZEnergizer
Vicks Filter Free Cool Mist Humidifier
This humidifier is performing beyond my expectations even though the first one was defective. When the machine is working properly it puts out an extremely fine mist immediately as soon as you turn it on. The mist is so fine that it's almost impossible to get anything wet at least in Phoenix where the humidity is usually around 10%. I noticed a fine white dust on everything but don't believe it's caused by minerals in the water. I don't put distilled water in the machine because it's inconvenient, heavy, and expensive to buy 7 - 10 gallons of water every week . Instead I put Kangen beauty water in my machine which has no minerals it and there's no build up minerals inside the machine. It's more likely that the fine vapor from the machine is attaching itself to microscopic dust in the room and then falling out of the air. That would be a very good thing if it's actually cleaning the air as it humidifies. Pros: * Made in the USA! * Very quiet, relaxing * The vapor is super fine similar to fog * Adjustable. On lower settings a tank of water lasts longer. * No warm up time. Humidifies immediately when you plug it in * No filters to replace * Easy to clean * Uses less electricity than warm mist humidifiers * Produces almost no heat which is a big plus if you're using the humidifier in hot desert temperatures * You can add fragrance to a room * Just the right sized tank. Not too small that you need to fill it up in the middle of the night and not too big that it's heavy. Cons: * Quality control and durability questions. My first unit only lasted 12 hours and then died. (The one I'm using now has been running 24/7 for week. Not sure how long the machine will last.)
Paul
Works As it Should-But the Dust!
I have had this unit for two months now and it is working as it should. The mist is visible and strong. The motor is quiet with only slight water sounds. Having this in my bedroom at night has really helped my constant sinus issues by increasing the humidity. Someone else posted about the dust this produces. If you use tap water to refill the unit (rather than going through a gallon of distilled water every night) you will start to notice is layer of dust on furniture and especially on electronics. I did not understand what that other poster meant until I started seeing it myself. It is the strangest thing; and it is almost sticky unlike normal dust. I do live in an area with lots of minerals from ground water (tastes terrible out of the tap!) so I am not sure if it will happen to everybody. I will dust and a day later it looks like I never dusted. I am too cheap to use distilled water as the tank would use a gallon each night. Other than this dust issue, I am very happy with the product.
pinkkylee
Awesome product a must have!
I already had used both a humidifier and Vicks when I or anyone in my family is sick. This is perfect and combines both items into one that helps tremendously! Winter time is the worst with everyone getting sick being stuffed up and congested. The Vicks Cool Mist Humidifier is great. It isn't as bulky as most humidifiers are and it fits nicely on my counter top during the day and on the night stand at night. Because of its small size it is easy to move and transport between rooms without any water. You can run this with or without the Vicks which is really nice. When you run this with the Vicks it is amazing you can tell a big difference and your sinus feel more opened and easier to breath. This machine has by far surpassed my expectations and is a higher quality than other humidifiers I have had in the past. You can really see this one working by seeing the humidity that the machine is putting out. I received this as a gift to share my experiences while using this product.
Shannon
Awesome for kid's rooms!
My husband and I have always run a humidifier in our room during the dry winter months, and when my son was born we bought him one of those cutesy animal themed ones from a baby retailer. The only problem was that it leaked all over the place and never seemed to 'spread' the mist anywhere, and the water would run out really fast, plus it was clunky and awkward. This Vicks Cool mist humidifier is the PERFECT replacement for my son's room! We dont have a lot of room, so it fits perfectly on his table and doesn't take up too much room! The best part about it, though, is that I dont have to layer a cookie sheet and towels underneath it to counteract any leakage to protect my floors - the mist is dispersed throughout his room and circulates in the air so I'm not left with a damp carpet in the morning! Another huge plus is that you can add little menthol disks for when your little (or you) are extra stuffy! I received this complimentary from Influenster and Vicks, but all opinions are my own.