Vicks Filter Free Cool Mist Humidifier, 1.0 CT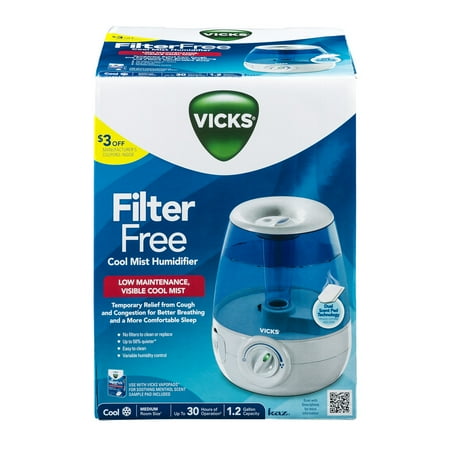 MSRP :

$59.99





Sale :

$36.49

Sold & shipped by Walmart
Product Description

Additional Information

Reviews
Product Description
Vicks® Filter Free Cool Mist Humidifier. Low maintenance, visible cool mist. Temporary relief from cough and congestion for better breathing and a more comfortable sleep. Temporarily relieve dry nose, flaky skin, chapped lips and general dry air discomforts.
Additional Information
Vicks Filter Free Cool Mist Humidifier.
Vicks® Filter Free Cool Mist Humidifier.
Low maintenance, visible cool mist.
Temporary relief from cough and congestion for better breathing and a more comfortable sleep.
No filters to clean or replace.
Up to 50% quieter*.
Easy to clean.
Variable humidity control.
Dual scent pad technology.
Provides soothing Vicks scent.
Use with Vicks VapoPads® for soothing menthol scent sample pad included.Cool.
Medium room size1.
Up to 30 hours of operation2.
1.2 gallon capacity.Kaz®.
How it works: 1.
The water tank feeds water into the base.2.
Water flow is then atomized by a mist plate vibrating at a high frequency and quietly propelled up the mist outlet.3.
Visible cool mist is mixed with dry indoor air to help raise humidity levels.
Features: 4.
Dual scent pad slots allow you to increase the soothing menthol scent intensity using two scent pads.5.
Translucent tank shows water level.
Operates up to 30 hours per tank filling.
Large opening for easy cleaning.6.
Variable humidity control for customized output.
Use with: VBR-5Vicks sleepy time VapoPad®.
VSP-19 Vicks menthol VapoPad® (sample pad included).
Model V4600.
Vapor therapy for healthful living.
Water is one element that all forms of life must have to survive.
All functions of your body require sufficient moisture to work properly.
When your body does not have sufficient moisture, it functions poorly.
Dry, arid climatic conditions can cause discomfort.
Colds and flu can dehydrate the body and cause even more discomfort.
Colds and flu begin making their seasonal rounds during fall and winter.
Central heating units in homes and offices can further remove moisture from indoor air.
The relative humidity may drop to as low as 10% - drier than the air in the Sahara desert.
Some people experience discomforts when the relative humidity drops below 25%.
A comfortable everyday humidity level should be between 40-60%.
When you or your child are experiencing congestion, then the humidity should be kept much higher, 70-80% during these periods for best effect.
Humidifiers help make you and your home more comfortable.
They: Help temporarily relieve congestion and cough.
Help keep throat and nasal passages hydrated.
Help you breathe better and sleep more comfortably.
Help temporarily relieve dry nose, flaky skin, chapped lips and general dry air discomforts.
Help reduce static electricity shocks.
Help prevent dry out damage to plants, furniture and paintings.
Kaz invented the electric vaporizer in 1924 and today is the world's leading manufacturer of vaporizers, humidifiers and other healthcare appliances.
For more information, call 1-800-VAPOR-1-2 (1-800-827-6712).
This product is manufactured by Kaz USA, Inc. under license from The Procter & Gamble Company.
Vicks and other associated trademarks are owned by The Procter & Gamble Company.
©2013 Kaz USA, Inc. 250 Turnpike Rd., Southborough, MA.
01772 USA.
All rights reserved.
Note: product may differ slightly from photograph.
RoHS Compliant.
C ETL US, listed.
Intertek.
Read instructions carefully.
*Based on Intertek Test Report 101099532CRT-001 and 100789837CRT-001.
1Test data based on measurement in accordance with American National Standards Institute HU-1-2006 for homes of average insulation.
2Run-time will vary and is dependent on speed setting, room size and room humidity levels.
Questions or comments?
1-800-VAPOR-1-2 (1-800-827-6712).
www.kaz.com/vicks.
Reviews
AZEnergizer
Vicks Filter Free Cool Mist Humidifier
This humidifier is performing beyond my expectations even though the first one was defective. When the machine is working properly it puts out an extremely fine mist immediately as soon as you turn it on. The mist is so fine that it's almost impossible to get anything wet at least in Phoenix where the humidity is usually around 10%. I noticed a fine white dust on everything but don't believe it's caused by minerals in the water. I don't put distilled water in the machine because it's inconvenient, heavy, and expensive to buy 7 - 10 gallons of water every week . Instead I put Kangen beauty water in my machine which has no minerals it and there's no build up minerals inside the machine. It's more likely that the fine vapor from the machine is attaching itself to microscopic dust in the room and then falling out of the air. That would be a very good thing if it's actually cleaning the air as it humidifies. Pros: * Made in the USA! * Very quiet, relaxing * The vapor is super fine similar to fog * Adjustable. On lower settings a tank of water lasts longer. * No warm up time. Humidifies immediately when you plug it in * No filters to replace * Easy to clean * Uses less electricity than warm mist humidifiers * Produces almost no heat which is a big plus if you're using the humidifier in hot desert temperatures * You can add fragrance to a room * Just the right sized tank. Not too small that you need to fill it up in the middle of the night and not too big that it's heavy. Cons: * Quality control and durability questions. My first unit only lasted 12 hours and then died. (The one I'm using now has been running 24/7 for week. Not sure how long the machine will last.)
Paul
Works As it Should-But the Dust!
I have had this unit for two months now and it is working as it should. The mist is visible and strong. The motor is quiet with only slight water sounds. Having this in my bedroom at night has really helped my constant sinus issues by increasing the humidity. Someone else posted about the dust this produces. If you use tap water to refill the unit (rather than going through a gallon of distilled water every night) you will start to notice is layer of dust on furniture and especially on electronics. I did not understand what that other poster meant until I started seeing it myself. It is the strangest thing; and it is almost sticky unlike normal dust. I do live in an area with lots of minerals from ground water (tastes terrible out of the tap!) so I am not sure if it will happen to everybody. I will dust and a day later it looks like I never dusted. I am too cheap to use distilled water as the tank would use a gallon each night. Other than this dust issue, I am very happy with the product.
pinkkylee
Awesome product a must have!
I already had used both a humidifier and Vicks when I or anyone in my family is sick. This is perfect and combines both items into one that helps tremendously! Winter time is the worst with everyone getting sick being stuffed up and congested. The Vicks Cool Mist Humidifier is great. It isn't as bulky as most humidifiers are and it fits nicely on my counter top during the day and on the night stand at night. Because of its small size it is easy to move and transport between rooms without any water. You can run this with or without the Vicks which is really nice. When you run this with the Vicks it is amazing you can tell a big difference and your sinus feel more opened and easier to breath. This machine has by far surpassed my expectations and is a higher quality than other humidifiers I have had in the past. You can really see this one working by seeing the humidity that the machine is putting out. I received this as a gift to share my experiences while using this product.
Shannon
Awesome for kid's rooms!
My husband and I have always run a humidifier in our room during the dry winter months, and when my son was born we bought him one of those cutesy animal themed ones from a baby retailer. The only problem was that it leaked all over the place and never seemed to 'spread' the mist anywhere, and the water would run out really fast, plus it was clunky and awkward. This Vicks Cool mist humidifier is the PERFECT replacement for my son's room! We dont have a lot of room, so it fits perfectly on his table and doesn't take up too much room! The best part about it, though, is that I dont have to layer a cookie sheet and towels underneath it to counteract any leakage to protect my floors - the mist is dispersed throughout his room and circulates in the air so I'm not left with a damp carpet in the morning! Another huge plus is that you can add little menthol disks for when your little (or you) are extra stuffy! I received this complimentary from Influenster and Vicks, but all opinions are my own.
NameLessShopper
Works as expected, BUT THE DUST!!!
Quiet: Yes - just an occasional gurgling Easy to Fill: Yes, but 1) drips when taking tank off base; 2) heavy and somewhat awkward to reposition on base - but not bad. Night light: A problem if you want a totally dark room Did it help with dryness: Yes Cool mist: Yes cool and visible. Seems to work best if placed up high. Dust: OH MY GOSH! The dust is horrible. Placed it on a small table near bedroom furniture. Literally coated the furniture in white dust. Then, moved it to a taller piece of furniture. No dust on bedroom furniture, but dust throughout the entire house -- I'm not exaggerating. Yes, I could buy distilled water, but I would need a gallon a night. I have listed this unit on internet auction site and am purchasing a humidifier with a filter. I'll clean/replace filters any day over this. With this much dust in the house, does it mean we are breathing said dust? I think yes. Summary: Get a cool mist humidifier WITH A FILTER!