Vicks Sinex Nasal Spray, 0.5 fl oz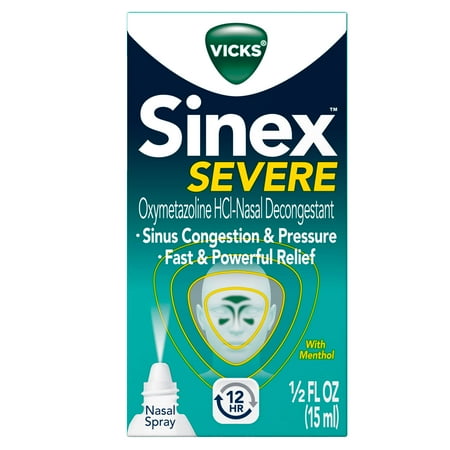 MSRP :

$9.01





Sale :

$6.97

Sold & shipped by Walmart
Product Description

Additional Information

Reviews
Product Description
Say good riddance to stuffy company with the Vick's Sinex Nasal Spray 12 Hour Decongestant, 5 oz. Made with the soothing Vic's Vapors, this soothing nasal spray works by shrinking swollen nasal membranes, so that you breathe easier. Perfect for those with cold symptoms and allergies, this soothing formula delivers maximum nasal relief. The fast-acting nasal formula thins mucus to help break up congestion, so this decongestant spray soothes even in dry climates or if you're suffering from a cold. Plus, the 0.5 oz nasal spray can be stored in your medicine cabinet or at work for easy access whenever you need it.
Additional Information
Vicks Sinex Nasal Spray, 0.5 fl oz:
Temporarily relieves nasal congestion due to colds, hay fever or upper respiratory allergies.
Relieves sinus pressure and shrinks swollen nasal membranes so you can breathe more freely.
Vicks Sinex 12 Hour contains an effective decongestant for fast, long lasting relief of nasal stuffiness.
Nothing Clears Your Head Faster
Reviews
Bensenville
Yes, it really works
I purchased this instead of the regular saline spray, since it sounded very soothing with the Vicks aroma. Well, it really worked, by doing what it was supposed to do. I have used it once, and have had no need to use it again. I highly recommend this product.
jamsman
Yes, it really works
it works great, clear breathing within seconds
rogersbr
Didnt work for me, just alot of pain from menthol
25 minutes in had to use it twice, right nostril still 90% plugged. only slight clearing. Just pain and stinging. WARNING! This is super concentrated menthol/peppermint with vitamin c acid it will burn and sting, feels like nose bleeding as its still draining, still using tissue paper, just the pain is so bad. 5.69 Afrin or 8.57 for this, thinking oh, must work better and day 4 of a plugged nose, unable to sleep, sudafed stopped working to clear nose after 2 days which didnt last long; over 30 minutes in, still blowing nose the same nothing changed. Breathing the one half clear nostril is pain from menthol. Right side still plugged now 100%
gracieg99
Works great
Burns the inside of the nose but really gets the job done. I highly recommend for very stuffy nose.
doc087
Love it
It works better than the moisturizing pump mist for me. It gives instant relief and lasts longer, which I definitely need.