Listerine Original Antiseptic Oral Care Mouthwash, 1.5 L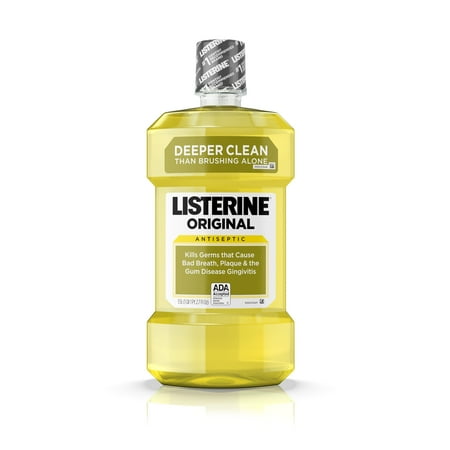 MSRP :

$13.84





Sale :

$5.97

Sold & shipped by Walmart
Product Description

Additional Information

Reviews
Product Description
Protect your mouth from germs and get fresh breath with Listerine Original Antiseptic Mouthwash. It kills 99.9% of germs that cause bad breath, plaque, and gingivitis for a fresher and cleaner mouth than brushing alone. Clinically shown to reduce 52 percent more plaque and 21 percent more gingivitis than brushing and flossing alone, this refreshing mouthwash provides a deep clean that cares for your whole mouth. Listerine Original Antiseptic Mouthwash is a recipient of the ADA Seal of Acceptance for fighting plaque and gingivitis. This antiseptic mouthwash leaves your mouth feeling intensely clean. With approximately 37 days in this 1.5-L bottle, achieve maximum results by rinsing with this antiseptic mouthwash for 30 seconds twice a day, both morning and night, for 24-hour germ protection.
Additional Information
This bundle includes a 2 pack of Listerine Original Antiseptic Mouthwash.
Kills germs for a cleaner mouth
Reduces plaque and gingivitis
Freshens breath
Reviews
Red Head
this is the only product is the only one i have used.
In the early 1980,s we move to Galesburg Ks.qnd I went to work for Bushog. I met the maintenance man and we talked a lot about work the plant and how thing were going. He is the one that got me interested in Listerine. back then there was only one kind of Listerine the original which I have use ever sense. A few years later you come out with the blue one I ask my dentist about it and he said that it was like they put something in it that made it not as good as it was originally, So that was good enough for me and I don't use anything else. I'm not perfect so I have accidentally picked up a different kind whence. I enjoy using the one with alcohol it makes my mouth feel better. a
Toddray
Great mouth wash !
I have had a lot of dental work done in the past 6-months, and I use Listerine original every day. The cleaning and refreshing action has definatly helped my gums heal faster after sergeries. I will continue cleaning my mouth with Listerine every day. Thank you
Tribune Scientifique
wow!!!
i liked it a lot, it had a good taste! I would buy it again!
Annie2
Caps hard to open
I do like Listerine mouthwash (I use Fresh Burst) and find it help heal soreness and irritations in my mouth. I have just one complaint---the bottles are hard to open. I have to take a hammer and screwdriver to them. Could you please make some without child-proof caps that adults with arthritic thumbs can open?
mike
24 hrs
I use Listerine every day . I think it's the best out there. I have been using it for about 40 years and I have no plans to stop. I won't say it stops all decaying teeth but I will tell you I have a lot less trouble than family and friends around me . I say try it for a couple months ad see! What do you have to lose ?