Listerine Original Antiseptic Oral Care Mouthwash, 1 L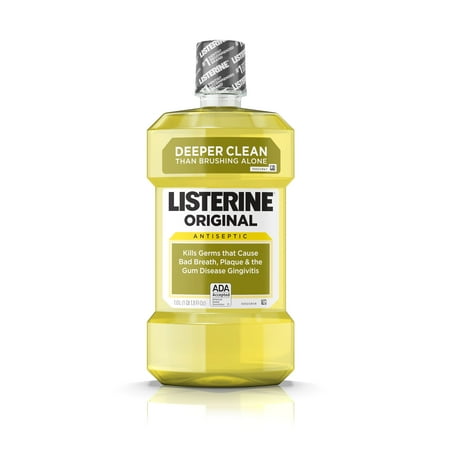 MSRP :

$12.56





Sale :

$4.94

Sold & shipped by Walmart
Product Description

Additional Information

Reviews
Product Description
Use Listerine Antiseptic Mouthwash for cleaner teeth and gums. When you brush your teeth, your entire mouth does not get clean. With Listerine Mouthwash for Adults in a 1 liter bottle, you can be sure that you are getting a deeper clean than with brushing alone. This Original Alcohol Free Mouthwash will clean your mouth without the burn of alcohol. The Listerine Antiseptic Mouthwash works to clean in between your teeth and helps prevent and reduce gingivitis while freshening your breath.
Additional Information
1-L of Listerine Original Antiseptic Mouthwash for bad breath, plaque & gingivitis Oral care formula kills 99.9% of germs that cause bad breath, plaque and gingivitis
Listerine Original antiseptic mouthwash with intense flavor for a deeper clean & healthier mouth
With approximately 25 days, this 1-L bottle provides continuous, effective oral care
Antiseptic mouthwash with refreshing flavor offers 24-hour protection against germs*
Clinically shown to reduce more plaque and gingivitis than brushing and flossing alone
Germ-killing mouthwash from the #1 dentist recommended brand of over the counter mouthwashes
Rinse with mouthwash for 30 seconds twice a day to achieve maximum results for fresh breath
*With twice daily use.
Reviews
Moonman
Totally Works GREAT!
The wife swears by it.. Love it. Don't go anywhere without it... Yep 70+ and Still riding
Red Head
this is the only product is the only one i have used.
In the early 1980,s we move to Galesburg Ks.qnd I went to work for Bushog. I met the maintenance man and we talked a lot about work the plant and how thing were going. He is the one that got me interested in Listerine. back then there was only one kind of Listerine the original which I have use ever sense. A few years later you come out with the blue one I ask my dentist about it and he said that it was like they put something in it that made it not as good as it was originally, So that was good enough for me and I don't use anything else. I'm not perfect so I have accidentally picked up a different kind whence. I enjoy using the one with alcohol it makes my mouth feel better. a
Toddray
Great mouth wash !
I have had a lot of dental work done in the past 6-months, and I use Listerine original every day. The cleaning and refreshing action has definatly helped my gums heal faster after sergeries. I will continue cleaning my mouth with Listerine every day. Thank you
Tribune Scientifique
wow!!!
i liked it a lot, it had a good taste! I would buy it again!
Annie2
Caps hard to open
I do like Listerine mouthwash (I use Fresh Burst) and find it help heal soreness and irritations in my mouth. I have just one complaint---the bottles are hard to open. I have to take a hammer and screwdriver to them. Could you please make some without child-proof caps that adults with arthritic thumbs can open?