Listerine Original Antiseptic Oral Care Mouthwash, 1 L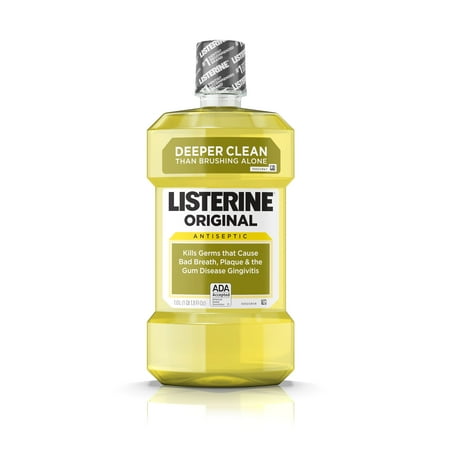 MSRP :

$11.76





Sale :

$4.94

Sold & shipped by Walmart
Product Description

Additional Information

Reviews
Product Description
Use Listerine Antiseptic Mouthwash for cleaner teeth and gums. When you brush your teeth, your entire mouth does not get clean. With Listerine Mouthwash for Adults in a 1 liter bottle, you can be sure that you are getting a deeper clean than with brushing alone. This Original Alcohol Free Mouthwash will clean your mouth without the burn of alcohol. The Listerine Antiseptic Mouthwash works to clean in between your teeth and helps prevent and reduce gingivitis while freshening your breath.
Additional Information
1-L of Listerine Original Antiseptic Mouthwash for bad breath, plaque & gingivitis Oral care formula kills 99.9% of germs that cause bad breath, plaque and gingivitis
Listerine Original antiseptic mouthwash with intense flavor for a deeper clean & healthier mouth
With approximately 25 days, this 1-L bottle provides continuous, effective oral care
Antiseptic mouthwash with refreshing flavor offers 24-hour protection against germs*
Clinically shown to reduce more plaque and gingivitis than brushing and flossing alone
Germ-killing mouthwash from the #1 dentist recommended brand of over the counter mouthwashes
Rinse with mouthwash for 30 seconds twice a day to achieve maximum results for fresh breath
*With twice daily use.
Reviews
Moonman
Totally Works GREAT!
The wife swears by it.. Love it. Don't go anywhere without it... Yep 70+ and Still riding
Jack
Stays true to its purpose
If you've read the literature you know that this product has been proven to be effective. If you haven't, it's out there and readily available - I recommend going through it to bust any doubts. This applies to all products originating from the original Listerine. Aside from effectiveness, which all the products have, the original is somewhat unique. It maintains the same burn and signature taste which in your mouth, but unline the other Listerines floating around (Cool Mint, for example# once the rinse is done your mouth isn't overwhelmed by the taste of lingering mint. It's truly nice. This product keeps your mouth at neutral rather pushing it to mint. With that being said, with the original there may be some lingering burning in your mouth for about 5 minutes after use. I personally enjoy it, but you may not. Overall great product. Does what it advertises, gives me a great burn and rough taste #which I love) and keeps my breath good enough to work in retail and after 5 hours of work be able to speak to a person face-to-face without fear of funky looks.
Juanella
Sweet and minty no, effective YES
For the past 40 years I've used the original Listerine and I will continue to use the original Listerine for the next 40 years (if I live that long). It leaves my mouth feeling clean and my breath fresh. No, it's not sweet or "minty" like candy and I appreciate that. Thank you for continuing to provide a not sweet or minty mouthwash option.
Paris
Disgusting
I don't know if it's just me but this mouthwash is so gross! It tastes like bleach or some sort of chemical is it it? It makes my tongue numb for an hour!? Worst mouthwash I've ever used! The fumes make my eyes water
Marti
Could not open container
My husband uses the mint listerine and I would like to use the product as well but can't open the container with my arthritis. Possibly an easier way to open your product? Still a full time working Realtor - any advice to open your product easily? Please do not share my contact info