Listerine Cool Mint Antiseptic Mouthwash for Bad Breath, 1.5 L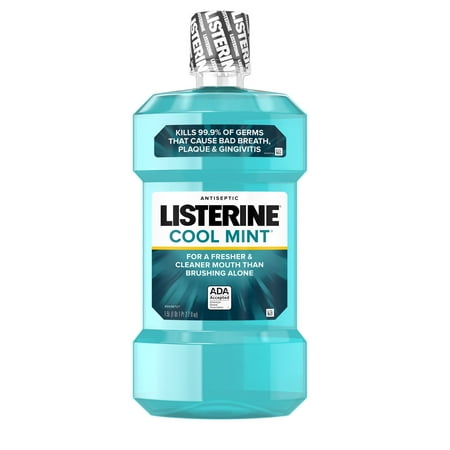 MSRP :

$14.05





Sale :

$5.97

Sold & shipped by Walmart
Product Description

Additional Information

Reviews
Product Description
Protect your mouth from germs and get fresh breath with Listerine Cool Mint Antiseptic Mouthwash. It kills 99.9% of germs that cause bad breath, plaque and gingivitis, for a fresher and cleaner mouth than brushing alone. Accepted by the American Dental Association, this germ-killing mouthwash is clinically shown to reduce plaque 52 percent more and reduce gingivitis 21 percent more than brushing and flossing alone. Adding a 30-second rinse to your morning and evening routines is all it takes to get 24-hour germ protection and achieve maximum results. Listerine Cool Mint Antiseptic Mouthwash leaves your mouth feeling intensely clean.
Additional Information
Kills germs that cause bad breath, plaque, and gingivitis
Clinically shown to reduce more plaque than brushing and flossing alone
Offers 24-hour protection against germs
ADA-accepted
Freshens breath
Intense flavor for a deeper clean
Reviews
SoSad68
excellent to bad
I have used Listerine Cool Mint mouth wash since it came out and have never changed as I was so happy with the results. I have always recommended it to others. I have again purchased a large quantity from a wholesale retailer and wondered why it was leaving a bad taste in my mouth, which it never had done in the past. I double checked the bottle only to find out that it was now a New Advanced Formula. I had never had this problem with the old regular formula leaving a bad undesirable taste and feel like the new formula gives me bad breath.The old regular formula gave a fresh breath feeling and I had no bad taste left as one would expect so am now very unhappy with this new formula. If the old formula is no longer available I can no longer recommend it to my dentist, family or others and will probably now look for a new mouthwash. Please give the option of choice at least. I have always wondered why when a company has a good thing they have to change it and ruin it??
Ell
Okay product, Question as to meeting public demand
I like and have used Listerine most of my life. About a year ago, or so, I found Listerine Vanilla Mint Mouthwash. I LOVED IT. I was happy and didn't think much of it, except Good Job and kudos to the company. However, when I went back to buy more I couldn't find it except in another brand, which I bought. The company website did not offer a contact number that I found to inquire, but I couldn't find it searching all of the products or online at WalMart or Amazon. If the company response is that it didn't sell, I would have to respond that there was very poor promotion of the new product--after all, many mint products and candies sell with high success daily! My only introduction and exposure to the product was purely luck that I happened to see it on the product shelf. How about a general tab on the company website for what the customers would like? I took the survey, thinking there would surely be a place to add personal comments, but sadly, no, there was not.
SELINA88
I USE THIS EVERYDAY, A MUST USE PRODUCT !
THIS PRODUCT HELPS LESSEN MY CHANCES OF GETTING SORE THROAT, KEEPING MY MOUTH, GUM, TEETH, THROAT HEALTHY. I GARGLE WITH THIS EVERY DAY, GREAT PRODUCT !
Jlm31282
Love Listerine!
I recently tried Listerine as a part of a sampling on #crowdtap . As a part of this sampling I received two free bottles #gotitfree of the cool mint variety. This product was very easy to use. You simply poor a small amount into the cap, put it in your mouth, and swish it around for 30 seconds. After 30 seconds you can spit it out in the sink and move on with your day with a healthier and cleaner mouth. I found that my mouth and breath felt very clean after using this product. I liked that it really seemed to do a good job at cleaning my whole mouth. The one downside to this product is that I could definitely notice the alcohol and as someone who had previously used alcohol free mouth washes it was very noticeable. Overall though I definitely enjoyed using this product and plan to continue using it. I have bought Listerine products before and after the #crowdtap sampling and I plan to continue to buy them in the future.
Frustrated
Change the cap back!!!
I've been using this product for over 40 years. CHANGE THE CAP BACK PLEASE!!!! Way too hard to open! Will not recommend until the cap is changed back .