Listerine Cool Mint Antiseptic Mouthwash for Bad Breath, 1L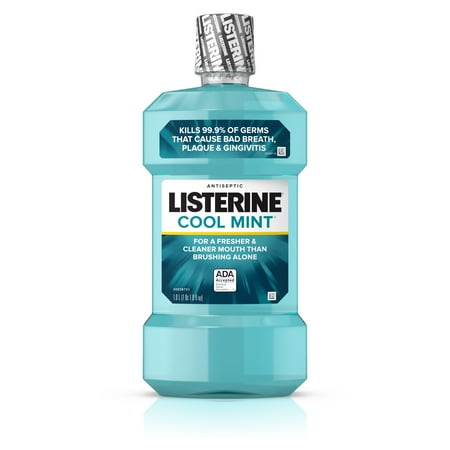 MSRP :

$11.76





Sale :

$4.94

Sold & shipped by Walmart
Product Description

Additional Information

Reviews
Product Description
Protect your mouth from germs with Listerine Cool Mint Antiseptic Mouthwash. Accepted by the American Dental Association, this mouthwash is clinically shown to reduce 52 percent more plaque and 21 percent more gingivitis than brushing and flossing alone. Adding a 30-second rinse to your morning and evening routines is all it takes to get 24-hour protection against germs that cause bad breath, plaque, and gingivitis. Listerine Cool Mint Antiseptic Mouthwash leaves your mouth feeling intensely clean.
Additional Information
1-l of antiseptic mouthwash from the #1 dentist recommended brand of over the counter mouthwashes
Oral care formula is clinically proven to kill germs that cause bad breath, plaque and gingivitis
Mouthwash accepted by the American Dental Association to be safe and effective for oral care use
Infused with intense Cool Mint flavor, use this mouthwash for a deeper clean and fresher breath
Antiseptic mouthwash with refreshing mint flavor offers 24-hour protection against germs*
Clinically shown to reduce more plaque and gingivitis than brushing and flossing alone
Get the germ-killing benefits by rinsing full strength for 30 seconds both morning and night
With approximately one month of supply, this 1-L bottle provides continuous and effective oral care
*With twice daily use
Reviews
cold41
Watch the steady progression!
Like a steady pace, Listerine has given me a happy face! With it's clean feeling and fresh mint taste, it has always led me to rely on it's ongoing method that can't be replaced. I have always used this product and now it's even broader in the field of getting your mouth as healthy as you want it to be. All you have to do is use it to the best of your ability, and I guarantee that the next time your visit your dentist, he'll be begging for you to come back! So, let's take this comment into consideration! Make this method the one that has a steady pace that keeps ongoing! It would only make your life a little more healthier! Give it a chance! Why settle for less?
SoSad68
excellent to bad
I have used Listerine Cool Mint mouth wash since it came out and have never changed as I was so happy with the results. I have always recommended it to others. I have again purchased a large quantity from a wholesale retailer and wondered why it was leaving a bad taste in my mouth, which it never had done in the past. I double checked the bottle only to find out that it was now a New Advanced Formula. I had never had this problem with the old regular formula leaving a bad undesirable taste and feel like the new formula gives me bad breath.The old regular formula gave a fresh breath feeling and I had no bad taste left as one would expect so am now very unhappy with this new formula. If the old formula is no longer available I can no longer recommend it to my dentist, family or others and will probably now look for a new mouthwash. Please give the option of choice at least. I have always wondered why when a company has a good thing they have to change it and ruin it??
Ell
Okay product, Question as to meeting public demand
I like and have used Listerine most of my life. About a year ago, or so, I found Listerine Vanilla Mint Mouthwash. I LOVED IT. I was happy and didn't think much of it, except Good Job and kudos to the company. However, when I went back to buy more I couldn't find it except in another brand, which I bought. The company website did not offer a contact number that I found to inquire, but I couldn't find it searching all of the products or online at WalMart or Amazon. If the company response is that it didn't sell, I would have to respond that there was very poor promotion of the new product--after all, many mint products and candies sell with high success daily! My only introduction and exposure to the product was purely luck that I happened to see it on the product shelf. How about a general tab on the company website for what the customers would like? I took the survey, thinking there would surely be a place to add personal comments, but sadly, no, there was not.
1boomer
Still good after all these years!
Tried many a mouth wash and Listerine keeps coming out on top. Since I suffer from horror breath (I'm told) I am always at my most confident using this product.
BrandyO
Still good after all these years!
I am very happy with the taste of Cool Mint Listerine! It is fresh tasting, long lasting, feels sparkly clean and leaves you with a bit more confidence! I usually use more natural products, including, Listerine Naturals, however, there always sees to be something missing from some brands and as much as I would love to say that some of those other products work 100%, I wouldn't be being honest. Cool Mint Listerine feels like it's working and actually shows improvement in cleaner teeth and a cleaner all around mouth and I don;'t feel to uncomfortable when being closeup to people or my husband. We already use a lot of Listerine products at our house and have had nothing but great experiences. This product was no exception. I also have to add that my 12 year old son has been using Cool Mint Listerine and everybody in the house has noticed a very big difference! Especially his sisters lol! Really though, even he seems more confident and doesn't cover his mouth as much anymore when he smiles. (He knows he won't hear about his icky boy breath if he does!) [This review was collected as part of a promotion.]