Dr. Scholl's® One Step Corn Remover Bandages, 6 Ct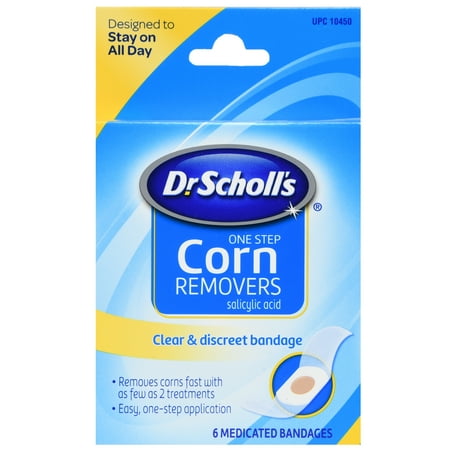 MSRP :

$7.11





Sale :

$4.48

Sold & shipped by Walmart
Product Description

Additional Information

Reviews
Product Description
Get rid of bothersome corns with Dr. Scholl's One Step Corn Removers. The clear bandage is barely noticeable so you can treat your corns discreetly. Dr. Scholl's Corn Removers, 6-count contains salicylic acid to help remove corns quickly. The easy one-step application remains on the affected area throughout the day.
Additional Information
Dr. Scholl's® One Step Corn Remover Bandages, 6 Ct:Clear and discreet bandage Clean bandage offers ultra sheer comfort Removes corns fast within 14 days with as few as 2 treatments Easy, one-step application Designed to stay on all day Try other Dr. Scholl's products to relieve corns, calluses, ingrown toenails and blisters Corn removers salicylic acid, six medicated bandages per box
Reviews
customeri
It works !!!
First I tried another Dr. Scholl's Corn Remover product for 2 weeks. Did not work. I read reviews and decided to try this one. I used only 4 patches (8 days). It works!
giddyJM
Good product
As most people say, instructions are not detailed. But it's easy to use. Works like a band aid. I used 5 out of 6 before I got rid of the corn under my foot. I had one the size of a dime and I didn't think it would work because you're supposed to wear it for 48 hours but mine kept coming off after shower. I noticed that it changed in color (became whiter) and became softer so I just picked on it. It didn't hurt at all. It used to feel tender and it wasn't comfortable walking but now I'm corn-free. In case I get some corns in the future, I know what to use. Thanks.
Caramel Bear
This product works!
At first I was skeptical to purchase this item because from my experience with Dr. Scholl's products, they never work as fully intended. Needless to say, I bought the product considering that the drug ingredient was 40% Salicylic Acid, which convinced me because my research stated how effective that drug was against corns and calluses. Be warned, the instructions are not well written, nor do they provide visual references - makes application a bit confusing. Once applied as a band aid, you're able to go about your daily activities without worry that the band aid will peel because the adhesive sticks really well, even while showering. After two band aids or applications, I could see the core of thr corn and surrounding area begin to whiten. I began to warm my feet, use a file to smoothen out the area, and before I knew it - the corn fell right off. This stuff works, don't hesitate. I can walk now without any pain and love that I no longer have the fear of hurting myself more due to the annoyance of my soft corn between my 4th and 5th toe.
mazak
corn remover
excellent for removing corns
Kimberley B
Absolutely!
It worked quickly on my teenager's corns and she was able to remove the whole layer and core pain-free. The adhesive efficiency was 97% of your box contents will stick without falling off.