Sensodyne Sensitivity Toothpaste, Extra Whitening for Sensitive Teeth, 4 ounce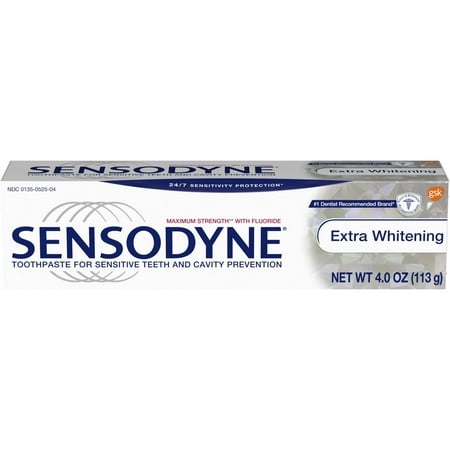 MSRP :

$8.19





Sale :

$5.47

Sold & shipped by Walmart
Product Description

Additional Information

Reviews
Product Description
Use Sensodyne Extra Whitening With Flouride Toothpaste daily for sensitive teeth relief and cavity prevention. Sensodyne Toothpaste, 4 oz, is a maximum-strength toothpaste with fluoride. This Fluoride Toothpaste also has an extra whitening formula that relieves sensitivity. Sensodyne Extra Whitening Toothpaste is dentist recommended.
Additional Information
Sensodyne Extra Whitening sensitivity toothpaste helps whiten sensitive teeth, while managing tooth sensitivity symptoms
Provides all-day tooth pain sensitivity relief and protects teeth against cavities
Whitening fluoride sensitive teeth toothpaste
Sensodyne is the #1 Dentist Recommended sensitivity toothpaste for sensitive teeth
For whiter sensitive teeth, best results can be with twice daily brushing
Reviews
ShinyTeeth
Sensitive teeth with a need for whitening power!
This toothpaste is working wonders for my smile. I used Crest and Colgate before, but because my teeth were so sensitive, it would be too painful to brush for the recommended two-three minutes. Now that I'm using Sensodyne toothpaste I can brush without feeling any pain! Also, it is brightening my smile and taking coffee stains off! I recommend this product to anyone who has sensitive teeth and needs a whitening option.
glitterSmitter
Awesome product
I have extreme sensitivity in one of my frontal incisors and my canine.It was a pain to eat,drink or even breathe.It also gave me very very painful migraines.My mother in India recommended this and the very next day I bought me some.It was very good advise because I felt relief from day one.I highly recommend this product.
LadyG8r924
I can smile again!
My teeth were so sensitive, I couldn't smile in the winter because the cold air caused my teeth to hurt and gave me many headaches. And salt (like on pretzels) nearly made me crazy if a grain of salt got caught between my teeth and cheeks. Then my dentist recommended Sensodyne--best decision I ever made was to use Sensodyne. I give it 5 stars.
Smartnurse123
Great product
I use Sensodyne because my Dentist recommends a toothpaste especially made for sensitive teeth. I use Prescription fluoride at night and the Sensodyne in the morning. I like the taste and the way it feels on my teeth. It is also packaged in a bright and eye-catching box!
Jackie
Sensodyne Extra whitening
I have been using this product since I purchased it and I don't really see a difference in my teeth. They don't look any whiter to me. I like Sensodyne because of my sensitivity. It works great if you have sensitive teeth but like I say there is no difference in the color of my teeth. They don't seem any whiter.