Sensodyne Fresh Mint Sensitivity Toothpaste for Sensitive Teeth and Fresh Breath, 4 Ounce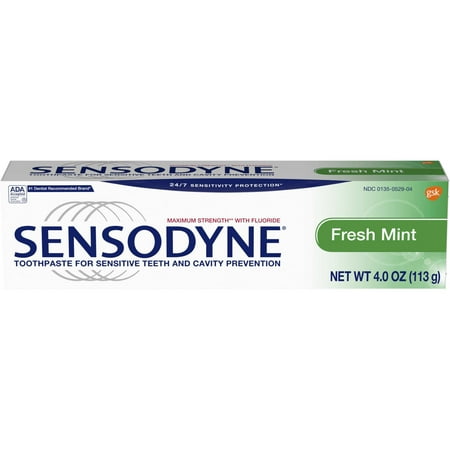 MSRP :

$8.27





Sale :

$5.24

Sold & shipped by Walmart
Product Description

Additional Information

Reviews
Product Description
Sensodyne Fresh Mint toothpaste works deep inside the tooth to soothe painful sensitivity and helps keep the pain from coming back. It provides a mild mint flavor that keeps your mouth feeling fresh and clean, and protects teeth against cavities with 24/7 sensitivity protection.* *With twice daily brushing
Additional Information
Relieves tooth pain caused by sensitive teethPromotes lasting sensitivity protection and protects teeth against cavitiesMint flavor helps keep breath freshNumber 1 Dentist Recommended toothpaste for sensitive teethBest results with twice daily brushing
Reviews
Wildpony
It Really Works!
I was having a LOT of pain and sensitivity. Tylenol extra strength barely made the pain tolerable. I was using a different brand of sensitive toothpaste and decided to try Sensodyne. The pain was gone in 2 days! The mint flavor tastes good. I'm SO glad I read the reviews and tried this toothpaste❣️
Munga
The Only One I Use
I have extremely sensitive teeth. I can't drink cold liquids at all unless I use Sensodyne toothpaste.
sarahcapps84
Great product with great results!
I got the opportunity to try Sensodyne Fresh Mint toothpaste complimentary from Sensodyne. I have to say this is the best toothpaste out there for me! I have extremely cold sensitive teeth and after using at least twice daily as recommended my sensitivity is gone. I also have found that it works instantly in some of my cases with minor pain from a tooth that I need to get fixed. I brushed and the pain subsides. I've tried many different kinds of Sensodyne in the past but the Fresh Mint has to be my favorite. It doesn't have an over bearing taste. It doesn't leave a bad or weird after taste and leaves my mouth feeling fresh. And that feeling lasts! It doesn't seem to foam up as bad as other toothpastes which is a plus to me as well. I also liked the texture of this toothpaste. It was grainy as some I've tried but smooth and less thick as other brands. Overall, I am highly satisfied, will purchase again, and recommend for others with sensitive teeth to try it out. [This review was collected as part of a promotion.]
Dottie61
Found a new toothpaste
I will be the first to admit that I am a pretty brand loyal toothpaste user. However, when I was offered a free tube of Sensodyne® Extra Whitening Toothpaste for Sensitive Teeth and Cavity Prevention, I figured why not switch it up. So for the last 3 weeks, I've been using my free tube of Sensodyne exclusively. Surprisingly enough, I think I like it! My favorite part, the minty fresh clean feeling of my teeth after brushing. It feels like I have a piece of gum in my mouth, without the work of chewing it! An added bonus is how my teeth have become less sensitive over these last 3 weeks. The product claims to provide sensitivity relief in as little as 2 weeks and it delivers on the claim. As far as judging the whitening power, I'm not certain it whitens any more or less than my regular toothpaste, so I'll call that a wash. The biggest negative for me with this toothpaste is the cap. It is a screw-cap and not a flip-cap, which I prefer simply for ease of use. Overall, I would definitely purchase this toothpaste in the future. [This review was collected as part of a promotion.]
SteelPeony
Great for whitening my sensitive teeth
I received Sensodyne extra whitening toothpaste for sensitive teeth and cavity prevention for free from Sensodyne in exchange for my honest review. And I have to say, I was pleasantly surprised. While my teeth aren't outrageously sensitive, I do experience some minor irritation every time I brush and sometimes bleeding. Since I've started using Sensodyne I have had zero irritation at all. it leaves me feeling clean and refreshed and the whitening is actually much more noticeable than some other brands I have used in the past. I will say that it left me with a slight chalky taste in my mouth afterwards, but since I use mouthwash it was an easy fix. If you have any level of gum irritation from brushing, seriously consider giving Sensodyne a shot. My husband didn't particularly care for it but he doesn't have sensitive teeth so I can see how it wouldn't matter. I for one love the difference and will be buying more for myself in the future. [This review was collected as part of a promotion.]