Super Poligrip Comfort Seal Denture Adhesive Strips, 40 Count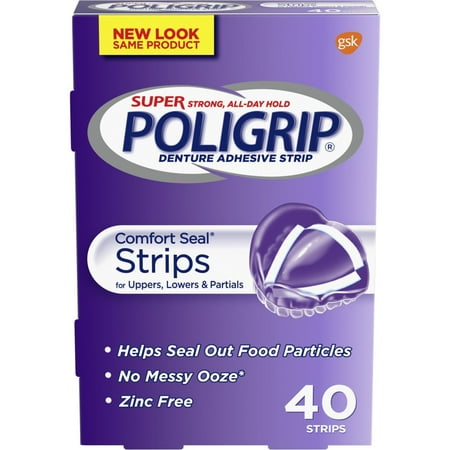 MSRP :

$6.89





Sale :

$4.88

Sold & shipped by Walmart
Product Description

Additional Information

Reviews
Product Description
If you are looking for all-day hold, with the convenience of an easy application and mess-free format, Super Poligrip Comfort Seal Strips are the best solution for you. Convenient pre-measured strips are individually and hygienically wrapped.
Additional Information
No artificial colors, no artificial flavorsPre-cut strips with just the right amount of adhesive No ooze or messEasy to apply and removeZinc-free formulaStrong all-day hold
Reviews
Ellymae
I've got a wax residue that I can't get off.
When I started using the strips it was great. Then I used them and after 3 hrs the strips were gone and a wax residue is on my dentures and I can't get it to come off. With that residue nothing else will stick on the dentures. Any ideas are welcome please.
FoxyBlueSimba
Does the job!
First, I recommend using scissors to cut the strips in two or three sections. My Mom does the same thing. A little bit goes a long way. The adhesive strength is just as powerful as the top tube denture adhesive brands. I was very impressed the first time I used these. The tiny, individualized packages are convenient, especially for persons on the go! They are travel-friendly! You are NOT required to dry the dentures. In fact, they (upper and lower inside sections) need to be wet. Simply place the strip in the recommended area of the denture and put them on and hold for a few seconds. These are awesome. These are why I rated this product with 5-stars.
mamaandpapas
Stick Like Glue
Had top plate but just got bottom plate - just a temporary for six months which is not a real good fit. Lots of trouble with rubbing and sores. Thought I'd try to see if this would help it stay in place. IT'S FANTASTIC****** I would recommend it to anyone. It's not like putting the stuff on in the tub and then having trouble cleaning the gunk out at night - it STICKS and you can simply put them in to soak with your cleaner and WELLA....they're ready to wear in the morning!
ShopperDopper
would not purchase again.
Did not hold for me at all. I followed the directions and tried 3 different times...with the same result each time. I was disappointed because I was looking forward to loosing the goop.
NanaCarolR
Poligrip Strips
I was using the powder but they took it off the market because it contain zinc. I tried the strips and I thought they were fantastic. The powder is back in the store but I will keep the strips. The strips worked great and I would suggest it to others