Polident 3 Minute Triple Mint Antibacterial Denture Cleanser Effervescent Tablets, 84 count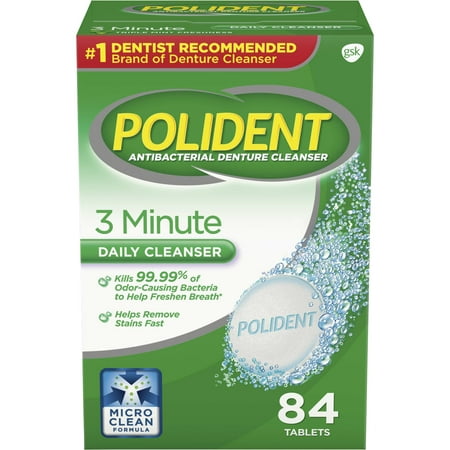 MSRP :

$9.15





Sale :

$5.58

Sold & shipped by Walmart
Product Description

Additional Information

Reviews
Product Description
These Polident Cleanser 3-Minute Tablets give you a way to thoroughly clean your dentures on a nightly basis. Just place a denture cleaning tablet in water with your dentures, and the special cleaning agents thoroughly clean the crevices and surface areas of your dentures. Polident Cleanser 3-Minute Tablets are a better and safer method for cleaning your dentures than a toothbrush. They remove plaque, stains, odors and food debris and are also anti-bacterial. This box contains an 84 count of Denture Cleanser Tablets.
Additional Information
Polident 3 Minute Denture Cleanser kills 99.99 percent of odor causing bacteria in just 3 minutes (soaking only, in laboratory testing)
Helps reduce plaque build up on your dentures (when used as directed)
Denture tablets designed to dissolve quickly so the cleaning and freshening agents can get to work right away
Cleans denture material gently
Polident is the number 1 dentist recommended brand of denture cleanser
Reviews
D-dog
Love this product!
I love being able to clean my dentures so quickly! I do use the 3-minute tabs for overnight as well. I had coffee stain on my dentures that I couldn't get out. Presto!! Polident to the rescue. No more stains.
bostonphil
I Like It. Good Product.
As it turned out, I broke my usually denture in half and am in the process of having a new one made up. However, I had an old spare which for want of a better word might be described as nasty. It is about 9 years old and not in the best of shape. I had been keeping it in a denture cup as a spare just in case. Well, the "just in case" came just over a week ago. As bad as the spare is, I am still glad that I had kept it. I tried too clean it up best i could and so I was very glad when I was invited to the Polident campaign and received the product. Product is easy to use and worked well. My spare denture looks so much better. I feel better knowing that Polident 3 Minute Denture Cleanser might have killed much of the unhealthy bacteria. Denture feels cleaner in my mouth. It looks better. I am looking forward to using this product on my new denture next week and using it to keep my new denture healthy and clean. [This review was collected as part of a promotion.]
LolaSue
Getting better all the time!
My husband and I have tried a large variety of denture cleansers and products. What one of us likes the other dislikes and so it goes. But to quote the Beatles "It's getting better all the time...." has shown me that persistence has paid off and at last we have found something we agree on. The Polident cleanser works super fast. No need to soak your plate overnight or try and rush through a cleaning. Only 3 short minutes (ok, maybe 5 total from start to finish) and I had fresh, clean smelling and pink and white dentures. No bad taste from the cleanser. I think the "flavor" was wintergreen which is a favorite of mine. I was able to clean my denture in less time than it took me to do my hair! And my husband likes this Polident as well. Getting a thumbs up from him is major kudos. Job well done Polident! This is a product we will continue buying. [This review was collected as part of a promotion.]
MagnoliaFortyfour
Quick and fresh
This product is quick and.cleans in three minutes.
tpires11
Super cleanser
cleans dentures in very short time, just like when I used bleach.