TUMS Antacid, Chewy Delights Very Cherry Ultra Strength Soft Chews for Heartburn Relief, 32 Antacid Chews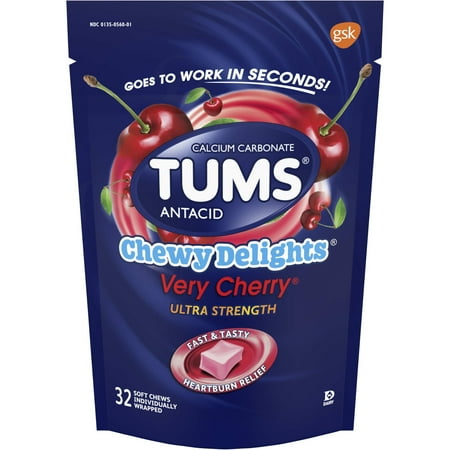 MSRP :

$5.28





Sale :

$3.97

Sold & shipped by Walmart
Product Description

Additional Information

Reviews
Product Description
Additional Information
TUMS Chewy Delights Ultra Strength Very Cherry antacids offer fast-acting, ultra strength heartburn relief so you can enjoy all of your favorite foods
TUMS antacid chews relieve heartburn, sour stomach, acid indigestion, and upset stomach associated with these symptoms
Delivers double the acid neutralizing power per tablet of TUMS Regular Strength
Comes in soft, delicious very cherry antacid chews and goes to work in seconds
TUMS heartburn medicine is America's number one antacid
Reviews
Love the mint!
I always buy this product, but only in peppermint.
I love this product, but why can't I find the peppermint flavor anymore? I can't imagine EVER wanting cherry or orange flavor when I have heartburn or an upset stomach!
beachtowngirl
Deliciously chewy!
I use to DISPISE the other chalky tums so much I'd rather be nauseous or have acid indigestion but these chewy tums are amazing ! I'm not usely fond of cherry flavored but this is so mild of a flavor and not a bit of after taste!!! They are very soft , easy to chew and individually wrapped . So convenient to take with you and they work excellent for my acid indigestion which I have from having to take a lot of advil for my neck pain. They also taste like a mild cherry taffy ! I loved them so much I bought 3 packages ! Finally , an acid reducer that taste and works wonderful!!
Fox_Mama
Great results, better product!
I tried out the new Tums Chewy Delights, Very Cherry flavor and was very pleased. We all know Tums, we all grew up with those sneaky candy colored, but chalky tasting antacids. Tummy ache, heartburn? Tums. These Chewy Delights deliver the great relief Tums always has offered, but the chewy texture makes this product a win for me. When you feel sick from an upset stomach or heartburn, the last thing you want is to put more food or anything on top of the problem. Even those classic chalky Tums, make it hard to eat to get to the relief. But these are great. They are smooth and chewy so its a bit more palatable and the cherry taste works wonders, no weird aftertaste either. They are ultra strength so I did notice they worked better for me than usual. My husband also gets heartburn and agreed, these are much better than the regular antacid products we usually have. I will definitely look for these next time I need to refill my on hand supply. [This review was collected as part of a promotion.]
peppie
A Life-Saver
Tums chewables are a great item to have on hand in case you forget your prescription antacid or over the counter antacid. It works great as a backup and it actually tastes good!!!
Schatzi88
Easy to Eat
Great Product espesially if you have bad teeth easy to chew soft on your teeth.