Vaseline Intensive Care Petroleum Jelly Deep Moisture 4.5 oz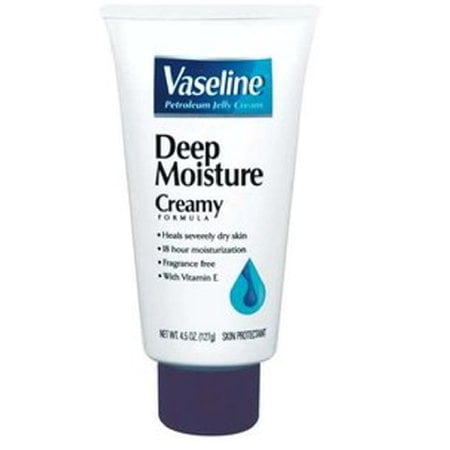 MSRP :

$6.72





Sale :

$3.52

Sold & shipped by Walmart
Product Description

Additional Information

Reviews
Product Description
Vaseline Deep Moisture Creamy Formula Petroleum Jelly Cream is designed to treat dry skin. This Vaseline petroleum jelly cream contains quality ingredients and nutrients, including vitamin E to promote skin health. Vaseline Deep Moisture Creamy Formula Cream also provides 18-hour moisture and protection for your skin, so you don't have to reapply the deep moisture cream throughout the day. It's an excellent option for those who frequently work with their hands. It's also a smart choice for people who are susceptible to dry skin during periods of cold and dry weather. Vaseline Deep Moisture Creamy Formula Cream is also fragrance free.
Additional Information
Product Features
Heals severely dry skin
With original Vaseline® jelly
Skin protectant
Other - 7
Unilever,
Trumbull, CT, 06611.
Vaseline is a registered trademark.
Reviews
proudmom
creamy petroleum jelly vitamin e
I have psoriasis on my knees really bad and this product here has been the only thing I've seen helping me to get rid of it. My bf found it and I was thinking it wasn't going to help but it's clearing my skin! So thanks to the company for making it and thanks to my bf for caring.
BJ1L
Best Hand Cream for really dry skin
Vaseline Creamy Formula is the best hand cream for very dry skin. Before I found this product, I had cuts on my fingers and knuckles from dry skin. I wore band aids all the time, usually 6 or 7 over the many cracks. No other cream worked well enough to lubricate my hands so the skin didn't crack and split. I've tried many lotions over the years but nothing worked until I found Vaseline Creamy Formula. I no longer wear band aids, and my hands have no cracks and splits in the skin. A small amount is all you need, so remember to not squeeze out too much because then you end up wiping it off on a towel and wasting it needlessly. If you use too much, you might get the opinion it's too creamy but it's because you put on too much product. A little dab is all you need. It's difficult to find Creamy Vaseline in retail stores because so few stores carry it. I was very happy to find it on Walmart's website and bought a bunch to last me for a long time. Since I've already tried every product on the market, I know there is no product better and nothing can replace Creamy Vaseline for serious dryness.
2Stooges
Best All around
I have psorasis on my the palms of my hands and this lotion is the BEST. I have tried many other name brands, but have always come back to Vaseline. A lot of other "dry" skin lotions contain too much water and the moisture quickly disappears off my hands. With this lotion, it stays on the hands, keeping them soft for a long time. And on the plus side, no perfumy smell. When I go to Wal-Mart, I buy in quantities, due to limited supplies at the store. Great product!
2Stooges
Hand Cream
This is product is great for any one with dry skink. It does on smooth Although it is made by the vaseline company, it is not greasy like vaseline jelly. It is actually a creamy white formula. Love it. Will order it every winter. P.S. Can not find this product in store. You have to order online.
bornTOOwin
On Natural Hair
I have very sensitive eyes. So to the point, I get conjunctivitis from products with to much fragrance/perfume. The closer to the top of the ingredient list the fragrance/perfume is the worse my eyes get. The biggest culprit seems to be Olive Oil even near my hair. My hair issue is finding products my hair and eyes both like. I am 4a/b with very coarse hair. My eyes can tolerate grape seed oil but it's to light for sealing in moisture for more than a day. I needed something thick. I decided to try the Creamy Vaseline when I saw water as the first ingredient followed by petroleum. My eyes and hair both loves it. I can see and my hair is retaining moisture. I am using it as a sealant on wash day. A little goes a long way.