Q-tips Cotton Swabs, 500 ct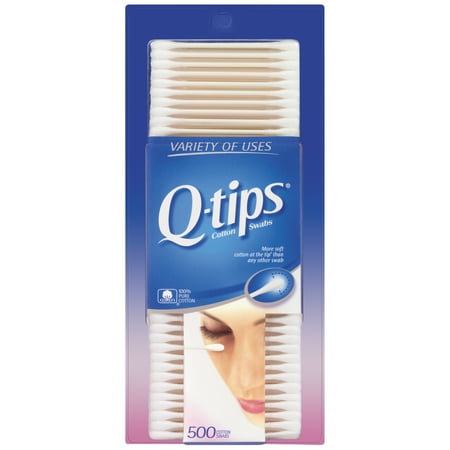 MSRP :

$6.18





Sale :

$2.98

Sold & shipped by Walmart
Product Description

Additional Information

Reviews
Product Description
Q-tips 100% pure cotton swabs are the Ultimate Home and Beauty Tool. With the most soft cotton at the tip from the end of the stick to the top of the swab and a gently flexible stick, Q-tips cotton swabs are perfect for a variety of uses. Different uses for our cotton swabs include beauty (apply or remove eyeliner & eye-shadow), baby care (delicately care for sensitive areas), home & electronics (clean and dust hard-to-reach spaces), and first aid (gently apply ointments and creams). We're proud of our history, commitment to the environment, and legacy of softness and quality. Today, Q-tips cotton swabs are the leading cotton swab brand and have been trusted for superior quality, versatility, and value for more than 85 years. Our swabs are light and portable, which makes them perfect for on-the go. Make sure to try our other products including Q-tips Precision Tips, Q-tips Anti-Microbial Cotton Swabs, and Q-tips Beauty Rounds.
Additional Information
Q-tips Cotton Swabs 500 ct:
Q-tips cotton swabs have a wide variety of uses including beauty, applying/removing/touching-up cosmetics, household cleaning, arts & crafts, pet care, baby care, cleaning collectibles, painting, car detailing, model building, first aid, and more!
Use Q-tips cotton swabs for all your beauty needs. Get every detail right, from your nails, to your lips, to your face. Perfect for touching up nail polish, lipstick & lip gloss, eye liner, and DIY projects like manicures
Q-tips cotton swabs are great for cleaning electronics, dusting between the keys on computer keyboards, and cleaning out phone ports. They can also help keep you safe from battery corrosion on motherboards and hard drives.
Q-tips are handy for arts & crafts projects. DIY with Q-tips, apply glue to models, build your own creations, or paint without brushes. Q-tips are great for adult lifehacks too, like DIY nail art, or getting zippers unstuck
Q-tips are delicate enough for sensitive jobs like baby & pet care. Clean around your newborn's belly button, between your baby's toes, or around your baby's nose. Pets need gentle care too don't forget your cats & dogs!
Q-tips are ideal for cleaning hard to reach places. Use them to dust air vents, detail your car, or to clean ceramics & pottery. Q-tips are delicate enough for cleaning collectibles and jewelry
Reviews
nesia
dissapointed
I bought it two months ago and after almost exhausted, I found some broken cotton swab. been several times I use Q-tips but this newly discovered damage in the packaging. My hope for the future, more in the note again these production results. thx
nesia
Your downsizing is terrible!
I am appalled!! The quality of your Qtips is what made you better than the other choices.I didn't mind to pay the extra money to get the quality of your product, which was bigger cotton than generic! I bought a new box & I was shocked! The cotton had diminished down to smaller than the generic size. If this stays the same I'll be forced to buy generic & save money in the process. You can see in the pic, old on left, new on right. It might not seem like a major difference but to me, it is. Please go back to your original quality! :-( Sincerely, a lifetime customer for over 40+years.
Peggy
Eew nasty
Just opened this box of qtips and one came out dirty. Been buying these for years and never this problem. Would send a complaint to corporate, but can't find a link.
Ttown Disappointment
What is happening to Q-Tip quality?
I always buy Q-tips because I think they are the best on the market. However my last purchase had multiple defective swabs in the pack - namely little or no cotton at one end if the swab. Number on package - 83291246
PLCALA
LOYAL customer now disillusioned
I've had Q-tips in my household for years! I've been a VERY LOYAL customer. Unfortunately, I was EXTREMELY disappointed with my recent purchase. I got a 750 cotton swab box with super flimsy sticks. They bend at the slightest touch and are absolutely unusable. The exact reason I NEVER purchase off brand swabs. I would like an explanation, from Q-tips!