Vaseline Intensive Care Body Lotion Aloe Soothe 20.3 oz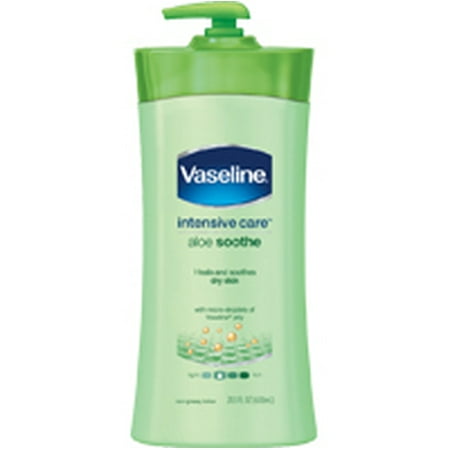 MSRP :

$6.97





Sale :

$5.68

Sold & shipped by Walmart
Product Description

Additional Information

Reviews
Product Description
Vaseline Total Moisture Aloe Fresh is a light-feeling lotion for healthy skin. It awakens the skin with a sheer, weightless burst of hydration. Vaseline aloe fresh lotion contains quick-penetrating conditioners to leave the skin feeling cool and refreshed. It contains pure aloe to provide multi-layer moisture. Vaseline total moisture lotion comes in a 20.3 fl oz bottle with a pump dispenser for convenient use. Without care, the effects of heat and sun can strip away skin's natural moisture, leaving it dry and dull. When you use this product, you restore needed moisture.
Additional Information
Vaseline Intensive Care Body Lotion Aloe Soothe 20.3 oz
Vaseline Intensive Care Aloe Soothe Body Lotion moisturizes dry skin

Vaseline's Aloe Soothe Body Lotion is fast absorbing for a non-greasy feel

Made with 100% Pure Aloe Extract, known to calm and soothe dry irritated skin

Body moisturizer clinically proven to keep dry skin healed for 3 weeks, as proven after 4 weeks daily use

Clinically proven to moisturize deeply within the first application, for noticeably healthier looking skin

Daily body lotion best for: dry skin, stressed skin, sunburn dryness

Reviews
La_la
Parabens now added? Why!!
Were parabens not listed before or they've just been added? Why did you mess with a formula nobody complained about? I am very conscious about my lotions not having parabens and Nivea and Vaseline with Aloe were the only "clean" ones i bought. All the other Vaseline lotions have parabens listed; however when i checked this in stores this past week, i see all the methyparabens etc listed on the Aloe. So disappointed. I'm sticking with Nivea. Before and after photos attached
Kayhatis
I usually HATE lotions!
I hate when my skin feels like I have a layer of goop on it. I usually let myself be ashy instead of use lotion. But after getting a slight sunburn resulting in my body feeling dry and itchy, this stuff is amazing. I can lay comfortably and my legs aren't sticking together or sliding apart. I feel hydrated and my skin feels healthy. 100% worth it. I really appreciate the smell too. It's not over powering, but light and airy. Being sensitive to textures and smells, this is a nice product for those who can't handle really scented lotions.
MC4314
Long-lasting Effects
I've been using this product for two weeks now. I was a bit skeptical at first that it could live up to its claim of having long-lasting effects, but was pleasantly surprised that it actually does. After just one use, my skin stayed hydrated for the rest of the day. With continual use, my skin definitely looks and feels more hydrated in general. I love that I can keep the bottle by the shower, put the lotion on first thing in the morning, and not have to worry about re-applying throughout the day! Pros: My skin stayed hydrated for quite some time, skin did not feel sticky or greasy, and I didn't have to re-apply the product throughout the day. Cons: Only one drawback for me, and that is the scent. It's not an overpowering scent, is more of a neutral scent (I.e. not flowery or perfume-like), but it just isn't a scent that I like. The scent seems to diminish within a couple hours, but I'm not sure if it's just that I'm not noticing it as much at that point. [This review was collected as part of a promotion.]
ginae2
Long-lasting Effects
I love having soft skin! I feel like this product did the trick but I Ku for a few hours. After that my skin would go back to needing more and more! I ended up using all of the bottle in a month! I think it should've lasted longer than that!
ksam
Long-lasting Effects
My go to lotion! Have multiple around the house and it makes my skin super soft and does not feel sticky like some lotions do. The scent is very faint so no need to worry. Works great! Vaseline is known for being the best in this industry.