Vaseline Intensive Care Advanced Repair Healing Moisture Lotion, 10 Fl Oz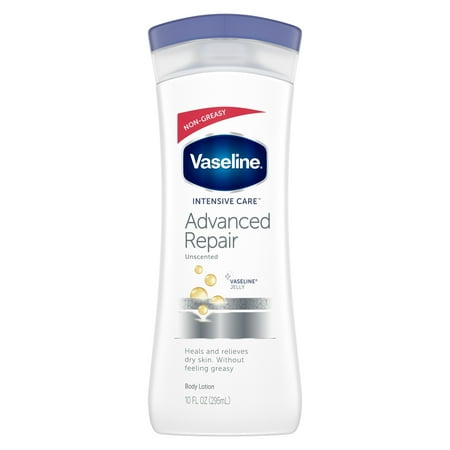 MSRP :

$3.48





Sale :

$2.78

Sold & shipped by Walmart
Product Description

Additional Information

Reviews
Product Description
Recover some of what you've lost with Vaseline Intensive Care Body Lotion. It also preserves body moisture in extreme conditions, to help keep your skin looking and feeling its best. Millions have counted on Vaseline for top skin care products for the last 140 years, and this 10 fl oz bottle of fragrance free body lotion exceeds your expectations. It actually has micro-droplets of classic Vaseline jelly to help heal your dry skin. You'll see results in only five days. Vaseline Intensive Rescue repairing moisture lotion absorbs quickly to smooth rough spots and soften dry patches. Its non-greasy formula is ideal for even very sensitive skin. This Vaseline Intensive Care Body Lotion is also fragrance free and hypoallergenic, so there is no residue. You can combine it with other great products, like Spray and Go Moisturizer and Aloe Soothe lotion, which are available separately.

Additional Information
Lotion, Non-Greasy, Advanced Repair, Fragrance Free
Clinically proven to heal very dry skin in 5 days. Deep healing moisture. With micro-droplets of Vaseline jelly. We believe healthy skin starts with deep healing moisture. It all started with a wonder jelly that we've been perfecting for 140 years. Today we have micro-droplets of Vaseline jelly in our Advanced Repair Lotion which absorbs deeply into your skin and moisturizes to heal it from within (within the stratum corneum). Advanced Repair Fragrance Free: Fast healing when your skin is dry and rough. Moisturizes to relieve even stubborn very dry patches. Clinically proven to keep skin healed for three weeks (based on 4 week treatment clinical study). Appropriate for sensitive skin. Absorbs fast for a non-greasy feel. That's the healing power of Vaseline. Please recycle.
Reviews
kkyc816
ok for initial moisturizing but poor for long term
After receiving a free sample through BzzAgent, I've been using Vaseline Intensive Rescue daily for about two weeks now and I'm not impressed. After initial application, my hands are super smooth, soft, and silky which I love. Regarding those who experience the greasy feel, don't put on too much lotion. After a few minutes, regardless if I put too much lotion or just enough lotion on, an additional powdery feel makes the moisturizing experience somewhat icky. In just a few hours, I can see my hands drying out again. This makes a great quick fix moisturizer, but not a long-term healing lotion. This may be because I at home all day with young children and I wash my hands very often. In addition, I am not pleased with the scent of Intensive Rescue. It is stated to be fragrance free, but it has a strong unappealing smell that sometimes leaves me feeling nauseous. The bottle is great for dispensing lotion. I toss the bottle into my backpack wherever I go and the cap remains secure and let out the lotion cleanly and easily. Not a bit of lotion gets left on the cap or gets built up, which makes this a great lotion bottle.
SZQ50
No More Greaseball Hello Silky Skin
I have extremely dry feet that have to be sanded every night. I was very skeptical about trying lotions that make these wonderful claims, but Vaseline actually came through with this. Having the opportunity to try these lotions because I'm a BzzAgent, was perfect timing for me. Even though I received these free, and my opinion of these products may be different from yours, I do use these lotions daily and love them. I use this all over my face and body and love the silkiness I feel afterwards. The first time I tried this lotion, I didn't have to buff my feet for 3 days. This was a first! I'm especially glad there is no fragrance. I stopped buying lotions from Vaseline because of their smells. I've tried this lotion all over my face and body and love the way it leaves my skin. No more greaseball, Hello silky skin.
SZQ50
My New Favorite Lotion
My hands are constantly in water or dirt. I love to garden and cook, and my hands take a beating. When I first tried this lotion, my hands instantly felt smooth and silky and NOT greasy. It was amazing. What was even better is that I didn't have to reapply lotion after washing my hands every time. I love the non-fragrance so it doesn't clash with any perfumes. This is now my most favorite lotion. I highly recommend this. Even though I received this product free to try and test, I will not go back to my last favorite lotion. Vaseline Intensive Resuce Repairing Moisture Body Lotion is great for the entire body.
Christy1985
Vaseline Intensive Rescue &Total Moisture Lotion
I received these free lotions from Bzzagent.com and I must say I Love these lotions, intensive rescue and total moisture. I have tried the products and my skin feels smooth, no roughness and looks healthy. Love my skin to feel silky and it does, with no greasy feel to it. I love this product!
jls8714
Gentle, Rejuvenated Skin
I tried both the Vaseline Intensive Rescue and Vaseline Total Moisture lotions compliments of BzzAgent for writing an online review. Before using the lotions, I had dry, flaky skin – particularly during the winter time and especially on my lower legs. After one use, my husband asked me if I had recently shaved my legs as they were noticeable smoother! Of the two lotions, I prefer the Vaseline Intensive Rescue lotion. While it did have a mild scent to it, it did not leave my feeling greasy afterwards and I was able to use it on my face without breaking out. The Vaseline Intensive Rescue and the Vaseline Total Moisture lotions are great products that I would definitely use again and would recommend to anyone.