Vaseline Original Skin Protectant Petroleum Jelly, 13 oz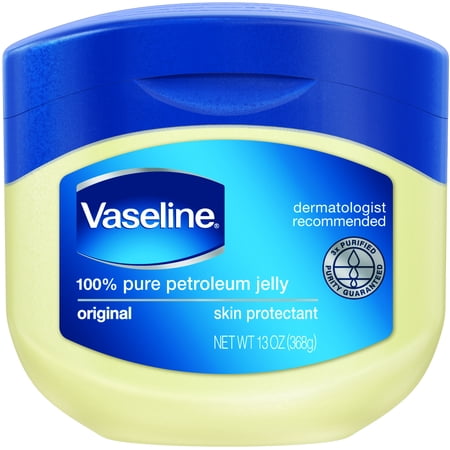 MSRP :

$4.19





Sale :

$4.17

Sold & shipped by Walmart
Product Description

Additional Information

Reviews
Product Description
Vaseline 100% Pure Petroleum Jelly, 13 oz, provides visible relief of dry skin when used regularly. Vaseline Petroleum Jelly also offers soothing protection for minor cuts and burns. Vaseline Petroleum Jelly for dry skin features a pure formula that can be used as often as needed.
Additional Information
Vaseline Original Skin Protectant Petroleum Jelly, 13 oz
Vaseline Petroleum Jelly Original is clinically proven to help heal dry, damaged skin
Vaseline Petroleum Jelly provides dry skin relief and protects minor cuts
Made with 100% pure petroleum jelly. Purity is guaranteed with our triple-purified formula
Vaseline petroleum jelly acts as a moisturizer for dry skin bringing skin relief
Vaseline petroleum jelly can be used as a moisturizer for sensitive skin as well
Awarded the U.S. National Eczema Association Seal of Acceptance as suitable for sensitive skin and dryness associated with eczema
Reviews
danno
Amazing results
I have being using vaseline for years for sore lips. Always works great. 10 years ago I moved to California where it is very dry. My skin on my forehead got terribly dry. I tried many many moisturizers. And some very expensive ones. (80 dollars for a small jar!!!] I even went to my doctor who prescribed me something. The result... nothing. 3 months ago I got desperate and thought I would try Vaseline on my face. Amazing!!! My skin is soooooooo much better it's unbelievable, I had no idea that it was good for dry facial skin. I put a lot on in the evening (yes it gets on the pillow but who cares) and a little bit on in the morning. My face is not greasy from it in any way. I cannot recommend it enough to anybody with similar problems. And of course there is the cost which really is incredible. Well done Vaseline. Everybody should use it. Unless of course they want to spend a fortune on ineffective products as I did. Enjoy!!
danno
Good lubricant
I use gasoline for its excellent lubrication qualities
Dorothie
Love it
I love this product , its my go to product for excema ,and dry skin , its also my go to product for small cracks and cuts from dry skin ,recently my doc told me to use it for a burn remedy ,I did and it healed it faster than any other product I used
Sonia0719
Better than Jelly!
Vaseline Jelly has been a part of my life for as long as I can remember. This product is amazing and does wonders in my everyday beauty routine. I love that it comes in many different sized bottles, from larger then large to last long on my makeup dressed, to so small I can fit it in my tiny purse. The texture is easy to work with, is not runny, and can be controlled how ever you may use it. My favorite Vaseline Jelly beauty hack is using it to keep my eyebrows tamed. I just take a little in the tips of my fingers and rub it into my eyebrows enough to give a little shine. Once I have the amount I need I take an eyebrow brush and brush them to the shape I need. The results are perfect, my eyebrows stay in one place and I do not have to worry about them getting bushy and messy. I highly recommend this to anyone who loves playing with makeup because there are a lot of beauty hacks available with just this one product. I received this product complimentary from Influenster for testing purposes. [This review was collected as part of a promotion.]
caraxkins
The only moisturizer that works for me
I started using Vaseline as a daily moisturizer when i found out that it was non-comedogenic. I have combination ACNE PRONE skin and everything else I have ever tried broke me out or didn't heal dry skin or both! Any hint of dry skin is almost instantly fixed by rubbing Vaseline into it, for me. I also keep it with me to use as a cuticle oil and it make my nails SUPER strong and thick. And it's the perfect lip balm, of course. Basically this is the only product I completely trust putting on my skin anywhere and for a variety of reasons. I highly recommend it, especially in the tube since it's convenient and cleaner.