Vaseline Intensive Care Advanced Repair Unscented Body Lotion 32 oz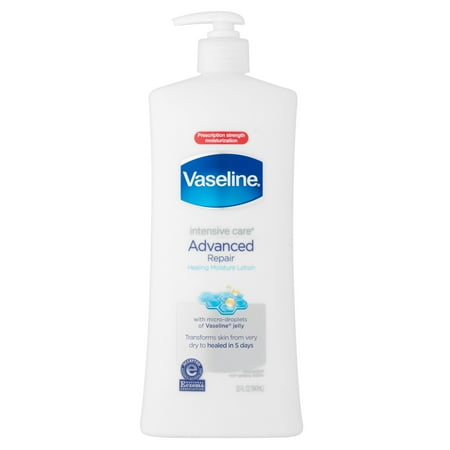 MSRP :

$15.35





Sale :

$8.48

Sold & shipped by Walmart
Product Description

Additional Information

Reviews
Product Description
Vaseline believes healthy skin starts with deep-healing moisture. And it all started with a wonder jelly that Vaseline has been perfecting for 140 years. Today, there are micro-droplets of Vaseline jelly in Vaseline Intensive Care Advanced Repair Fragrance Free Lotion which absorb deeply into your skin and moisturize to heal it from within. Vaseline Intensive Care Advanced Repair Fragrance Free Lotion moisturizes to heal dry and dull-looking skin; brings out your skin's natural glow; absorbs fast for a non-greasy feel.
Additional Information
Vaseline Intensive Care Advanced Repair Unscented Body Lotion 32 oz
Reviews
Unknown Customer
I ABSOLUTELY LOVE THIS PRODUCT
This product of Vaseline is extremely beneficial for people like me. I can't use everything on my sensitive skin. Before I started using all natural organic butters and coconut oil, I used to use Vaseline petroleum jelly daily!! From the time I would shower before work and all throughout my day. I also use the Vaseline lip therapy. I still carry the mini container in my cosmetic bag, glove compartment and my desk at work. So when I received the opportunity to try Vaseline Intensive Care (Advance Repair and Fragrance Free lotion) I said I'll give it a try. I loved the consistency of the lotion. And it absorbs into my skin fast, and took no time at all to dry. The finish of this lotion left my skin feeling really smooth and moisturized, and not sticky. I would definitely recommend this lotion to my family and friends because it is the most effective lotion out there for people of all different skin types.





 [This review was collected as part of a promotion.]
hpgirl2008
Very good for dry skin!
I have terribly dry skin everywhere on my body but my face. The worst are my hands, my ankles and the bottoms of my feet crack. I just recently found out I was diabetic so naturally the foot problem became that much more important to take care of. I have found a few lotions that help for a few hours, but never one that kept my skin moisturized for long periods of time and through washing my hands. So I was pretty excited to try this product in my #VaselineVoxBox and I really like it. The drops of Vaseline jelly I think give this lotion an extra kick without leaving your skin with that greasy feeling. I am really impressed with the way this works and it is actually working for my cracked feet very well too, so I am happy! It is such a soft lotion, when you put it on it feels like silk. Plus this is fragrance free which is nice because it is just a fresh smelling product and no worries about allergies. [This review was collected as part of a promotion.]
xbeth
Same dependable, moisturizing lotion I love
Vaseline Intensive care, non-greasy lotion works fantastically. Vaseline is my go to lotion when my skin is really dry and nothing else works. The advanced repair unscented Vaseline is prescription strength moisturization. It makes my dry skin nice, silky smoothe, and adds the moisture that my skin is lacking. The lotion is thick and rich, it doesn't feel watered down, but at the same time doesn't leave my skin feeling greasy and sticky. It's clinically proven to heal very dry skin in 5 days. It contains a blend of glycerin and has micro- droplets of Vaseline jelly and dimethicone. The glycerin pulls the lotion down through the layers of your skin and the dimethicone locks the moisture in. I love the unscented because my skin is very sensitive and many times I'm allergic to scents that are added to lotion. I received a sample of this lotion to try for free because I am an #Influenster member. #ad [This review was collected as part of a promotion.]
AmyG
Blessed relief!!
I have severely, chronically dry skin due to having non-functioning sebaceous glands. My skin doesn't moisturize itself by producing oil, so I have to rely on external moisturizers. In a typical day, I layer on a heavy duty prescription moisturizer in the morning, thick hand creams throughout the day, added spray-on moisture in water and oil blends, and before bed I later a thick coat of Shea butter and a blend of oils. I still have flaky, itchy skin, but it's better than it was! Enter this nicely-sized sample of Vaseline Intensive Care Advanced Repair, which I received for review from Influenster. It's exactly what I need for those middle of the day touch ups. hand creams be gone - all I need is my V.I.C.! Thank you for making this unscented as well. It's so nice to not have it conflict with any scent I may be wearing. [This review was collected as part of a promotion.]
ReviewsByMari
Very moisturizing and non-greasy!
I have a chronic auto immune disease called Psoriasis...which can leave my skin very dry, very itchy and very scaly. I have been using a sample I just recently recieved, a free 10 fl. oz. Vaseline Intensive Care Advanced Repair (fragrance free) from #Influenster. This lotion has been working great for me. Within a few hours after applying different lotions, my skin tends to get easily dry again. With the Vaseline Intensive Care Advanced Repair, the lotion lasts quite a bit longer for me and it's not greasy. Very moisturizing and my skin is like a sponge and soaks it all up! Great part as well, is that it's fragrance free..which does not make my skin irritated at all. I highly recommend, especially for the winter months when our skin gets overly dry. Great quality and overall affordable. [This review was collected as part of a promotion.]