Differin Adapalene Gel Acne Treatment, 1.6oz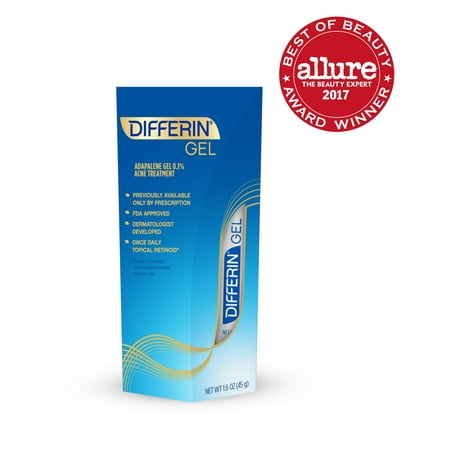 MSRP :

$28.88





Sale :

$28.88

Sold & shipped by Walmart
Product Description

Additional Information

Reviews
Product Description
The Only Multi-Benefit Dermatologist Recommended Retinoid Available Without A Prescription. Differin® Gel - First Ever FDA Approved Product to Contain A Prescription Strength Acne- Fighting Retinoid Adapalene, Without Prescription. Contains 0.1% Adapalene, The Only Multi-Benefit Dermatologist Recommended Retinoid Available Without A Prescription. It Is The Latest Ingredient In The OTC Acne Category In Over 30 Years! Differin Gel Is Ideal For Those With Mild To Moderate Acne, Or Even Occasional Breakouts
Additional Information
CLEARS Breakouts Where They Start (Deep In Pores) And PREVENTS New Acne From Forming, Which Ulitmately RESTORES Skin's Texture and Tone

Adapalene Was Created For Superior Tolerability Compared To Other Prescription Retinoid Products Not Containing Adapalene. It Is Suitable For Use As Part Of Your Morning Or Evening Regimen

Water-Based Formula, Oil-Free, Alcohol-Free,Fragrance-Free, Non-Comedogenic.

In A Clinical Study, Differin Gel Provided up to 87% Reduction In Acne Lesions After 12 Weeks, Which Will Continue To Improve With Further Use

Acne, Oil Free, Retinoid, Dermatologist Developed, Sensitive Skin, Oily Skin, Prescription Strength, Anti-Inflammatory, Restore Skin Tone, FDA-Approved, Moderate Acne, Adult Acne

Reviews
Anna
THANK YOU DIFFREN
This product helped me so much!!! My skin broke out so bad and this was the only thing that worked !! Thank you Diffren.
Brinny
Seems to work so far
I've only been using this for about 3-4 weeks and just got the stage of "purging" along my jawline and getting a few dry patches but overall I've seen quite a few places clear up dramatically. From what I've read the purging of the skin and dryness is normal. My skin is typically very oily. Hasn't been as bad since I've started using differin. I have struggled with cystic acne since I was a teen and have tried thousands of products and nothing has worked. I also had very huge pores and they have shrunk some in just a few weeks. Even my scars from huge breakouts I've had before have faded almost entirely. I cannot wait to see the results by the 3 month mark. I use only once a day and wash my face before with a benzoyl peroxide wash then apply differin afterwards before I go to bed. Here's a before and after pic for my 3 week mark. Before pic is obviously left side and after pic I took this morning when I woke up. Excuse my roughness lol
MrsDeezl
IT BURNS!!!
I only used the product for 3 days as directed. I didnt use it on my eyes, only on spots on my chin, cheeks, nose and forehead. This burned all around my eyes. My face looks oily because it's covered in neosporin to help the burn. I have used many different products and I wouldn't say I have sensitive skin and I've never experienced anything like this before. It is very painful and as you can see my acne is still very present. These pictures are 2 days after end of use. I recommend talking to a doctor before using this product. My skin is so sensitive I cannot even wear makeup to cover the burn or acne.
msamy73
Finally my acene isgone
it really helped me and cleared up my face and i love it [This review was collected as part of a promotion.]
SeanB
One of the only products that actually worked!
Back when this product was available by prescription only, I remember this product being one of the very few that actually did work for me. When I was 15-17 years old I had a terrible time with acne and had gone to a dermatologist to get the problem solved. I had been on every antibiotic available for acne for well over a year, as well as using various topical creams that would make my face literally peel off and very red and irritated. This product was one of the last topical creams I used before eventually taking Acutane and the problem was solved permanently. This product never irritated my skin and was pretty good at preventing more acne from appearing, as well as keeping the redness of my skin to a minimum. Try this product. I am positive you will have good results. It is also a non-greasy formula so your skin doesn't look shiny with this on and it also does not overly dry your skin like so many other topical medications do. Give it a try!