Cetaphil Body Dry Sensitive Skin Moisturizing Cream, 16 oz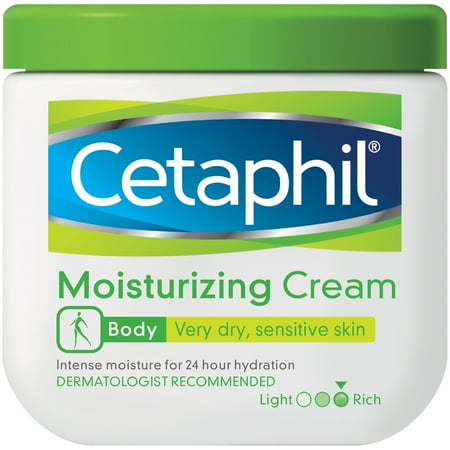 MSRP :

$16.13





Sale :

$10.93

Sold & shipped by Walmart
Product Description

Additional Information

Reviews
Product Description
Additional Information
Cetaphil Dry Sensitive Skin Moisturizing Cream, 16 oz:
Unique formula and superior system of emollients and humectants binds water to the skin, preventing moisture loss
Skin immediately feels hydrated and smooth
Non-comedogenic, dermatologist-recommended and fragrance free moisturizing cream
Intense moisture for enhanced hydration
Ideal to use on the hands, feet, elbows, knees and other areas that require intensive moisturization
Clinically proven to give lasting relief from dry skin
Quick absorbing, rich, non-greasy
Galderma is a registered trademark
Cetaphil does not manufacture store brands
Made in Canada
Package contains 16 oz
Reviews
Woodytaz
THE BEST FACE MOSTURIZER
I use to use this on my intire body, then I saw this thing to make your own. I tried that for a while, my face started looking terrible so I went back on cetaphel mosturizer cream. We took a trip and I thought that mirror there was telling me a lie! At 67 my face was looking good ! I will always believe in this! Getting the shower stuff too, I love not having to get out of the shower and putting on lotion.
CAMooreofme
The best for my dry skin
I have extremely dry skin, especially my hands, legs, feet, and arms (LOL, what's left, my back and torso?). During one of my rare moments, I was looking at a Dr. Oz show and he recommended this product for dry skin. I tried it and I haven't stop using it since. It is not oily but it does moisturize my skin very well. It doesn't really have a scent, which is fine with me. I use it after I get out of the shower and every night before bed. I brought the large 16 ounce jar about 2 months ago and I still have a little less than half left. You don't need to bathe yourself in it, just a dab is good for my feet and hands, my arms and legs take a little bit more. Every now and then I use it on my face but I have another moisturizure for my face. I love Cetaphil and I highly recommend this product.
GreenBayfan1
Face and body goodness
Wife and I use Cetaphil all the time. No odor, light consistency, perfect for use on face and everywhere. Drinks into the skin quickly with no greasy feel afterwards.
DDauphin
Face and body goodness
This moisturizes your skin, and does not leaves your skin feeling smooth.
Cecily
one of the Best I have tried for desert dry skin !
I had no idea why my skin is so dry and breaking out like a teen...Tried many products. Dr said to use Vaseline, it helped a little but what a mess on me and my cloths. I had used The yellow tube of Vaseline lotion ok for a time then started itching. Now I use a very thin layer of Vaseline let iy soak in for about 30 mins , wipe off melting and runnning extra with Kleenex then add thin layer of cetaphil to my face neck arms, legs and back I never miss my face.. EXCEPT at bed time the I do the same UNTIL time to moisturize then I use Aveeno INSTEAD of cetaphil. I really like fragrances of Aveeno products. I now have diagnosis for my all over skin problems . Had biopsy from Dermatologist to find out, highly recommend seeing Dermatologist. Lichen Simplex Chronicus . Dr. recommended using Vaseline only but, did not help my dryness , Cetaphil is working. Wal-Marts samples are so important Especially for those with Allergies. What a relief this has been THANKS WAL-MART...