CeraVe Daily Moisturizing Lotion for Normal to Dry Skin, 12 oz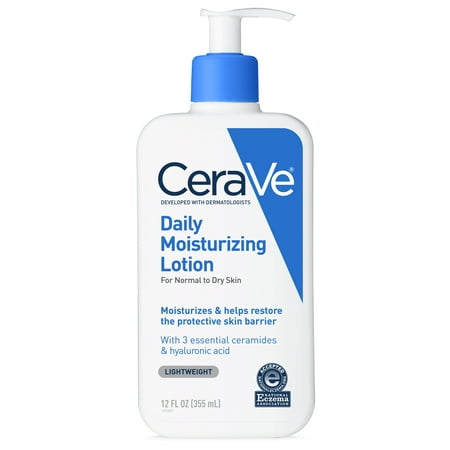 MSRP :

$12.97





Sale :

$11.22

Sold & shipped by Walmart
Product Description

Additional Information

Reviews
Product Description
CeraVe Moisturizing Lotion, 12 oz, is a veritable indulgence of hydration for your skin. Its unique formula is time-released, so your skin will receive moisture all day. It is also rapidly absorbing, so it won't leave your skin with an oily residue. CeraVe hand lotion will permeate multiple layers to restore your skin. This provides you with better defense against toxins and environmental stresses, while bringing your skin one step closer to total health. It features a patented multivesicular emulsion (MVE) formula and is non-comedogenic. It's also fragrance-free, so you can use it as a moisturizing hand lotion or apply it anywhere else on your body. This cream is clinically proven and was developed with dermatologists for maximum effectiveness.
Additional Information
CeraVe Moisturizing Lotion:
Contains essential ceramides
Non-greasy, fragrance-free
Clinically proven skin hydration
CeraVe hand lotion available in a 12-oz pump
MVE Delivery technology, controlled release for all-day hydration
Hyaluronic acid, helps retain skin's natural moisture
Lightweight and oil-free
Non-comedogenic, won't clog pores
Developed with dermatologists
Hypoallergenic, non-irritating
Non-greasy moisturizer for normal to dry skin
Reviews
Fraurisa
Like a bottle of water or a skin quencher
I wish I had used this years ago when I started Retin-A full strength therapy. I don't even know if it was around in the 1973. My pharmacist recommended this because I thought there may be something better then Nutriderm and Lubriderm.I still use Retin-A but not full strength and I don't use it everyday. It can be an intense therapy and using a moisturizer was important. I thought this was an excellent product for someone with really dry,fragile or irritated skin that doesn't involve an allergy or bug bite.I couldn't use it during the day because a small amount really coats my face I can see it and I look a tad greasy. I still have some oil left over from my teens I supppose!I couldn't put my make-up on it would smear and smudge. I eventually took this back and the reason I'm writing this is because its such a good product,superior moisture..just not for me. I would go so far that people with normal skin do not need this level of moisture.But that's just me!! Thanks a a lot!
fireflies6
Can't live without it!
This is by far the best facial lotion I have ever used. If they ever discontinue it, I will go insane. It moisturizes, clears up acne scars, makes your face smooth, non greasy. It is the only thing that took my skin from being greasy, acne prone, and uneven to smooth, with small pores, and a radiant glow!!! Two tips for use: 1. Use very little. If you glob this stuff on, I've found whiteheads start to pop up and your skin looks lumpy from the excessive moisture. I use a little dab on my T-zone and cheeks and I'm good to go. 2. You have to exfoliate more often. I find my skin starts to feel "crusty" if I don't give my face a gentle scrub with a washcloth once a week. It must be the high cell turnover rate that this stuff causes. So be sure to exfoliate to keep your skin looking smooth and fresh. All in all I love this stuff!
JB
Works Great
CeraVe was recommended to me years ago by my dermatologist year's ago. It works great soothing skin and in moisturizing. I recommend this product.
CeejayFL
Best lotion in the market!
Cerave has been in my daily routine for the last fifteen years. Prescribed by my dermatologist, I use it various times a day to take care of dry and itchy hands. It is great! I recommended highly.
Coreluna
Good moisturizer for sensitive skin
I used to avoid facial lotion because I would break out from it. This is a non comodogenic lotion that gives me the moisture I need without the exchange for a break out. I highly recommend CeraVe.