Nizoral A-D Anti-Dandruff Shampoo, 7 Oz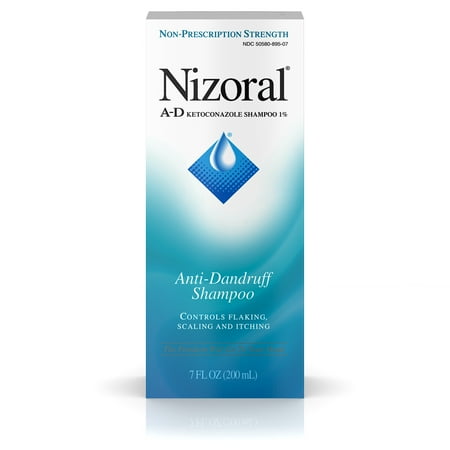 MSRP :

$14.99





Sale :

$14.84

Sold & shipped by Walmart
Product Description

Additional Information

Reviews
Product Description
Nizoral Anti-Dandruff Shampoo is a powerful formula that controls flaking, scaling and itching. It combines the effectiveness of ketoconazole, a proven dandruff-fighting ingredient, with salon-tested gentleness. Use it just twice a week in between your regular shampoos to control dandruff. It's gentle enough to use on color-treated, chemically processed and gray hair and has a thick, rich lather that rinses clean and leaves your hair smelling fresh. This ketoconazole shampoo binds to the natural protein of your hair and works between shampoos to eliminate the fungus that causes dandruff. You can also use your favorite hair-care products or salon shampoos in between treatments.
Additional Information
Nizoral A-D Anti-Dandruff Shampoo, 7 oz:Shampoo fights dandruff outbreaksKetoconazole 1% controls flaking, scaling and itchingUse just twice a weekThick, rich lather rinses cleanCan be used on color-treated and chemically processed hairBinds to the natural protein of your hair to keep working between shampoosUse with your favorite hair-care products or salon shampoos in between treatmentsBottle contains 7 oz of A-D ketoconazole shampoo
Reviews
Violet12
Only thing that works for my scalp issues
As many others have said already, this stuff is awesome and it's the only thing that works for me. I have severe dandruff along the front edge of my scalp-embarrassing. I was an avid fan of this when I first got on but during the shortage I've been able to try the many other popular names and they did nothing or the results didn't last longer than a day. When I say many I mean I went thru them all...Nizoral went missing for almost 2 years but my dandruff was still here. This is the only shampoo to get my dandruff under control and stay at bay long after I've washed my hair-I wash 1x per wk. It's finally back in stock at my local Walmarts after the shortage (due to change in manufacturing I heard and then the following FDA approvals?)-hopefully it'll stay around this time.
gmc6
Good
Very effective product. Don't use daily if you have sensitive skin.
sobph
shocked at how well its worked
i've had dandruff issues since grade school. within the past few years it's gotten worse. it hit it's peak weeks ago. it surpassed flaking and went straight to scaling, even at my hairline. if i waited more than a week to wash my hair, it was a gross mess. it was embarassing and frustrating and im sure it affected any hair growth. i've tried all the common go to dandruff shampoos that people seem to love to recommend. head and shoulders, neutrogena, jason tea tree oil shampoo, etc etc. finally I found Nizoral. i did some research and was excited to see that the creator had considered women of color when making this product. they stated how harsh dandruff shampoos can be and that washing our hair multiple times a week (like most dandruff shampoos recommend) is not an option for some of us. the website said it was strong enough to use just once a week. i read some reviews, and decided i have nothing to lose. well here i am over a week later after using the shampoo just once, with my scalp drastically more clear, and my hairline looking healthy. i have not seen one flake. no weird sweaty smell coming from my scalp. nothing. so, i'd say that so far this shampoo has been a miracle. i am so happy i no longer have to worry about wearing a dark colored shirt or blouse. no more feeling self consious if anyone stands near me wondering if they can see flakes on my hair or shoulders. its a good feeling.
TABIA
WAY BETTER THAN HEAD AND SHOULDERS
I was using head and shoulders with tea tree oil(lots of forums say tea tree oil helps great for drandruff) well I def gave that MORE than enough time to be effective and it wasn't. It seriously sucked. I would almost go as far to say that it made it worse. I tried the kind with and without. Then while browsing for aveeno drandruff shampoo, this popped up in the suggestions. So I gave it a try. And the person who said they saw a change in three washes, same here. I don't have the gross flakes, I still have some dandruff but in comparision to before. PFFTT how did i not know about this sooner! Best stuff ever! I just use the shampoo then whatever conditioner I feel like. It doesn't dry my hair out and make it all crazy. It's expensive but seriously, it works. I dont know about those 6 people who said otherwise.
MNWild2001
Best shampoo to help clear up scalp
A few years ago, I had a breakout on my scalp. I still don't know how or why it happened. All I know is that once I had it, it was a bear to get rid of. I tried any and everything I could find. Then I found Nizoral. I hesitated purchasing it because of the price for the relatively small bottle. But I did. And I am happy I did. It worked great. Yes, it is a small bottle and around 15 bucks but you use it a few times a week. So, that is why I put the value as average. And for whatever reason this disappeared from the market in the US for a while. I think this is a fantastic product and I just so happened to see it again at my local Walmart. Some people don't like the scent but I love it. And it lathers up great. Highest recommendation!