Nizoral A-D Anti-Dandruff Shampoo, 7 Oz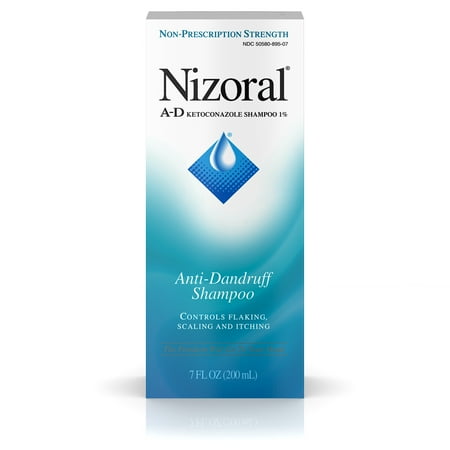 MSRP :

$14.99





Sale :

$14.84

Sold & shipped by Walmart
Product Description

Additional Information

Reviews
Product Description
Fight dandruff outbreaks with Nizoral A-D Anti-Dandruff Shampoo. This powerful shampoo controls flaking, scaling, and itching caused by dandruff. It combines the effectiveness of ketoconazole 1%, a proven dandruff-fighting ingredient, with salon-tested gentleness. Use it just twice a week in between your regular shampoos to control dandruff. It's gentle enough to use on color-treated, chemically processed, and gray hair, and has a thick, rich lather that rinses clean and leaves your hair smelling fresh. The freedom will go to your head.
Additional Information

Nizoral A-D Anti-Dandruff Shampoo, 7 oz:
Shampoo fights dandruff outbreaks
Ketoconazole 1% controls flaking, scaling and itching
Use just twice a week
Thick, rich lather rinses clean
Can be used on color-treated and chemically processed hair
Binds to the natural protein of your hair to keep working between shampoos
Use with your favorite hair-care products or salon shampoos in between treatments
Bottle contains 7 oz of A-D ketoconazole shampoo
Reviews
Max G.
The only shampoo I'll ever use again
Over the last two years, a lot of things changed in my life. I got married, changed jobs, moved and found out my first child was on the way. One way my body reacted to all of this stress was my scalp became itchy, red and flaky. It was incredibly painful and embarrassing. It was all I could think about all day and I became very self-conscious about it. The only silver lining is I'm very tall, so I figured most people couldn't notice my ailment. I stayed away from dark colors and wore a hat in as many situations as possible. I implored various barbers, online forums, I tried every medicated shampoo on the market, natural oils, you name it; over the course of around 8 months. It wasn't until meeting with my new PCP at my first physical since being with my current company that your product was suggested. After just two uses, not a single flake has reappeared and I literally have my confidence back. I cannot thank the creators of this product enough. Thank you, Max
Jessie8797
Fights dandruff!
Fall is here and my body changes like crazy! My hair is all frizzy, my skin drys out like a desert and I get dandruff like you wouldn't believe! Plus my hair is damaged from all the bleach, and honestly dandruff shampoos make it even more worse. After a common dandruff wash, my hair feels like a piece of sandpaper. And that's my main reasoning for liking, no loving the Nizoral AD Shampoo so much. I can use it and not have to apply a pound of deep miracle conditioner afterwards and best of all my hair isn't hard and yucky like a piece of sand paper! It really gets to work at fighting off the dandruff. It makes me feel more confident and less embarrassed, cause it's gone!! My husband has dandruff too and he will actually use this too. Most of the time he won't touch a dandruff shampoo unless it's targeted to men! Yes, it drives me crazy so I'm thrilled he will use this, save me money also because I won't have to buy 2 separate dandruff shampoos! Husbands can be as bad as dandruff hehe! [This review was collected as part of a promotion.]
Violet12
Only thing that works for my scalp issues
As many others have said already, this stuff is awesome and it's the only thing that works for me. I have severe dandruff along the front edge of my scalp-embarrassing. I was an avid fan of this when I first got on but during the shortage I've been able to try the many other popular names and they did nothing or the results didn't last longer than a day. When I say many I mean I went thru them all...Nizoral went missing for almost 2 years but my dandruff was still here. This is the only shampoo to get my dandruff under control and stay at bay long after I've washed my hair-I wash 1x per wk. It's finally back in stock at my local Walmarts after the shortage (due to change in manufacturing I heard and then the following FDA approvals?)-hopefully it'll stay around this time.
newRVer
Worth the purchase!
This shampoo is affordable and a little goes a long way. I use it once a week on my color treated hair and have no issues with color or dandruff. I use hair products regularly and this helps with keeping my hair look nice. Worth the purchase!
CM93
Finally found a perfect product
I have tried everything to help with my dandruff through the years. I can't begin to try and count how many different shampoos I've tried and have failed, I've tried changing my eating habits, showering my hair more or less often, drinking more water, etc. I've tried anything and everything to help that people have claimed has worked just because my dandruff is a big factor in my life. Even when I found a product that seemed to work, it stopped within a couple weeks (and yes, I use more than the dandruff shampoo) and my scalp would go back to how it was, until I found this product. I had never had a dandruff shampoo that worked so quickly, so well, was so consistent and was soothing. Having this product in my life has made such a difference. I haven't had to worry about having a sore scalp, flakes in my hair, itching, hiding the spots on my hairline that showed redness. It is such a relief and I'm truly grateful to have this product in my life now to help with all this and to be so easily accessible.