Centrum Silver Adult 50+ Multivitamin Chewables, Citrus Berry Flavor, 60 ct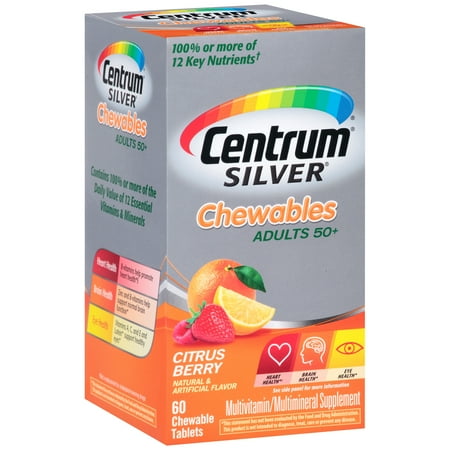 MSRP :

$15.36





Sale :

$9.97

Sold & shipped by Walmart
Product Description

Additional Information

Reviews
Product Description
Supplement your daily diet with these Centrum Multivitamin/Multimineral Supplement Citrus Berry-Flavored Centrum Silver Chewables. Each tablet provides an assortment of vitamins and minerals. A once-a-day dose for adults on the go, this chewable multivitamin is ideal for those that cannot swallow large pills or do not want the option of a gummy. These multis are made with an advanced formula to aid in your whole-body health and provide iron, antioxidants and much more.
Additional Information
Reviews
15MSN
Excellent Chewable Vitamin for 50+
Centrum has heard from the people! Clearly a lot of seniors have had a hard time swallowing some of the large, hard vitamins that are on the market today. We are all focused on making sure we get what we need daily, but some of the vitamins are so large that I have actually skipped days because they are so difficult to swallow. This is NOT a good idea. Centrum has solved the problem by creating a chewable vitamin that has all the needed ingredients that those over 50 need and it tastes great. I actually look forward to my morning vitamin these days which is a huge change over my avoidance syndrome with the other monsters I was trying to choke down.
Guru4Mac
It's all that's left.
As a couple of old farts in our 70s, my wife and I have been taking Centrum Silver Chewable Vitamins because nether of us can choke down the horse pills other senior vitamins use. Then the grocery store stopped carrying them. Then the Ekerds/Rite-Aid discontinued them. Now WalMart stores don't carry them on a predictable basis. That leaves WalMart.com. If they stop, then it's Gummy Bears or something. (yuck!)
Johnemman
50 Years Young
Easy to swallow and hits the spot every time. I feel great and my zest for life has returned. Get this if you have been feeling tired and a little run down. Always check with your health care provider to dispel any health problems of course. Get the all clear and then get these amazing energy boosters in a chewable tab, you'll be happy you did.
beachkittycat
Hate taking big vitamins? These are great!
I don't like taking gigantic vitamin pills and these are the perfect alternative; they crunch, they're not chewy & won't stick to teeth, and flavors are quite tasty!
shelleyprent
Centrum recommended by my Doctor
Centrum Multivitamin Multimineral Suppliment Chewables are great, especially for those who have digestive problems or do not like swallowing pills. Convenient and the flavors taste great.