Lenovo ideapad 330 15.6" Laptop, Windows 10, Intel Celeron N4000 Dual-Core Processor, 4GB RAM, 1TB Hard Drive - Plum Purple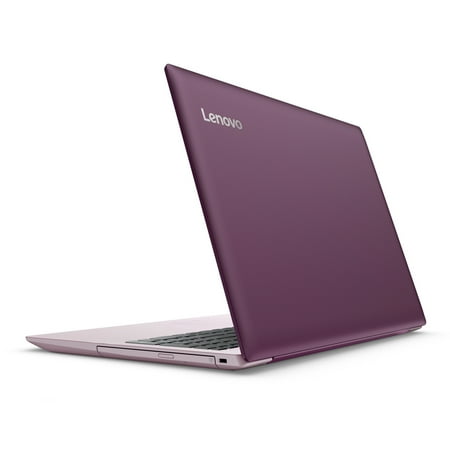 MSRP :

$279





Sale :

$239.99

Sold & shipped by Walmart
Product Description

Additional Information

Reviews
Product Description
Stacked with premium processing and advanced graphics options, the IdeaPad 330 is as powerful as it is easy to use. Safe, simple and designed for tomorrow's tasks.
Additional Information
Lenovo ideapad 330 15.6" Laptop, Windows 10, Intel Celeron N4000 Dual-Core Processor, 4GB RAM, 1TB Hard Drive,Platinum Grey
Stacked with premium processing and advanced graphics options, the IdeaPad 330 is as powerful as it is easy to use
Windows 10 home software
Intel Celeron N4000 Dual-Core Processor
4GB RAM 1TB Hard Drive
Designed with a special protective finish to guard against wear and tear
Rubber detailing on the bottom to maximize ventilation and extend component life
AC Wireless to ensure a reliable connection for all your needs
More than enough room to build your collection of photos, movies and more
HD resolution on a 15.6" display delivers powerful visuals on the go
The IdeaPad 330 offers a DVD-RW drive, so you'll be able to watch and listen to the movies and music you already own and love
Complete with grey shell
Walmart Protection Plans [sold separately] for laptops covers accidental damage like cracked screens and liquid damage, as well as battery, mechanical and electrical failure from normal use.

Reviews
ITDADGITRRUNNING
Good value, incorrect specs on item description
The price for this machine is great. However, the specs listed on the item are incorrect, with one of them having me return the laptop the day after it was delivered. The technical specs state maximum ram supported to be 4 TB, when it really is only 8 GB occupying a single ram slot. I intended to purchase a 12 or 16 GB memory chip upgrade for memory gluttonous applications/services and Windows 10. 4 stars for a good value (assuming 3 years of use), but not 5 because the specs are incorrect for a feature that was needed- memory capacity/expansion. 5 Stars for Walmart- always willing to fix their mistakes, good customer service, and a pretty sweet e-commerce presence . 1 Star- having to pack this up and get a return processed. I'd rather watch a football game. :>)
Erick
Five star ⭐️
I'm happy with my lenovo ideapad, I recommend and I'll give a five star ⭐️
Tinkerer
Nice features for the price
Packed with nice features for the price! I am very impressed with this recently introduced (around May 2018) entry level laptop. It has a full HD screen at 15.6", HDMI port, a wired Ethernet port (in addition to the fast 802.11AC WiFi), a large 1TB 5400rpm hard drive, as well as a 1.1 GHz dual core Celeron processor that turbos to 2.6 GHz. It comes with a DVD writer. Not many entry level laptops carry this. The touch pad has hidden buttons (like Apple Macbooks), which looks nicer than those with visible big buttons. The power supply cord wraps up nicely into a small cube (the tie wrap is enough t go around the power cube). Some other brands' power supplies have a bulky detachable AC cord and are not as easy to store and carry as this one. There are many 11" and 14" laptops out there, including Ideapad 100 series and other brands using either Windows or ChromeOS with much less capability, but not a lot cheaper. I decided on this Windows 10 laptop as I wanted to use dual boot to run Ubuntu Linux. This laptop worked out fine with Ubuntu 18.04. You will need a driver for the touch pad, but the mouse works fine as is. The 330 family of laptops also include a quad-core Celeron model that turbos to a lower 2.4 GHz. That model comes with a smaller 500 GB hard drive. Both the 500 GB and the larger 1TB hard drive are traditional drives, therefore they are not going to be completely quiet like a Solid State Drive (SSD). The large 1TB drive was the main reason I opted for this model. If you need higher CPU speeds and do not mind a smaller but faster drive, there are Ideapad models with Intel Core CPUs and solid state drives at higher price points. There are models with touch screens too if that is what you like to have. Lenovo puts only several applications on the laptop, including McAfee LiveSafe anti-virus software. Therefore the system comes with almost a bare install of Windows 10. It is very clean compared to some other brands with all kinds of ad wares. A headache I noticed is the Windows 10 Home Edition that came with this computer. It kept downloading random apps in the background, without my permission, and installing them on the computer behind my back. It's awful! I need to find some way to disable it. I did not need to worry about this with MacOS. The Ideapad 330 is a great value at the price point. The large hard drive allows you to install Linux or use the and have room to spare, or use the space for all your pictures, videos, books and music. It is a recent, up to date style and is a great entry level laptop at the price point.
BossLadyCP
No DVD/CD Drive! The pics lie
Beware of the purple ones! NO DVD/CD Drive that actually works! Had to return day after Christmas
J
No DVD/CD Drive! The pics lie
I have had this laptop maybe a week and the screen is already having problems. I have not dropped it at all.