Sing (Blu-ray) (Walmart Exclusive) (VUDU Instawatch Included)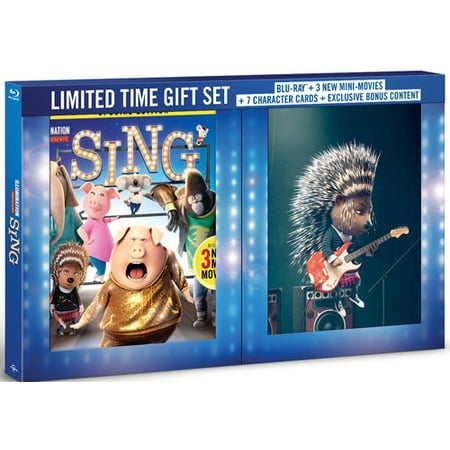 MSRP :

$34.98





Sale :

$17.29

Sold & shipped by Walmart
Product Description

Additional Information

Reviews
Product Description
Additional Information
Reviews
Andraylia
Exclusive Content Misleading
This is a review of this Wal-Mart exclusive set and not the actual movie. I really enjoyed the movie and would recommend it to anyone who enjoys animated movies or musicals. Like the other reviewer mentioned, there is an exclusive Wal-Mart code on the back of the sticker on the outside of the plastic wrapping. I luckily noticed right before I threw it away. This is separate from the digital HD code found inside the movie case. You have to go to Vudu to redeem it, which for me is no problem as that is where I currently house my online collection. When you enter in the code, you have to select ONLY 3 of the 5 features listed on the back of the package. No where does it state these features are limited to a selection of 3, not even in the fine print. I really liked the character cards. They are each double sided, with a picture of the main character on one side and a picture of the character and the actor who voices them on the other. I believe this alone is worth the extra couple dollars, but if you are only looking for digital extras, this is not worth the investment. One of the exclusives I chose was the picture gallery which was a minute long and basically not much more content than the character card pics. I cannot recommend this as one of the choices. I can't believe it couldn't include all 5 features noted on the packaging. Also, just as an additional note for those who use Vudu, the exclusive features cannot be found under the Vudu extras on the movie. They instead get listed separately as if they were each their own movie. This may be helpful to know in case you have hundreds of online movies like myself and are trying to find the content after redeeming the code.
eggman
No actual exclusives
Don't be suckered into buying this (like I was) for the 15+ minutes of exclusive content because there actually is NO exclusive content. The content you unlock with the code on back of the Walmart sticker (NOT the digital code inside the case) contains Gunter's Dance Studio The Best of Gunter The 3 Mini-Movie and the Making of Thr Mini-Movies All of those are available on almost ANY of the discs! The DVD, 2D Bluray, and 3D Bluray. The 4K UltraHD disc has the Mini-Movies and Making of Mini-Movies. Unless you really want the character cards, get one of the standard releases and save yourself some money.