Xiaomi Mi Box S 4K HDR Android TV with Google Assistant Remote Streaming Media Player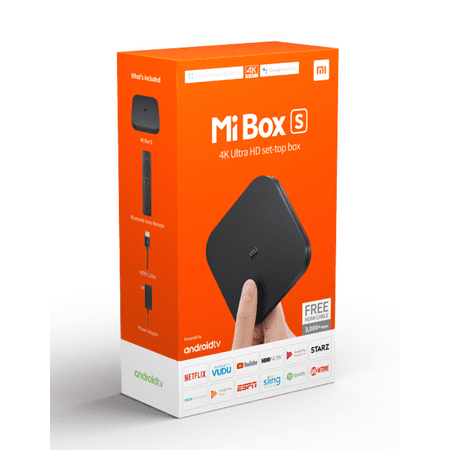 Sale :

$59.99

Sold & shipped by Walmart
Product Description

Additional Information

Reviews
Product Description
Connect to a world of content and entertainment at home with Mi Box S. Running on the latest Android TV 8.1 is easy to use, supports voice controls and your favorite apps such as Netflix, VUDU, YouTube, SlingTV and more! Experience stunning 4K HDR visuals and DOLBY DTS for an immersive experience. Catch your favorite TV shows, play games, watch the news or listen to the radio. Mi Box also recommends videos based on your personal YouTube and Google Play preferences.
Additional Information
Powered by Android 8.1 for Superior Functionality
Enjoy the latest Version of Android TV 8.1, perfect for home entertainment, home theater, business use, and more
Access Tons of Content
Access to 3000+ channels and Apps, Enjoy movies and TV episodes from Netflix, VUDU, YouTube, and more
High Clarity 4K HDR
Supports 4K Ultra HD resolution and High Dynamic Range (HDR), experience clarity and smoothness like never before
Voice Control that Does It All
Built-In Google Assistant and in Apps voice search. Search for photos, check the weather, set an alarm. Life should be simple.
High Performance Storage Capacity
Powerful Quad-core CPU, 3+2-core GPU, provides fast and stable rendering to enjoy a high quality video experience
A powerful little helper
Get hands-free help in any room with Google Home Mini. It's powered by the Google Assistant. You can ask it questions. Tell it to do things. Its your own personal Google.
Get answers from Google
Use your voice to quickly find information about the weather, news, sports and more. "Hey Google, will I need an umbrella today?
Reviews
Giovanni
Amazing Upgrade From Chromecast
I upgraded from a Google Chromecast to this device and it has been honestly the best purchase i have ever made. All the Apps work smooth and Android TV looks and works amazingly on the MiBox. The Remote feels amazing in the hands and with Google Assistant available right at your fingertips helps you control your devices without having to say shout ok google across the room! the mixbox looks fancy as well as AndroidTV. I Deff Recommend this Device if you want to save money and dont want to get other expensive android tv choices out there!
Theo
The Roku is a better and more stable experience
I bought this hoping to have the best of both the chromecast and android TV. This device almost accomplished that. I was able to turn my TV on by simply casting to the chomecast on the device. And I was able to use the remote to navigate through the apps on the TV. Here's the disappointment. Youtube TV (google's cable tv streaming service) didn't work when I casted it from my phone to the chromecast. I would get an error message. And again with Youtube TV, when I got it to play using the app instead of casting, the video was stuttering. Not buffering. Just a rapid choppy picture. Very noticable when watching the tennis channel. The issue didn't happen with my regular chromecast or my roku streaming stick+. The stuttering didn't seem to be noticeable in netflix or other apps so perhaps it's just Youtube TV. I'm a big fan of google/android technology, but the roku IMO is still a better experience even though google assistant support is lacking compared to chromecast.
AnyOlMe
Great upgrade from the previous Mi
I have to be honest I don't think people really know what they're buying when they get an android box. "The Roku or fire is better".. Really? Other than sharing Netflix and a few other streaming options these are completely different devices.. know what you are buying. This is often bought to play stored digital files (movies/tv, etc with file extensions like mpg, mkv, etc) like the discontinued WDTV!!! I've owned 2 of the previous Mi model and was mostly satisfied other than that it couldn't run amazon video very well and the specs seemed to cause Kodi to stop playback of files occasionally. But this new model hasn't had any playback issues. I haven't had any issues in fact. Maybe some people got a defective unit, are writing a review for the older model having picked the wrong one to review or they just don't know what they bought or need. If you need something to run Android apps, play digital files and stream from pretty much any service other than Amazon this is a fantastic box! Consumers need to be better informed before they make purchases that don't fit their needs or understanding and wind up leaving reviews that hurt the rating of an otherwise good device.
Propstopper
Easy to set up and it delivers
I have had one for two years now and have enjoyed flawless performance.
gadgetjunkie
Great device at unbeatable price
I have multiple devices, Roku, Apple TV, FireTV Stick, and this 1st gen Mibox. Mibox is hands down must versatile in terms of what it does - streaming, light gaming and voice search. Now I played this box for a day or two, it has the same consistent Android TV experience. Xiaomi makes product simple and easy to use. Glad to see this refresh.