Xiaomi Mi Box S 4K HDR Android TV with Google Assistant Remote Streaming Media Player with $10 Vudu Credit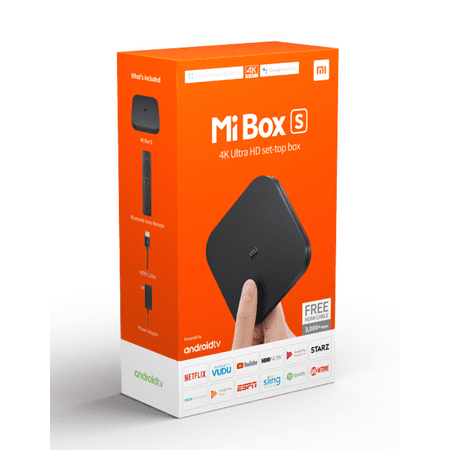 Sale :

$59.99

Sold & shipped by Walmart
Product Description

Additional Information

Reviews
Product Description
Connect to a world of content and entertainment at home with Mi Box S. Running on the latest Android TV 8.1 is easy to use, supports voice controls and your favorite apps such as Netflix, VUDU, YouTube, SlingTV and more! Experience stunning 4K HDR visuals and DOLBY DTS for an immersive experience. Catch your favorite TV shows, play games, watch the news or listen to the radio. Mi Box also recommends videos based on your personal YouTube and Google Play preferences.
Additional Information
Powered by Android 8.1 for Superior Functionality
Enjoy the latest Version of Android TV 8.1, perfect for home entertainment, home theater, business use, and more
Access Tons of Content
Access to 3000+ channels and Apps, Enjoy movies and TV episodes from Netflix, VUDU, YouTube, and more
High Clarity 4K HDR
Supports 4K Ultra HD resolution and High Dynamic Range (HDR), experience clarity and smoothness like never before
Voice Control that Does It All
Built-In Google Assistant and in Apps voice search. Search for photos, check the weather, set an alarm. Life should be simple.
High Performance Storage Capacity
Powerful Quad-core CPU, 3+2-core GPU, provides fast and stable rendering to enjoy a high quality video experience
A powerful little helper
Get hands-free help in any room with Google Home Mini. It's powered by the Google Assistant. You can ask it questions. Tell it to do things. Its your own personal Google.
Get answers from Google
Use your voice to quickly find information about the weather, news, sports and more. "Hey Google, will I need an umbrella today?
Reviews
Albaro
Its okay for the price.
The playback streaming quality was choppy at times. Vudu, Movies anywhere and Netflix had 4K issues on playback. 4K wasnt available on any Netflix show/movie. The auto sensing in the settings doesnt work correctly because i had to change the settings to 4K on my own. My tv is 4K and HDR. My Xbox One X did have a 4K option on shows that had it. I attached a picture of Arrested Development which i know has 4K. Also when i tried playing my 4K movies on Movies Anywhere app it said "this device doesnt support 4K playback." I tried Vudu playback on the device and the only option was HDX, which is their 1080p option, even though I own UHD. I diwnloaded thr app on my Xbox and it played back on UHD. Im going to return it and spend a little more on a better streaming device. It wouldnt be bad for a secondary tv but for my main I wasnt satisfied with it.
AGuyThatBuysStuff
Pretty good
It's a very nice android TV box. The voice recognition is quite good and the operating system itself is a nice port of Android Oreo but for large scale viewing and navigation. I however wish the Play Store had more apps for Android TV version and that there was more input options besides just voice and the D-Pad. I also wish it had more IO, like more USB ports or at least a USB 3.0 port. It is however a really good deal since you get a Chromecast device + Android Oreo for a lower price with Android than the Chromecast devices by Google. And it provides a convenient and affordable way to view content on your TV if you don't want to invest in a smart TV or don't want to/can't cast your phone to your TV. I would buy another one for other TVs around the house.
Giovanni
Amazing Upgrade From Chromecast
I upgraded from a Google Chromecast to this device and it has been honestly the best purchase i have ever made. All the Apps work smooth and Android TV looks and works amazingly on the MiBox. The Remote feels amazing in the hands and with Google Assistant available right at your fingertips helps you control your devices without having to say shout ok google across the room! the mixbox looks fancy as well as AndroidTV. I Deff Recommend this Device if you want to save money and dont want to get other expensive android tv choices out there!
Rak
Excellent Android TV console!
Got this over the weekend. Really great device to replace a chromecast. Design: Sleek, small design better than Apple TV Apps: Tons of apps from the Android app store. Especially for international apps. Responsiveness: Super responsive UI. Google Assitant is a great additional benefit. Overall, great product! Will recommend it if you're looking at android smart tv
Sanjaya
Excellent Android TV console!
Not happy with the device. Returned it on the day I got it. Software updated and went to boot loop.