Mi Box Android TV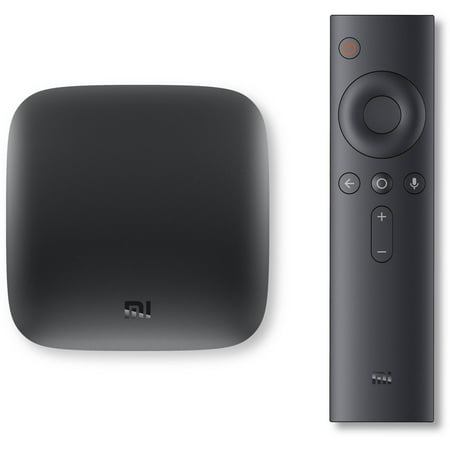 MSRP :

$99





Sale :

$83.95

Sold & shipped by JP Mobiles
Product Description

Additional Information

Reviews
Product Description
Upgrade your television experience with the sleek yet powerful Mi Box, a streaming device and gaming box powered by Google's Android TV operating system. Mi Box allows you to access your favorite streaming apps including Netflix, HBO, Showtime, Youtube and more directly on the big screen. You can also enjoy live TV channels such as ESPN, Disney, CBS and CNN all without a cable subscription via Sling TV. With support of up to 4K Ultra HD at 60 frames per second, true to life pictures pop from your screen as you watch the NFL live or play a racing game. This is how television content was meant to be consumed, what you want and when you want it, all with the sharpest and smoothest video quality. Powered by Google Cast, Mi Box makes sharing your small screens easy. You can cast shows, movies, music and more from your phone, tablet or laptop onto your TV with a single tap. The Mi Box remote comes with Google voice search built in and gives you ultimate control.
Additional Information
Mi Box Android TV:
Sling TV: sign up to watch your favorite live channels and get $50 credit towards your subscription
CBS All Access: stream your favorite shows live and on demand with 1 month of free access
Pandora: listen to your favorite music with a 3-month free trial
VUDU: rent, buy or watch your favorite movie or TV show on demand with $5 credit
Enjoy thousands of movies, TV shows and music with Netflix, HBO, Showtime, Youtube, Pandora and much more
Watch live TV channels like ESPN, CBS, CNN and Disney (via Sling TV)
Built-in Android TV 6.0 with Google Cast lets you stream shows, movies, music and much more from your phone, tablet or laptop onto your TV
4K Ultra HD with High Dynamic Range (HDR) support lets you watch videos in detail like never before
Speak into the Bluetooth voice remote and Mi Box searches for what you want with Google voice search
Android and iOS smartphone compatible
What's in the box:

Mi Box
Bluetooth voice remote
Power adapter
HDMI cable
User guide
Offers booklet ($76 value)
Reviews
RAXX
Met my expectations
I bought this android TV box 2 weeks ago and it is working great. It has a lots of apps from google playstore including games, vpn, file explorers, media apps, etc. The best part is it supports 4K without any lag.
Androidtech
Best affordable android tv media player available
I won't talk about the specs of the device because to most it really means nothing, after a couple of weeks using the device i must say I am very impressed on the speed and playback of the device and it can handle light gaming. this is the best release since the fire tv Stick and it handles much better and your not just looking at amazons content, the remote has a few simple buttons and voice commands are a plus, that did a very smart thing also included with your purchase of a million box it will come with 2 months of sling tv and 3 crappie movies from vudu, 1 month of cbs, 3 months of Pandora which is a value that pays for the device if you choose to use it. The connectivity is flawless there is no ethernet port if your internet is good the device will work great, you also have the option to sideload your own apps as long as they are Android and APK files. I highly recommend sling TV especially the free trial it's actually way better then paying for cable they have a great selection of channels and everything transmits in HD.
Djvoice
A wonderful alternative to cable!
I felt like someone removed the weight off my shoulders when I cancelled my cable service for $250 per month. I replaced it with a high speed internet access package for $69 per month (235 mb/sec), a Sling TV subscription for $40 per month for all the channels, and a one time cost of $70 for each Mi Box. I love it! I bought three Mi Boxes for my three TVs and love the fact I can watch on my TV, my phone, and my computer so long as only three are active at any one time (Sling TV restriction not a MiBox restriction). My only complaints are minor and they have nothing to do with the MI Box. Instead they are about the Sling TV app: I wish they would let you easily flip back and forth between two or more channels; and the Sling TV app often doesn't restart so I have to go into settings/apps/sling tv and force stop the app.
Scott
The Best Smart TV for the Price
This is the best product if you want a simple (and inexpensive) way to get the best smart TV experience. It lacks the crazy horsepower and price of the Nvidia Shield, but if you don't want something that diverse, then this is it. Chromecast built in, pretty much everyone and their mother is building or has built an app for the thing. Live TV support if you have a HDHomerun device on your home network. I bought one and am probably going to buy two more for the other two bedrooms in my home.
hornetbad
It just works
I liked it but the only thing that i miss is the Ethernet. Otherwise i recommend this to someone like me who don't like games . I don't know why people play games on a Android"TV" Box any way !! Other than that this box do what it supposed to do