HP Stream 14" Laptop, Windows 10 Home, Office 365 Personal 1-year included, Intel Celeron N3060 Processor, 4GB RAM, 32GB eMMC Storage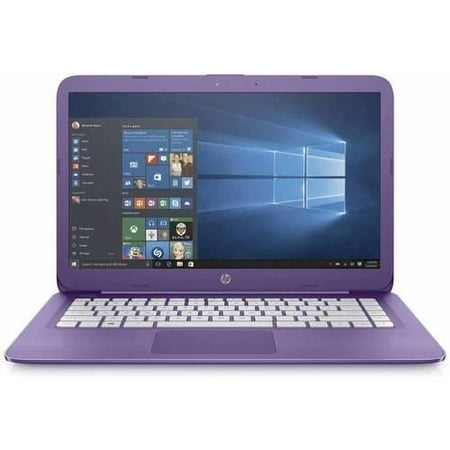 Sale :

$219

Sold & shipped by Walmart
Product Description

Additional Information

Reviews
Product Description
Get the essential productivity you want, without slowing down. This nimble laptop lets you easily shift from homework workhorse to marathoning your favorite shows. Office 365 Personal 1-year subscription included helps you stay productive wherever you are. Whether using Word, Excel, PowerPoint, or OneNote, your documents are always synced and ready to view or edit.
Additional Information
HP Stream 14" Laptop:Key Features and Benefits:


Office 365 Personal 1-year included

14" display
LED Backlight, HD BrightView Display


Intel Celeron N3060 dual-core processor
1.60GHz (with Max Turbo Speed of 2.48GHz)


4GB DDR3L SDRAM system memory
Gives you the power to handle most power-hungry applications and tons of multimedia work


32GB eMMC drive
Store 21,000 photos, 9,000 songs or 16 hours of HD video and more


10 hours of battery life
Long-lasting battery life gives you all day to access your photos, videos, music and documents


Intel HD Graphics 400


Weight: 3.17 lbs
Thin design you can easily take on the road


802.11ac Wireless LAN
Wirelessly connect to a WiFi signal or hotspot with the 802.11ac connection built into your PC
Additional Features:
Front-facing VGA webcam with integrated digital microphone
Multi-format digital card reader
Bluetooth
Full-size island-style keyboard
2 x USB 3.1 ports, 1 x USB 2.0 port, 1 x HDMI port, 1 x headphone/microphone jack
3-cell lithium-ion prismatic battery
Dimensions: 0.7" x 13.27" x 8.9"
Software:
Genuine Microsoft Windows 10 Home
Office 365 Personal (1-year subscription)
McAfee LiveSafe (30-day trial)
Skype (60 minutes/month for 1 year included)
HP ePrint
HP Support Assistant
Netflix
VUDU
Dropbox Cloud Storage
HP Recovery Manager
OneDrive Cloud Storage
Support and Warranty:
1-year limited hardware warranty; 24/7 technical assistance available online or toll-free by phone
What's In The Box:
Power cord and AC adapter
3-cell battery
Quick Start Guide
To see the manufacturer's specifications for this product, click here.

To see a list of our PC Accessories, click here.

Trade in your used computer and electronics for more cash to spend at Walmart. Good for your wallet and the environment - click here.ENERGY STAR?
Products that are ENERGY STAR-qualified prevent greenhouse gas emissions by meeting strict energy efficiency guidelines set by the U.S. Environmental Protection Agency and the U.S. Department of Energy. The ENERGY STAR name and marks are registered marks owned by the U.S. government, as part of their energy efficiency and environmental activities.
Reviews
Josh
Totally surprised!
So I purchased this laptop not expecting much. I mean really, $219?! I only needed it for college work, so I decided to order it and just hoped it worked! I was out of options, as I really wanted another Macbook, but really didn't feel like being almost broke for 2 weeks. I get home from picking it up, open it and it's a bright blue! The picture on here makes it look dull. It's everything but dull. It's actually quite fast once everything is set up and installed. The keyboard is amazing, and the touchpad very reponsive. I was also surprised at how loud he speakers are, and how bright and clear the screen is. The outer shell of the laptop has ridges which gives it a nice premium look. The way the white keys look with the light blue is awesome. The camera isn't good at all, but I will not be using it. I can honestly say that at this price point and being a college student, I'm really impressed! If you are in the same boat as me, and just need a laptop to get some college work done, it's totally for you. Not to mention it comes with Microsoft office free for an entire year:)
Datajack
Totally surprised!
I worked for AT&T General Departments, Communications and International for 15 years. One of my functions for 6 years was Site Manager for IMS/End user support. I rate this laptop with 5 starts. There is a technique for using this configuration and technology efficiently. The laptop is 100% solid state which provides the following advantages: 1) Quick response time; 2) long battery life. The technique is use the 32 eMMC C drive for Windows 10 Home only. Place all applications on an external 128 GB SD Card. Keep the Solid State drives defragmented. It will be the fastest PC you own. If you want extra storage purchase usb flash drives.
NoName
Basics
I was skeptical about purchasing this laptop because of such a low price. It was too good to be true.. I am a college student on a budget and I needed something that I could access word, browse the web, and stream netflix on. This is the absolutely perfect laptop for those three things! I love that it is really light and there isn't a fan so it isn't loud and disrupts my classes. However, I am not very confident about downloading extra apps and having a lot going on this computer. But, I am very minimal so this works just right for me.
Wendy
Believe the negative reviews!
I read the reviews on this laptop and really thought most of the people saying it had no space were probably doing something wrong, but I, a computer programmer, wouldn't make those mistakes! I was WRONG in such a big way. The computer is cute and super light, so it's good for my 10 year old. But basically the only thing it can be used for is internet, youtube, and streaming. After the immediate Windows update there was 0 space left. I couldn't even download the driver to his new drawing pad, let alone any of his games. Battle.net isn't even a game, but more of a platform and I couldn't download it. I can get around this by getting an external hard drive for another $70, but you shouldn't have to do that with a brand-new, HP computer. You can get WAY more computer for the same money. I think they must have named it the HP Stream because you can't use it for much other than streaming.
Vicki
No memory
I'll highlight the pros first. I bought this laptop because I needed something lightweight with a long battery life. I'm a writer and when I go on writing retreats, I need to know I'll have a long battery life, as I don't always have access to electricity. Also important to me was a small laptop with large keys. This laptop was perfect for all of this. NOW, the cons. The memory on this is so small that it can't run anything. I haven't even been able to install routine upgrades because of no memory. The internet does not work well on it. It comes with office 365, but that's only available when hooked up to internet, so I installed Microsoft office on it. I ended up buying a second laptop for everyday use and reserve this one my writing sessions.