HP Stream 14" Laptop, Windows 10 Home, Office 365 Personal 1-year included, Intel Celeron N3060 Processor, 4GB RAM, 32GB eMMC Storage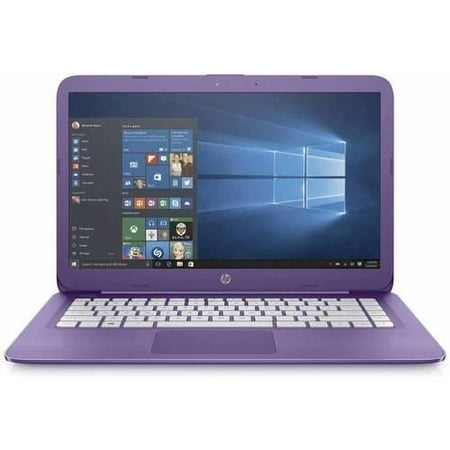 MSRP :

$219





Sale :

$255.96

Sold & shipped by 25hrs Trading
Product Description

Additional Information

Reviews
Product Description
Get the essential productivity you want, without slowing down. This nimble laptop lets you easily shift from homework workhorse to marathoning your favorite shows. Office 365 Personal 1-year subscription included.
Additional Information
HP Stream 14" Laptop:Key Features and Benefits:


?Office 365 Personal 1-year included
?14" display
?LED Backlight, HD BrightView Display
?Intel Celeron N3060 dual-core processor
1.60GHz (with Max Turbo Speed of 2.48GHz)
?4GB DDR3L SDRAM system memory
Gives you the power to handle most power-hungry applications and tons of multimedia work
?32GB eMMC drive
Store 21,000 photos, 9,000 songs or 16 hours of HD video and more
?10 hours of battery life
Long-lasting battery life gives you all day to access your photos, videos, music and documents
?Intel HD Graphics 400
?Weight: 3.17 lbs
Thin design you can easily take on the road
?802.11ac Wireless LAN
Wirelessly connect to a WiFi signal or hotspot with the 802.11ac connection built into your PC
Additional Features:
Front-facing VGA webcam with integrated digital microphone
Multi-format digital card reader
Bluetooth
Full-size island-style keyboard
2 x USB 3.1 ports, 1 x USB 2.0 port, 1 x HDMI port, 1 x headphone/microphone jack
3-cell lithium-ion prismatic battery
Dimensions: 0.7" x 13.27" x 8.9"
Software:
Genuine Microsoft Windows 10 Home
Office 365 Personal (1-year subscription)
McAfee LiveSafe (30-day trial)
Skype (60 minutes/month for 1 year included)
HP ePrint
HP Support Assistant
Netflix
VUDU
Dropbox Cloud Storage
HP Recovery Manager
OneDrive Cloud Storage
Support and Warranty:
1-year limited hardware warranty; 24/7 technical assistance available online or toll-free by phone
What's In The Box:
Power cord and AC adapter
3-cell battery
Quick Start Guide
To see the manufacturer's specifications for this product, click here.

To see a list of our PC Accessories, click here.

Trade in your used computer and electronics for more cash to spend at Walmart. Good for your wallet and the environment - click here.ENERGY STAR?
Products that are ENERGY STAR-qualified prevent greenhouse gas emissions by meeting strict energy efficiency guidelines set by the U.S. Environmental Protection Agency and the U.S. Department of Energy. The ENERGY STAR name and marks are registered marks owned by the U.S. government, as part of their energy efficiency and environmental activities.
Reviews
Jos
Nice!
I must say l was skeptical because of the price, and l did see several really bad reviews. But l also saw some great ones. Yes, it's a little slow, but it suits my needs. This is not like a main computer for me. I purchased this for writing. I have only been on the web once. I can do most everything on my cell phone and tablet. I needed the Microsoft Office, and l only use Word. This laptop does not have a lot of storage, so l purchased an additional device, and just plugged it into the USB port. I am adjusting to the keyboard. But l haven't had a ton of issues. If you want a simple laptop for light usage, check emails, look online a little, then this is for you. If you're looking to use all these functions, pics, download music, etc., you may need to look for something more elaborate. As for me, this little purple machine is perfect...and l bought a wireless mouse...in metallic purple, of course!!
Prosperous
LOVE IT
I love it, I am still getting use to the keyboard, because it is made more like a type writer, but it was well worth it! The Color, is beautiful and the storage is just what I need.
MomofaFreshman
A gift for my daughter....
She is 7 years old and she looooovvvveeessss it! She did the "I got a laptop" dance Christmas morning! I've book marked all of her favorite websites, showed her how to Google, and book marked one of her school's intervention websites. It was such a great price!
RefundRainbow
my 7 year old Gateway is Faster
Slow
Rhita
Meh. Good for a while but not the long haul.
I admit, I had reservations about the low amount of storage space on here but I figured I mostly use my computer for Word, Excel, email, and Internet, so nothing too exciting and I could save my things either on Google Drive or on a flash drive. This was all true and I enjoyed the computer for the past year with no problems. Then Windows 10 needed to update and there is literally not enough storage for it to do so. Even though I've turned off automatic updates, the computer still searches for it and slows down considerably while doing so - every time I turn it on. Lately it's started "installing updates" when I turn off the computer and the blue screen telling me so also instructs me to not turn off the computer...it literally won't stop "installing updates." I end up powering off the computer manually. I am at the point of getting a new laptop because this one is too slow and problematic. After only a year.