Step2 Crabbie 4' Rectangular Sandbox with Cover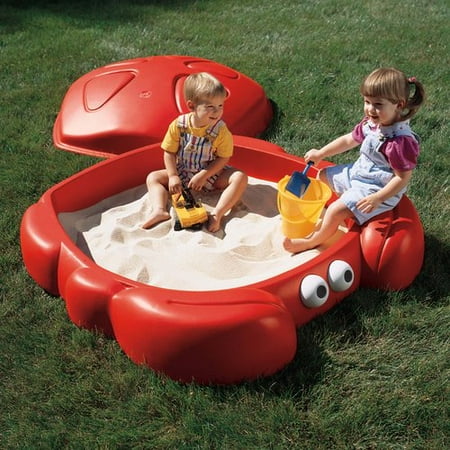 MSRP :

$206.67





Sale :

$179.99

Sold & shipped by Wayfair
Product Description

Additional Information

Reviews
Product Description
Features: Product Type: -Sandbox. Finish: -Red. Material: -Plastic. Pieces Included: -Lid, Base. -Two large claw seats. -Sand and accessories not included. -Sculptured shell lid protects sand from weather and pets. Dimensions: Overall Width - Side to Side: -47.5". Overall Length - Front to Back: -47". Overall Depth - Top to Bottom: -16". Overall Product Weight: -25 lbs. -Depth of the sandbox when opened: 5.5". Sand Tables Water Backyard Play Recreation Sandboxes Toys 10 100 11 12 13 24 3 4 400 5 6 7 8 9 Bottomless Lbs Months Plastic Red to Unisex Years 2 box Cover covered crab r Store Toddler us Halloween holidays, christmas gift gifts for
Additional Information
STP1032
Features
Product Type: Sandbox
Finish: Red
Material: Plastic
Pieces Included: Lid, Base
Two large claw seats
Sand and accessories not included
Sculptured shell lid protects sand from weather and pets
Dimensions
Overall Width - Side to Side: 47.5"
Overall Length - Front to Back: 47"
Overall Depth - Top to Bottom: 16"
Overall Product Weight: 25 lbs
Depth of the sandbox when opened: 5.5"
Reviews
chelchel1817
Perfect Buy!
I bought this sandbox for my 3 year old son. I was a little nervous at first that it wouldn't be big enough and about how sturdy and secure the lid would be. However, this sandbox way surpasses my expectations. The lid is a little flimsy, however, it stays on the sandbox securely (and we've had several thunderstorms and days of high wind since getting it) and the sand inside stays perfectly dry! My 3 year old and his 11 year old step brother both played in it. The 11 year old weighs 85 pounds and he sat on the "claw seats" and they held him up just fine. We love this sand box! We only put in 120 pounds of sand and that was plenty for us.
mmississippi
Perfect Buy!
Great simple sandbox. Bought it for my daughter when she was one, and she loved spending time in there. It's spacious enough for her to move around, and I love that it doesn't have any water features - no mess! The only drawback - I wish the top had some sort of handles, as it is large and it sometimes gets hard to put back in place.
WVMommy101
Great for two or more
My kids are five and two. They love it. Just the right size for them to both have a play area.
OldtimerChuck
Kids Love It
We bought this for birthday of two of our sibling grandchildren. It arrived ahead of schedule and in perfect shape, not to mention that the kids love it. The cover is great, too, for keeping the cats out of the sand to "do their thing."
Sillysundayz04
Fun in the sun
My Gma got this for my daughter. It holds 300lb of sand so find a place you know you want it to be at and fill it I suggest a place that gets some shade throughout the day due to the sand getting hot. Its safe so if your child falls on it he or she wont get hurt. My daughter has a blast. Good for friends to get together and bring there childern and enjoy the yard and out doors. No having to pack the kids up to go somewhere to play, its right in your back yard for hours of fun. Def well enjoyed