ZeroWater 8 Cup Pitcher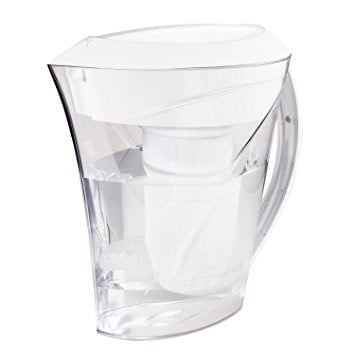 MSRP :

$34.99





Sale :

$18.88

Sold & shipped by Walmart
Product Description

Additional Information

Reviews
Product Description
Enjoy pure tasting water with the latest filter pitcher technology in just minutes. The 8-cup ZeroWater Pitcher combines five sophisticated technologies that work together to remove virtually all dissolved solids from your tap water, delivering you great tasting water. This Zerowater Filtration System comes with one Ion Exchange filter, a laboratory-grade water testing meter and a guarantee to remove virtually all dissolved solids from your tap water. The 8-cup ZeroWater Pitcher has a primary layer of filtration, activated carbon and oxidation reduction alloy, which removes the chlorine taste you are accustom to with tap water. The Ion Exchange stage on this Zerowater filter removes virtually all dissolved solids that may be left over from public water systems or even leached into your water from piping such as aluminum, lead, zinc, nitrate and more.
Additional Information
Product Features
Advanced 5-stage filtration
Includes indicator to test water quality & filter exhaustion
All ZeroWater products are 100% BPA free
ZeroWater removes 99.6% of all total dissolved solids based on EPA certified lab tests
This system is rated for 16 gallons
Recyclable Filters
Zero Technologies, LLC,
Bensalem, PA.
www.zerowater.com
Patents: 5,635,063; 7,276,161; 7,413,663; Additional patents pending.
Reviews
WonderDee
Zero Pitcher filters
I will not buy this product anymore, as this will be the third time I had to take the filters back to Wal-Mart. When I buy two filters in a box, two of them did not last, one was 4 days, the other one was 1 week. Now I have to take the third time back, one lasted 28 days, and I put the second new filter in on October the 2, 2016, Wow it just went bad today. It only lasted two days. I'm going to try and buy just one box of this filter and if this goes bad, I'm taking the pitcher and the filter back to Wal-Mart. Replace them and try a difference brand. So I either of one good filter and a bad filter in the 2 in 1 box. The first one both were no good, I do keep recipe and Wal Mart has been good about trading the bad one in for another filters. But this keeps going especially the 2 in one box. I do not trust the 2 filters in one box anymore. Hopefully the only single one will not give me any trouble. It gets pretty expensive to buy the 2 in one box. I hope Wal-Mart takes the time to read this. Have a good day!!!
GodSA
Taste the water coming into your home
My husband suggested that we purchase the best product offered and Walmart offered the best price. The ZeroWater 8 cup pitcher was not available at the store (sold out) so we decided to place our Walmart order on the computer. A day later it was ready for pick up. We washed the parts and assembled it based on the directions provided. The tap water tester came up "red" meaning the water coming in from the faucet wasn't perfect to drink. :-( I filled the pitcher at the faucet and then poured it into into a clean glass (not the one I used at the sink) and the red light did not come up. It has been several days and every time I pour water into glasses I have "no red"! ZeroWater really works and the best price is at Walmart!
Kymmie
Worth the purchase, best filtering pitcher
I like the filter pitcher very much, it has the best filtering system and I trust it. I love the slender shape of the pitcher too, it works great in the ref'g. leaving more room for other items because of its narrow shape. My only complaint is that it pours so slowly. I like to use the filtered water in my 64 oz. coffee maker and filling that thing up takes forever. I got to where I just use tap water now because I'm too lazy to stand there and patiently pour 64 oz over a couple minutes when I can dump tap water into the machine in a couple seconds. Too bad since I bought the thing just for my coffee maker water, but it gets used plenty in the ref'g and saves us from buying a ton of bottled water. Overall, it's worth the purchase.
FsuJ
Slow to fill, but good, clean tasting water
I bought this on the recommendation of a friend after having tried two different brands of faucet filters. What I like about the pitcher is the way it is designed it seems like it will be easy to keep clean and filtering as it should. The faucet filters I tried before would eventually get a buildup of gunk that was disgusting and they were difficult to clean. The only negative about this pitcher is it takes a while, almost 20 minutes, to fill. But, I have gotten into the habit of just filling the reservoir at the top and just leaving it be. You have to repeat this a few times, but as long as you are not standing there waiting on it, it's not a big deal.
jkjkkjuiiuio
Slow to fill, but good, clean tasting water
This pitcher works really well much better then the Britta I had. It took the chlorine taste out of the water and got rid of all the impurities. The only thing I don't like about it is the pitcher is made really cheap.