Lipozene Amorphophallus Konjac Maximum Strength Weight Loss Pills, 60Ct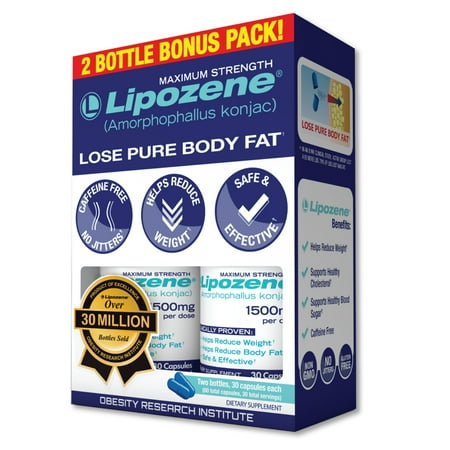 MSRP :

$23.99





Sale :

$19.88

Sold & shipped by Walmart
Product Description

Additional Information

Reviews
Product Description
Lipozene Maximum Strength is clinically proven to help you lose weight and reduce body fat. Lipozene contains Glucomannan, an all natural fiber that helps you to feel full faster and for longer, so you can eat less without feeling hungry. Glucomannan has been used for 1,000s of years in Asia, and is safe and effective when used as directed. Lipozene contains no known allergens and contains no caffeine or other stimulants - so you will not feel jittery. Lipozene has helped countless people meet their weight loss goals, and it can help you too! Pair with MetaboUP Plus for even better results. This package of Lipozene is sold as a 2-pack, with each bottle containing 30 capsules, for a total of 60 capsules.
Additional Information

Lipozene (Amorphophallus Konjac) Maximum Strength Capsules Bonus Pack!, 60-Count:

Lose pure body fat
Lipozene weight-loss pills are clinically proven
Helps reduce weight
Helps reduce body fat
Weight loss dietary supplement is safe and effective
In a double-blind study, not only did participants lose weight but 78% of each pound lost was pure body fat
These statements have not been evaluated by the Food and Drug Administration. This product is not intended to diagnose, treat, cure or prevent any disease.
All sales are subject to ORI's Terms & Conditions of Sales which can be found at www.lipozene.com. These terms include a mandatory, binding arbitration clause and a waiver of the right to a jury trial or to participate in a class action.
Lipozene is exclusively manufactured for:
Obesity Research Institute, LLC,
4910 Longley Lane, Suite 101,
Reno, NV, 89502.
www.LIPOZENE.com
Reviews
xcoolx
excellent product highly recomended
This product helped me lose my body size and lots of inches in my waist area but I'm taking it and going to the gym at the same time. But I had better results and lost my belly faster than before.
MissMichelle
it worked for me
i was overweight causing my back to hurt i was exercising & eating right so i thought,then i saw the commercial for Lipozene i kept watching it being a sceptic i finally tried it & was i surprised when my family was noticing the results i highly recommend this just be sure to check with your dr 1st
Mimi
Omg this stuff really works
I took the pill before every meal! And the weight just started dropping off me! I went from 200 pounds to 150 in 7 months ! I'm so happy just had to share my experience!! My sister is taking lipozene now & is losing weight too !!!!
Velvet0822
Read this an follow my progress
Hi i am a 26 year old biracial woman that just started using this product on July 12, 2016 weighing 298 lbs. I bought the twin pack at walmart of two 30 capsule bottles. I have struggled with my weight my entire life an have been self consious hopefully this diet pill will help me look on the outside, how i feel on the inside. Will keep yall posted about my progress, GOOD OR BAD.
Ismilechristian
An honest review
So I bought this product from in store on April 19th, 2015. I was quite skeptical. But I need to lose weight. I have a job that requires me to sit for 9 hours a day and I do not exercise. So I am dieting, I'm calorie counting on an app called Lose It. It helps me lose 2 pounds a week. Guaranteed the app has worked since March 2015 but I'm in a rush to lose weight for my birthday which is 3 months away. So I started using the product April 20th, 2015 in the morning before breakfast. 2 pills with the 8 ounces of required water 3 times a day. Granted, I only drink water and I have been for years. The first bottle is gone today (April 25th, 2015) and I weighed myself this morning and I lost 6 pounds. It's only been 5 days. I can give credit to the pills only because the dieting and water was only contributing to the 2 pounds a week before hand, only 2 pounds. So to see a 4 pound difference had me convinced. I'll continue to use it for a few more weeks because they don't give me any adverse side effects like Garcinia Cambogia.