Thermacell Mosquito Repellent Portable Repeller, 12-Hour Protection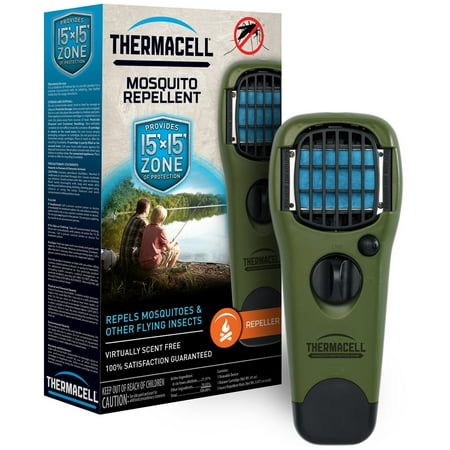 MSRP :

$24.89





Sale :

$29.66

Sold & shipped by Always In Touch
Product Description

Additional Information

Reviews
Product Description
The Thermacell Mosquito Repeller Device is a safe, simple way to create a large area free of annoying mosquitoes, black flies and no-see-ums. This pocket-sized unit is powered by a butane cartridge and refillable mats. After a quick five-minute warm-up, the unit provides hours of protection to a 15 by 15 foot zone against pests. Approved by the EPA and used by the U.S. Department of Defense, Thermacell has proven to be a game-changer in area mosquito repellent.
Additional Information
Thermacell Mosquito Repellent Refill, 1 Fuel Cartridge & 3 Repellent Mats, 12-Hour Protection
Thermacell repellent devices repel mosquitoes by creating a 15ft x 15ft zone of area repellent. This repellent, allethrin, is a synthetic copy of a natural repellent found in chrysanthemum plants.

One cartridge and three 4-hour mats to provide 12 full hours of protection

Compatible with Thermacell torches, lanterns, and repellents

Mosquito prevention without spraying on skin

Use in Thermacell's belt clip while hunting, camping, hiking, or relaxing outdoors

15x15 foot zone to protect multiple people

Heated by fuel cartridge to soak mat and release repellent and virtually odorless

Thermacell portable mosquito repellent appliance

Evaluated by EPA for safety and effectiveness

Battery operated, cordless for full mobility

Compare to competitors such as Repel, OFF!, Cutter and Tiki

No open flame and no direct contact with skin or clothing

HOW TO AVOID MOSQUITOES:
For such a small organism, mosquitoes are equipped with a lot of complex systems to locate their next meal. To escape their detection:
Don't breathe: Receptors on their antennae can detect the carbon dioxide released when we exhale from up to 75 feet away.
Don't sweat: They discern the presence of octenol, a chemical released in human sweat.
Stay cool: Heat sensors around the mosquito's mouth can detect the warmth of your body – and help them locate the best capillaries for tapping.
Since you can't hold your breath forever, you should know that nature produces a number of natural, effective insect repellents. In fact, the repellent used in Thermacell products is a synthetic form of a chemical that occurs naturally in chrysanthemum flowers. It won't harm humans or pets — and tests by universities and government agencies have shown Thermacell is up to 96% effective in repelling mosquitoes.
To learn more, visit www.thermacell.com for full list of products, information, tips & resources.
Reviews
Erdie
Absolute junk. See photo.
I don't know if people are being paid to write these reviews, or what the deal is. Put bluntly, this thing is garbage. Took it out camping, two of us were sitting in camp chairs, we lit these and put them by our feet. Go ahead and take a peek at the photo I attached. Only reason I used this is we had our newborn with us. He was safe under a bug net on his car seat. Can't use DEET around a newborn, so we used this device. Doesn't work. At all. What so ever. I burnt the box in the campfire, otherwise this pile of junk would be going right back to the store. Thankfully I didn't open the refills, which will be going back immediately. DO NOT BUY. YOU HAVE BEEN WARNED.
Lime
It Works
Went on a motorcycle camping trip to Alaska, 9000 miles total. In prepping for the trip people kept asking if I was afraid of bears. My answer was that I was more afraid of the reported hoards of mosquitoes. I had bottles of concentrated DEET but an acquaintance suggested the Thermacell. I thought yea right. I had heard too many false stories and reports about anything other than DEET being effective. End result I bought one and didn't even try it before I left. Setting up my tent I was being swarmed by mosquitoes even though I was bathed in DEET. I didn't get that many bites but just the annoying flock of mosquitoes was horrible. I fired up the Thermacell and placed it on the picnic table and to my amazement this thing actually worked. I could sit there in peace, eat my dinner, write in my journal, read my book, ..., all without those pesky mosquitoes buzzing around my face. It worked as they said and I had a clear area of several feet.
Goulas
A must have for the Louisiana swamps
I have been hunting with a thermacell for at least 6 years. We hunt the swamps of the Atchafalaya basin in south Louisiana where mosquitoes thrive all year long. You could be covered in mosquitoes 1 minutes turn your thermacell on and a few minutes later they are gone. It's a must for every outdoorsman
DB547
Keeps skeeters away
Using thermacell for 5 years now, only wish our government functioned as well as this product. Have used in many Florida native swamps, saved my a$& many times.
Jarrad
Truly a Great Product
I was a bit skeptical to buy this at first for a couple of reasons. First I wasn't sure I believed it would work. Second I felt that I would be replacing the cartridges a lot. It is a fantastic product and REALLY does work. I also bought the replacement cartridges with it and that was a smart idea. If you are just using this to put outside and plan on sitting around for the evening, you will get about two solid uses out of the blue scent pads. The butane will last for probably 4 or 5 times. It takes a little bit to get going, so definitely turn it on and set it outside for a little before you go outside. I liked this so much that I ended up buying one for my Dad for Fathers Day.