Thermacell Mosquito Repellent Portable Repeller, 12-Hour Protection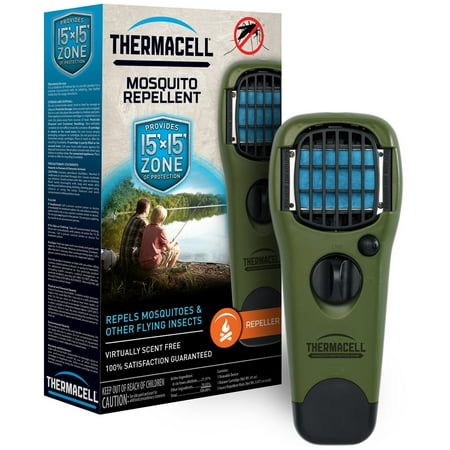 MSRP :

$99.99





Sale :

$21.93

Sold & shipped by Walmart
Product Description

Additional Information

Reviews
Product Description
The Thermacell Mosquito Repeller Device is a safe, simple way to create a large area free of annoying mosquitoes, black flies and no-see-ums. This pocket-sized unit is powered by a butane cartridge and refillable mats. After a quick five-minute warm-up, the unit provides hours of protection to a 15 by 15 foot zone against pests. Approved by the EPA and used by the U.S. Department of Defense, Thermacell has proven to be a game-changer in area mosquito repellent.
Additional Information
Thermacell Mosquito Repellent Refill, 1 Fuel Cartridge & 3 Repellent Mats, 12-Hour Protection
Thermacell repellent devices repel mosquitoes by creating a 15ft x 15ft zone of area repellent. This repellent, allethrin, is a synthetic copy of a natural repellent found in chrysanthemum plants.

One cartridge and three 4-hour mats to provide 12 full hours of protection

Compatible with Thermacell torches, lanterns, and repellents

Mosquito prevention without spraying on skin

Use in Thermacell's belt clip while hunting, camping, hiking, or relaxing outdoors

15x15 foot zone to protect multiple people

Heated by fuel cartridge to soak mat and release repellent and virtually odorless

Thermacell portable mosquito repellent appliance

Evaluated by EPA for safety and effectiveness

Battery operated, cordless for full mobility

Compare to competitors such as Repel, OFF!, Cutter and Tiki

No open flame and no direct contact with skin or clothing

HOW TO AVOID MOSQUITOES:
For such a small organism, mosquitoes are equipped with a lot of complex systems to locate their next meal. To escape their detection:
Don't breathe: Receptors on their antennae can detect the carbon dioxide released when we exhale from up to 75 feet away.
Don't sweat: They discern the presence of octenol, a chemical released in human sweat.
Stay cool: Heat sensors around the mosquito's mouth can detect the warmth of your body – and help them locate the best capillaries for tapping.
Since you can't hold your breath forever, you should know that nature produces a number of natural, effective insect repellents. In fact, the repellent used in Thermacell products is a synthetic form of a chemical that occurs naturally in chrysanthemum flowers. It won't harm humans or pets — and tests by universities and government agencies have shown Thermacell is up to 96% effective in repelling mosquitoes.
To learn more, visit www.thermacell.com for full list of products, information, tips & resources.
Reviews
Erdie
Absolute junk. See photo.
I don't know if people are being paid to write these reviews, or what the deal is. Put bluntly, this thing is garbage. Took it out camping, two of us were sitting in camp chairs, we lit these and put them by our feet. Go ahead and take a peek at the photo I attached. Only reason I used this is we had our newborn with us. He was safe under a bug net on his car seat. Can't use DEET around a newborn, so we used this device. Doesn't work. At all. What so ever. I burnt the box in the campfire, otherwise this pile of junk would be going right back to the store. Thankfully I didn't open the refills, which will be going back immediately. DO NOT BUY. YOU HAVE BEEN WARNED.
Fishjunky73
Easy to use, safe, and it absolutely works GREAT!!
Opening day of archery deer season in the Central Virginia (Richmond) area 10-6-2018. I hunted near the Chickahominy Swamp area in the morning, and the mosquitoes were atrocious! I came down with less blood in my veins, and mad as a hornets nest! I went straight to a Walmart at lunch and bought one of these gems (MR 300). In the evening I went back in the woods, and DEEP into the swamp! I took my climber up to twenty feet high. I lit this unit off, forty mosquitoes turned into ten, then a few, and then NONE! I hung this thing from my stand on the upwind side of me, and that's all it took. I did see five deer downwind, and out of bow range that fed for twenty minutes without any concern over scent. Attached are two pictures of the standing water, and mosquito rich slop I was hunting by. IT WORKED GREAT, and is the best $19.97 I have spent in a long time!!!! Thank you Thermacell.
Waneiac
Simply works well
I live in a N. CA., forest area that's full of mosquitoes due to the excessive hydration of local marijuana gardens. I've tried everything; sprays, natural oils, tea's and lotions - even ancient rhythmic chanting and Indian ceremonial grunting rituals to the god's of false hopes, unreliable expectations and wishful thinking, but little has worked. The MR 150 Thermacell seems to offer the best protection against them that I've found. Since mine worked so well I bought one for my wife, and I have added a note to my "must take camping list" of items so it isn't forgotten. It's so impressive that I've shown it to other "boon-dockers" too. I bought the "jackets" for these to carry extra tubes of fuel and the repellent packages too. There isn't a place for the repellent packages on the jacket though so you'll need to stick them inside the jacket....That would be a product improvement for sure so the packages are not squashed or bent - Listening Thermacell? You should think about getting one of these and give it a try.
maxairedale
IT WORKS
I purchased this a few days ago based on some posts on a crossbow forum because I was getting eaten up by mosquitoes inside my permanent 4ft X 6ft blind even with the screens on. I figured that if it worked at all it was better then smelling of bug spray and maybe I would not get bit as much. With the unit on and the screens open, I watched multiple flying insects fly in to the blind about 12 inches and make a u-turn. NO bites. I would have never believe that it would have worked as GREAT as it does if I had not seen it. All ready recommend it to a buddy. I'm thinking of getting another for me and one as a gift for my son.
Grady Miller
All around great for hunting!!!
After being bit by countless mosquitos the first day of archery season I had to give it a try. So I lit it first thing this morning and haven't even seen a mosquito. It is also very easy to use. The very thin vapour it gives off also helps me with the wind direction. The only downside to this product is that one the box it says that the propane only last for 4 hours. I personally would like a rechargeable electric model. But it still won't stop me from being a lifetime customer!!!!