XO Vision XOD1752BT 6.2" Touch Screen In-Dash DVD Receiver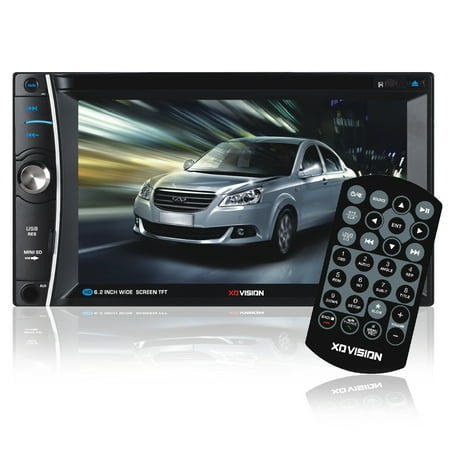 MSRP :

$94.44





Sale :

$88.45

Sold & shipped by Walmart
Product Description

Additional Information

Reviews
Product Description
The XO Vision 6.2" Touch Screen In-Dash DVD Receiver comes equipped with Bluetooth Hands-Free capability and tons of ways to listen to your music on the go! An AUX port, USB port, and SD Card Slot to plug in your phone or MP3 player and listen or watch songs, movies, and more. Adjust the Volume, Bass, Treble, etc. with 52W x 4 high output power. Enjoy movies and videos on the 6.2" 800 x 480 high resolution screen. Listen to saved stations on AM and FM with 30 presets, seek, and scan.
Additional Information
XO Vision XOD1752BT In-Dash 6.2" Touch Screen Multimedia DVD Receiver with Bluetooth:The 6.2" Touch Screen Multimedia In Dash DVD Receiver has a 6.2" 800 x 480 touch screen2-DIN multimedia receiverCompatible with DVD, Divx, VCD, WMA, MP3 and CDElectronic skip protectionAM/FM radio18 station presets, station seek, preset scanMini SD card/mini USB port (USB adapter cable included)Wireless Bluetooth hands free functionVolume/Bass/Treble/Balance/Fader controlSelectable EQ Curves: Pop, Rock, Classic, Jazz and CustomAUX input connection to any portable device52W x 4 channel high output powerWireless Bluetooth receiver
Reviews
MeeMaw25
XO Vision XOD1752BT In-Dash 6.2" Touch Screen
The amount of love I have for this item is surprising, even to me. So many features and functions I am afraid I may miss one. The XO Vision XOD1752BT In-Dash 6.2" Touch Screen Multimedia DVD Receiver with Bluetooth is an amazing addition to my automobile. AM/FM radio, CD/DVD player, I can listen to music or watch a movie on DVD in my car! How awesome is that? After purchasing a mount kit and a wiring kit (had to get a few butt connectors also) this receiver device was simple to install. Removed old radio and the cubby hole spot (a total of 2 slots), hooked up simple wiring and mount kit, the XO Vision XOD1752BT In-Dash 6.2" Touch Screen Multimedia DVD Receiver with Bluetooth simply slid right in and ready for play. It has bluetooth so connecting my smartphone up to it I can make phone calls from the receiver (built in microphone), access apps or GPS on a large 6.2" 800 x 480 touchscreen. Has an auxillary port, a USB port and a mini SD card slot. I can stream music wirelessly via my phone, the receiver is compatible with most smartphones. Plays DVD's, Divx, VCD, WMA, MP3 and CD's. Equipped with electronic skip protection. The AM/FM radio has 30 station presets, station seek and preset scan. I am very happy with this receiver and it looks awesome in my dash!!
mvall
XO Vision XOD1752BT In-Dash 6.2" Touch Screen Mult
XO Vision XOD1752BT In-Dash 6.2" Touch Screen Multimedia DVD Receiver with Bluetooth It is a nice DVD Car Stereo Receiver, I have installed it in my Toyota land cruiser, by myself, it is pretty easy to install, in old cars with the double din dash, you have just to remove the old Stereo Receiver and install the new one. If you have a new car, I recommend you to buy the double din dash kit, if it exists for your car; also the Wire Harness Plug is going to help you installing the Stereo Receiver, without having to cut the original wires in your car. This is a great DVD Car Stereo Receiver, for people who want an upgrade for his car, this DVD Car Stereo Receiver, came with: - Touch screen 6.2" in dash: Great resolution and nice size, you don't have to worries about open or close it. -Rear and frond Camera connection (Camera NO included), easy to install and you can find the camera on internet for 15$ - Bluetooth Connection (Bluetooth car hands free and to hear the music from your phone): pretty nice to connect your Pandora or the music in your phone. In general the Car Stereo Receiver is pretty nice, nothing too sophisticated, easy to set up and use. This model doesn't have (GPS, TV or IPod connection).
BudgetHunter
Good solid receiver with nice features!
This receiver looks great, was simple to install, and sounds excellent. Pros: It has been a few weeks since installation, and everything is still working wonderfully. The Bluetooth capability is great and the sound quality is surprisingly fantastic…maybe even better than the aux itself. But it does get the job done. The picture quality is really very good; also, it is front and back up camera ready and works for vehicles with factory steering wheel access radio controls, and comes with a remote control. The buttons and knob feel solid, and I like that you can choose any color your heart desires for the LED accent. The hands free calling feature is fantastic. However, I wish that it had some programming capabilities so that you know who is calling. Cons: 1. Micro SD function doesn't work. 2. It is a little difficult to see in the light, but if you use the Bluetooth, you only really need the buttons on the side. 3. You have to use a bit of force with the touchscreen in order for it to respond. 4. The Bluetooth has the Mic built into the unit itself so the quality leaves something to be desired. Overall, this is a good receiver, and I would recommend it. It does have a few cons but nothing that would prevent me from recommending it.
Brazilchick32
LOVE IT!!
This review is for the XO Vision XOD1752BT In-Dash 6.2" Touch Screen Multimedia DVD Receiver with Bluetooth. My husband could not be more excited to receive this item! Like any man it was a new toy and he went crazy playing with it lol. This is a 800 x 480 touch screen and is compatible with DVD, Divx, VCD, WMA, MP3 and CD players. It has an AM/FM radio and 18 preset stations and can change with with the touch of a button. You can also make a receive calls while listening to the music because of the Bluetooth receiver it has which makes for safer hands free driving! It has skip protection as well which I love. It has a mini SD card option and it comes with a USB adapter. Also comes with a small thin remote control. You are also able to control the volume, bass, treble, balance and fader. It has a very nice picture and great sound and a great look as well once installed! Such a fancy little upgrade to our basic radio with a CD player that has not even worked in 3 years. Just please be careful not to play with your new toy while driving and keep your eyes on the road because it's very tempting sometimes to play with it. Now it doesn't come with a kit or anything to install it so you do have to get and do all that yourself but for us it was easy since we have a friend who does this for a living but just be aware that it will have an expense to install it most likely but it will be worth it if you do!
Rxtech
Looking for a little more
Nice radio but im looking for more. It's doesn't give the name and artist of the song and im use to that with a Boss radio . However i do like the bluetooth. The sound is not what im looking for. I will be returning it to order a Boss.