SportPet Pop-Open Kennel, Travel Dog Crate , Medium Size ( For Kennel Trained Pet Only )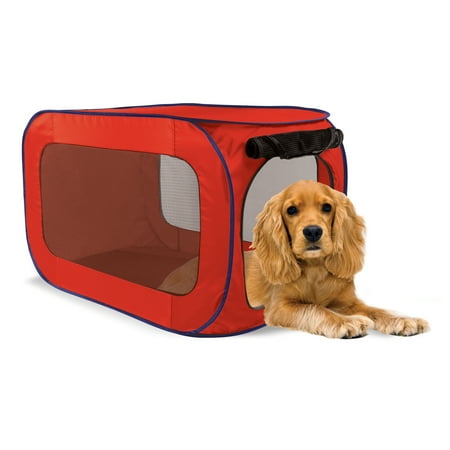 MSRP :

$17.24





Sale :

$15.96

Sold & shipped by Walmart
Product Description

Additional Information

Reviews
Product Description
Transport your pet with ease with this SportPet Pop-Open Kennel. It is designed specifically for small pets up to 25 lbs. It features a collapsible design that makes it easy to store when not in use. The pet kennel also features mesh sides for airflow and includes handles for easy portability. Never leave your pets behind when you have a convenient portable kennel like the SportPet.
Additional Information
SportPet Pop-Open Kennel, Medium:
Convenient, portable kennel with multiple sizes available
Medium size, for pets up to 50 lbs
Fully collapses for easy storage
Great for travel with your pet
Measures 33" long
Stylish design
Easy to use; no assembly required
Model# SP0010
Also available in most Wal-Mart stores
Reviews
tleelovescoffee
Great kennel and space saver
My dog is a 45 pounds and 3 legged. The only problem I can say I have had with him in this is that he is never in the same place I put him. He rolls this all around the house like a hamster ball. LOL. As far a durability I have not had an issue. he doesn't dig at it but he walks it over and over till gets where ever it is he wants to be. the kennel folds up flat and stores in very very small space. my dog does't mind going in his kennel but it did take a few days for him to get used to the difference he was accustomed to the metal and was a bit scared of this one till he found that he could move it. now I think the likes it a bit to much. If and when this kennel wears out I will be purchasing another just like it. and one more thing. My dog has long toe nails and so far I have not had an issue with him ripping this up. I have had this over a month and it shows no signs of tearing up. if your dog has vision problems he/she may try to go in on the wrong side of kennel as parts of it look the same. sometimes my dog tries to push in on the wrong side. I hope my feedback on this product helps. I wont use the metal one again this is way to convenient.
tleelovescoffee
PERFECT FOR OUR FRENCH BULLDOGS
MEDIUM IS THE RIGHT SIZE. THEY ARE SO CONVENIENT . Lightweight and easy to use. Stay with my sister and she is getting one each for her two small dogs. Price is just right
Brokewith2kidsincollege
Worked great for my grouchy cat.
I got this pop up kennel to transport my very angry cat to stay with a relative for a few days. This cat has not been out of the house for 4 years. We cannot force him into traditional carriers. This kennel was great. There is a lot of room. He was able to walk in and out of it before we left. He was easily placed into it and transported in the car. He seemed a lot calmer being able to see outside of it. He did not claw at the sides and did not damage it in any way. A great solution for transporting grouchy kitties, without risking your arms and face.
KatieHartz
Good product
I originally bought the XL size for my 19.5 pound miniature schnauzer. I thought that it would be big enough for her not only to be contained in, but also to have some room to play around in. I returned it because it was way too big for her. Then, I bought the medium size one and it is still too big, surprisingly enough. Although I have not used it, I bought it to take her back and forth to the vet because she always climbs on my lap while I am driving which makes it very dangerous. I am very excited about using this product, though I would have bought the small had Wal-Mart had the product on their shelves. It is not worth the bother to have it site to store shipped..... I recommend to follow the "pound" recommendation on the front of the product, but the company definitely needs to put what size and weight dogs are meant for each size on their packaging.
Allie
Helped an older dogs routine feel normal again
I picked this up for my mom, who works an early morning shift for her little guy to help him get use to being in a kennel again after moving and re adjusting and he loves it very big for what size the package is and lightweight perfect for some one who wants to kennel there medium size dog with out the hassle of having a metal kennel around!