SportPet Pop-Open Kennel, Large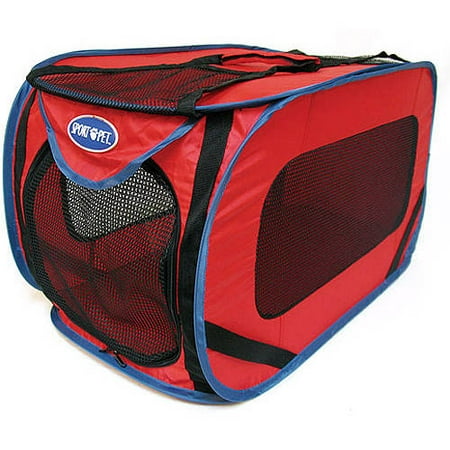 MSRP :

$30





Sale :

$29.95

Sold & shipped by Kwik Retail LLC
Product Description

Additional Information

Reviews
Product Description
Transport your pet with ease with this SportPet Pop-Open Kennel. It is designed specifically for small pets up to 25 lbs. It features a collapsible design that makes it easy to store when not in use. The pet kennel also features mesh sides for airflow and includes handles for easy portability. Never leave your pets behind when you have a convenient portable kennel like the SportPet.
Additional Information
SportPet Pop-Open Kennel:
Convenient, portable kennel with multiple sizes available: small, medium, large and extra-large
Small size, for pets up to 25 lbs
Fully collapses for easy storage
Ideal for travel with your pet
Measures 26" long
Stylish design
Easy to use; no assembly required
Model# SP0009
Mesh sides allow airflow to keep pet cool and comfortable
Zipper closure for simple opening and closing
Handles on top for easy portability
SportPet kennel fits on the front or back seat of the car
Quick to set up
Reviews
Writer557
Great, until
I bought this for my son's surprise Christmas present (a 12-week-old kitten). I love the fact that, on both sides, are straps through which a seat belt (back seat) can be threaded through for travel. My intent was for them to have a place to put her when they both had to work (the rare occasion). She spent Christmas Eve with us. While I was sewing and to protect her from our nose-out-of-joint cats, I kept her in it. This is the only thing wrong -- it is not weighted, I am sure this is so it can be so flexible -- when she got restless, she began to roll, yes roll, all over the living room in the carrier. He may need to get her a more solid carrier for home, but I do like the car safety feature of this model. It is possible to have the zippered opening toward the door and take her out of the carrier and leaving it in the car if need be.
Sonn1984
I LOVE IT!
I have been looking for a inexpensive but practical crate for months for my now 9 month old puppy Ziggy and couldn't find any. I was at walmart one day and decided to have a look at their crates and saw the one pictured only in blue and was very skeptical at first because puppy claws and fabric doesn't usually mix well. But I bought it anyway and brought it home it was setup in maybe 5 seconds. I slowly introduced him to his new "den" and started closing the zip up door which I love since it doesn't get stuck like the slide and lock doors. He does scratch at the door when I forget his toy outside the door but he hasn't been able to put in a rip in it. I love this and would recommend it to anyone who asks.
rrn90216
I LOVE IT!
I use the pop-open as his play pen when I am not home.
ArCatLady
I LOVE IT!
Our cat just loves her bigger, soft carrier! It is well made and nice and roomy and I love the fact that it folds up very small. Easy to store and that is better than a clunky hard plastic carrier.
tapperOK
very handy
A nice "cave" for small, gentle dogs. Light weight, portable, easy to set up and fold up. Not for "rowdy" dogs.