Sam's Club eGift Card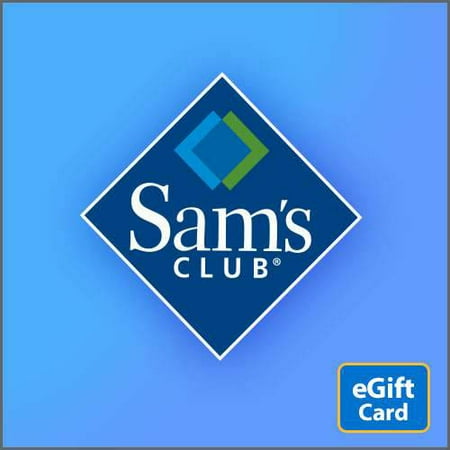 Sale :

$25

Sold & shipped by Walmart
Product Description

Additional Information

Reviews
Product Description
Convenient for you and fun for them, the Walmart eGift Card is great for anyone, any time of year. Basic Blue gift cards arrive immediately by email, or within 48 hours at most.
eGift Cards may be redeemed online or in stores.
Additional Information
Easy to Order
Select the Money Denomination, and add the eGift card to your cart.
We'll send you an email that includes the Walmart eGift Card number, PIN and instructions for use on Walmart.com and Barcode, and instructions for use in stores. Just forward the email to your chosen recipient and let them start shopping!
Walmart eGift Cards are sent via email, immediately or within 48 hours at most.
Easy to Use
Online, enter gift card number and PIN during checkout. The PIN provides secure online shopping.
Save your Gift Cards as one of your payment options. Enter the information once — it's saved to your account for convenient access when you make purchases.
Check Walmart eGift Card balance online.
More Information
For purchases at Walmart stores, Walmart.com, Sam's Club and Samsclub.com by SAM's Club members, and at VUDU.com.
No expiration date (subject to applicable law).
Not returnable or refundable for cash except in states where required by law.
By purchasing this eGift card, you agree to Gift Card Terms and Conditions.
Reviews
OldCoot
Don't buy online
My son sent me a Sam's Gift card for Christmas. We tried to use it the other day and was told it is not active. What does that mean, I ask. They weren't sure. But they thought I needed to go home and call a 888 number and it would be taken care of. After three calls and three emails to find out how to do it I knew no more then when I started. After telling my son the trouble we were having he checked and found I could not activate it he had to. He didn't know that and was told in a another email which he hadn't read. I haven't tried to use it yet but I would say don't buy them on line. The fellow at the store said if it had been purchased in a store he could fix it. And after telling one of the customer representatives that the club would not accept it, he told me to go back out to the store and try it again. Master mind. First problem I've had with Sam's Club in nearly 25 years.
Coop
Why bother?
If the recipient is not a Sam's Club member, why bother? Sam's up-charges them 10%. Not a good way to introduce a prospective member to Sam's IMO. My friend sent me a card from Sam's and I reciprocated by sending him one from COSTCO. He shopped at COSTCO and paid the member price. I was told that I had to pay 10% up-charge at Sam's. My friend was infuriated. Fortunately, I shop at Walmart frequently so all was not lost but Sam's lost an old member and didn't get a new one.