Thank You Walmart eGift Card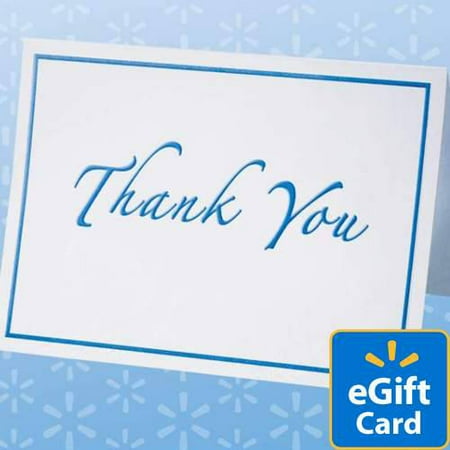 Sale :

$25

Sold & shipped by Walmart
Product Description

Additional Information

Reviews
Product Description
Convenient for you and fun for them, the Walmart eGift Card is great for anyone, any time of year. Basic Blue gift cards arrive immediately by email, or within 48 hours at most.
eGift Cards may be redeemed online or in stores.
Additional Information
Easy to Order
Select the Money Denomination, and add the eGift card to your cart.
We'll send you an email that includes the Walmart eGift Card number, PIN and instructions for use on Walmart.com and Barcode, and instructions for use in stores. Just forward the email to your chosen recipient and let them start shopping!
Walmart eGift Cards are sent via email, immediately or within 48 hours at most.
Easy to Use
Online, enter gift card number and PIN during checkout. The PIN provides secure online shopping.
Save your Gift Cards as one of your payment options. Enter the information once — it's saved to your account for convenient access when you make purchases.
Check Walmart eGift Card balance online.
More Information
For purchases at Walmart stores, Walmart.com, Sam's Club and Samsclub.com by SAM's Club members, and at VUDU.com.
No expiration date (subject to applicable law).
Not returnable or refundable for cash except in states where required by law.
By purchasing this eGift card, you agree to Gift Card Terms and Conditions.
Reviews
SmallBizOwner
Makes my business look pathetic
For years I have been emailing $75 gift cards to my customers. They love receiving them. Recently Walmart made 2 changes that make my business look pathetic. First, they made it so I can no longer email the card directly to the recipient. I have to receive the email and then forward it on to them. That just looks tacky. Second, they took away the $75 denomination. Why? It makes no sense. So if I want to send $75 I have to send a $25 and a $50. Again, pathetic. And when I call customer support, they can't send them directly to the recipient either. They also suggested I just change the denomination. Nope. Until Walmart fixes this, my customers will get Amazon gift cards. On Amazon I can send someone gift card of any amount I choose and I can send them directly to multiple recipients. No, I do not work for Amazon. Walmart, I had to sign in to type this review. That means you have my name and phone number and access to my LONG history of gift card purchasing on your website. Feel free to call me if you would like to win me back.
KCinVA
Impossibly Difficult
Trying to send a thank you gift card of $100 to strangers in rural SC who stayed with my son when his car broke down in a remote area. No where during the ordering process was there a place for me to provide the email information for the people I would like to send the e gift card to, only my own email address. Why would I want it emailed to me? I thought Wal Mart would be a good option given there was a location within 10 miles of their home. The hassle I have to go through is more trouble than it's worth. I did receive an "it's processing" email, but have not received the "it's ready" email. Now I'm searching junk and spam folders looking for the stupid email just so I can forward it? This is a stupid, backward way of doing business. Why does it have to be so hard?
Cathy
Walmart E gift card site
I send E Gift Cards as GIFTS, and that was my intention with this one! However, no where on the page was there a place to designate WHERE to send this "Thank You" e gift card to the person I was thanking! I would not be sending myself a thank you e gift card! I just ordered 2 cards from other sites today, and it was simple. Most e gift cards are going to be just that....a gift sent to the recipients email as a gift!Poor set-up..........disappointing!
Sara
Pointless
The gift card cannot be sent to anyone other than the one purchasing it, nor can you add a message.
Susie
pointless attempt at gift giving
I wanted to send a thank you to a family member for hosting a party. You cannot send the email to the recipient, nor is there a way to add a message. Walmart will send the email to the buyer then we are to forward that email to the recipient, and I guess, add a note in the email. Someone here said thats tacky and i couldnt agree more. Why would a business expect the purchaser to send the email to the recipient?? That more or less negates the idea of sending an e-certificate. Also, when I purchased, or attenpted to purchase the e-card I received an email that they were unable to process my order. I tried twice..no more. Looks like it will be an Amazon gift card from now on.....