Birthday Cake Walmart eGift Card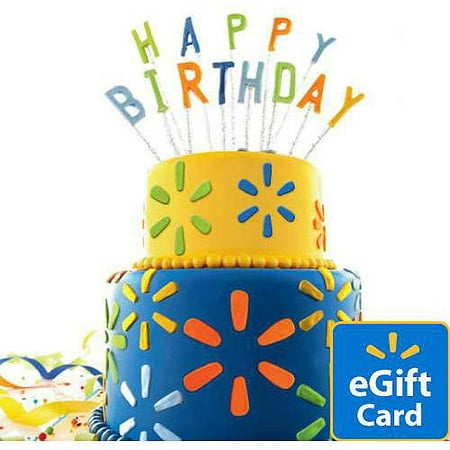 Sale :

$25

Sold & shipped by Walmart
Product Description

Additional Information

Reviews
Product Description
Convenient for you and fun for them, the Walmart eGift Card is great for anyone, any time of year. Basic Blue gift cards arrive immediately by email, or within 48 hours at most.
eGift Cards may be redeemed online or in stores.
Additional Information
Easy to Order
Select the Money Denomination, and add the eGift card to your cart.
We'll send you an email that includes the Walmart eGift Card number, PIN and instructions for use on Walmart.com and Barcode, and instructions for use in stores. Just forward the email to your chosen recipient and let them start shopping!
Walmart eGift Cards are sent via email, immediately or within 48 hours at most.
Easy to Use
Online, enter gift card number and PIN during checkout. The PIN provides secure online shopping.
Save your Gift Cards as one of your payment options. Enter the information once — it's saved to your account for convenient access when you make purchases.
Check Walmart eGift Card balance online.
More Information
For purchases at Walmart stores, Walmart.com, Sam's Club and Samsclub.com by SAM's Club members, and at VUDU.com.
No expiration date (subject to applicable law).
Not returnable or refundable for cash except in states where required by law.
By purchasing this eGift card, you agree to Gift Card Terms and Conditions.
Reviews
gr8nana
Gift Cards
I use to love Walmart's gift card options....until their recent changes. I agree with the other review about the gift cards. There is no longer an option to have the child's name on the gift card, as well as including a special message. Now the gift card comes with MY name and is sent to My email address. Since most of my great grandchildren live in another state, I liked that I could put the child's name on the gift card and write a special message to that child. It just doesn't make any sense having my name instead of the child's name and no place for a nice message; especially since they are being sent to my young great grandchildren...(10 of them, ranging from age 2 to 15). I won't be buying anymore of these gift cards unless Walmart goes back to the prior format or whatever you call it.
Ginger
Gift card only sent to my email address...why!
This is my first time to order an email card online from Walmart. It will be my last time unless Walmart makes a change to accommodate their customers. Why would I go to the trouble of sending an email gift card to myself with my name on it and then have to forward the email to the person I am buying the card for? On top of that, my name is on the gift card, not the birthday person. This makes no sense to me and truly instead of enjoying the convenience of online gift giving, I am angry with Walmart and will not shop there until I can calm down. Walmart, what are you thinking? I read the other negative reviews, after the fact, and as a business owner, myself, and a very profitable Walmart customer, I trust Walmart listens and makes this right.
Tux2
Needs Work
As the other reviewers have stated the gift card goes to your email address. However when I forwarded it I changed the title, removed all the stuff on top of the email, and edited the forwarded email with my recipients name and I also wrote a message in the box. So although it may not be intuitive you can customize the email when you forward it without it looking like a forward. Also, I was able to select the lower denominations, you just need to scroll up in the list as $25 is selected by default.
da66
Walmart you need to improve your eGift cards!!!!
Just like previous reviews, you cannot customize the eGift card for the person you are giving it to. You also cannot have it emailed directly to them and you cannot include a message. I also could not place my order because the email on my Walmart account did not match the email on my credit card account. I could not change the email on my Walmart account because a sale was pending! I opened a new account so now I have two at Walmart!! Still had to forward the gift card with my name to my nephew. If he didn't really want the Walmart card I would have gotten one from a different store. Happy Birthday!!
Chris
48 Hours to receive the gift card email???
Not only did they remove the option to send to recipient's email address (it now comes directly to you) but under the shipping options it states the gift card email will be send "shortly" after payment. However when I paid, the message stated that the gift card will be emailed to me WITHIN 48 HOURS. Sorry, but that is not shortly. I used to send these when I inadvertently forgot a birthday so I could still get a gift to the recipient on time, but it seems that I'll need to switch to Amazon instead.