Logitech K120 Ergonomic Desktop Wired Keyboard, USB, Black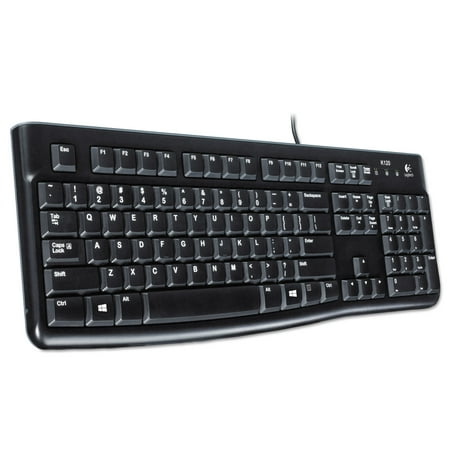 MSRP :

$9.94





Sale :

$9

Sold & shipped by Walmart
Product Description

Additional Information

Reviews
Product Description
The Logitech K120 Keyboard is a hard-wired keyboard you can use to replace the existing one on your desktop PC or attach it to your laptop if you prefer the look and feel of a standard keyboard. Your will enjoy working with the low-profile keys as they barely make any noise when you are typing surfing the web. This Logitech keyboard features a standard keyboard layout with its full-size F keys and a number pad. The thin and sleek design allows you to keep your hands in a relaxed, neutral position for effortless typing. This spill resistant keyboard drains away any liquid that has been spilled on it before any harm can be done, thereby protecting your investment. The sturdy, adjustable legs allow this Logitech keyboard to adjust to an ergonomically satisfying 8 degree angle.

Additional Information
Corded keyboard offers low-profile, whisper-quiet keys with a durable, spill-resistant surface
Curved space bar keeps your hands in a more neutral position for greater typing comfort
USB connectivity for desktop, laptop or notebook computer
Durable, easy-to-read keys can last up to 10 million keystrokes; sturdy, adjustable legs increase tilt by eight degrees
Compatible with Windows XP, Vista and 7 or Linux kernal 2.6 plus
Reviews
computerluv
Basic keyboard that rocks
I love this keyboard. Its simple, but it says it. The keys are light to the touch and typing on it is really smooth. Those of you who are real typist will notice the touch of this keyboard immediately. I've used alot of keyboards in my time and either the keys are to sensitive or you have to really press. This keyboard has just the right balance of touch and snap back.
rumpled4skin
simple, small and durable
for the money i think this is the best basic keyboard the store has to offer! i have only had it for a couple days full size key setup compact size overall i would buy another if needed!
Smoothluver
Everything I Wanted For a Dirt Cheap Price
I have several Logitech products and every one of them worked perfect the day I bought them and still do. This Keyboard is proving to be no exception. Extremely simple Plug & Play installation. No drivers needed. Windows already has them. This keyboard replaced a very dated one that I had been using for years on various PC's. The keyboard on my laptop had so many keys that stopped working I finally just hooked up this external keyboard to run it. This board is MUCH better than my old one. The keys are more low profile making it much easier to type. Plus you just touch them and you've got your letter. VERY quiet, my old one clattered like horse hooves on cobblestones. I like the black color....it's not as glary as my white one was. It's lightweight but it doesn't feel cheap. It's exactly what I was looking for and all for under 15 bucks. Logitech makes a very decent product. My Z523 computer speakers made by Logitech have incredible sound for their size. The subwoofer pumps out a crisp clean THUMP and the Midrange Tweeters are clear and bright. The sound is every bit as good as a pair of Sony floor standing tower speakers I had that cost twice the price.
msclarke
Great keyboard
The keyboards that currently come with newer computers have what I call flat, smaller, slippery keys that fail to give a sense of where fingers are leading to many typing mistakes. This keyboard has the concave keys, rougher texture and full size function keys with which keyboarders who started out on typewriters and keyboards on older generation of computers are familiar. I am finally able to complete a document without having to constantly correct typing mistakes.
SHAFEE
DATAHIVE Product Review (Logitech K120)
Logitech K120 Keyboard: Works like a dream and I only paid $10 for it at the physical Walmart merchant store. Its affordable, liquid-proof, USB 2.0/3.0 compatible and you can even get a PS/2 convertor to connect it to old PS/2 mouse connections (the round holes from back in the day). Its very light weight and can easily be lifted with a pinky with good balance. If you're angry, you can beat on the buttons as much as you want, but don't go all out or you could break the plastic chassis. Its plug and play thanks to the USB connection. If you don't have enough USB connections, simply buy a USB 2.0/3.0 HUB and you're good to go! All the keys/buttons have large prints of the letters, numbers and words on them so you won't have to squint your eyes all the time. The only drawback is this keyboard doesn't light up in the dark like other keyboards which are more expensive. Once you have any keyboard memorized, you won't need it to light up in the dark. (This has been a DATAHIVE Product Review by SHAFEE. I have not been paid by Walmart or its business affiliates to write this review, but I wish I was!)