Logitech K120 Ergonomic Desktop Wired Keyboard, USB, Black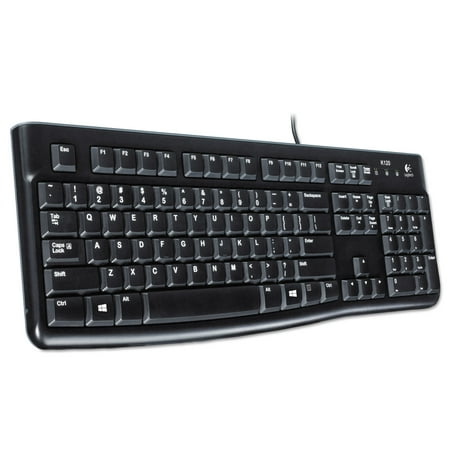 MSRP :

$52.99





Sale :

$9.94

Sold & shipped by Walmart
Product Description

Additional Information

Reviews
Product Description
The Logitech K120 Keyboard is a hard-wired keyboard you can use to replace the existing one on your desktop PC or attach it to your laptop if you prefer the look and feel of a standard keyboard. Your will enjoy working with the low-profile keys as they barely make any noise when you are typing surfing the web. This Logitech keyboard features a standard keyboard layout with its full-size F keys and a number pad. The thin and sleek design allows you to keep your hands in a relaxed, neutral position for effortless typing. This spill resistant keyboard drains away any liquid that has been spilled on it before any harm can be done, thereby protecting your investment. The sturdy, adjustable legs allow this Logitech keyboard to adjust to an ergonomically satisfying 8 degree angle.

Additional Information
Low-profile keys barely make a sound for comfortable, quiet typing
Spill-resistant design eliminates worry of accidental spills
Thin profile keeps your hands in more comfortable, neutral position
Durable keys last up to 10 million keystrokes for long-lasting use
Plug-and-play technology allows immediate use with no software to install
Reviews
happeeface
Great plug-n-play keyboard, easy to work with
Very nice keyboard, simple and to the point, plug and play, was working like a clockwork immediately after having been plugged in. I do online blogging that involves lots of typing, and this keyboard is perfect for my needs. I just needed a basic functionality that this Logitech keyboard delivered. It is quiet, has low profile keys, matte surface finish, non-skid legs, and has a softer feel to it. A great keyboard and you can't beat the price.
ibentheredonethat
Great plug-n-play keyboard, easy to work with
My dell keyboard got fried when a drink spilled on it. I was blown away when I received this one. I ordered it online because it looked better and a better price than the ones in the Walmart stores. In fact, I looked for this keyboard in 2 Walmart stores. I trust the Logitech name. This keyboard is much sturdier than the dell keyboard that came with my desktop. It is has enough weight to it that it does not move at all when using it! The letters and numbers are brighter or larger because I can definitely see them better. The price was outstanding, and I received it in TWO days! The size is perfect. I do not like a tiny keyboard. This is a full-size keyboard and works right out of the box after plugging in the USB cord. I am so very happy with this, I am sure I will purchase another if anything ever happens to this one. I highly recommend this keyboard! It's the best one I have ever used including the ones at work, and I have had keyboard experience since I first got my first desktop in the 1980's!
SHAFEE
DATAHIVE Product Review (Logitech K120)
Logitech K120 Keyboard: Works like a dream and I only paid $10 for it at the physical Walmart merchant store. Its affordable, liquid-proof, USB 2.0/3.0 compatible and you can even get a PS/2 convertor to connect it to old PS/2 mouse connections (the round holes from back in the day). Its very light weight and can easily be lifted with a pinky with good balance. If you're angry, you can beat on the buttons as much as you want, but don't go all out or you could break the plastic chassis. Its plug and play thanks to the USB connection. If you don't have enough USB connections, simply buy a USB 2.0/3.0 HUB and you're good to go! All the keys/buttons have large prints of the letters, numbers and words on them so you won't have to squint your eyes all the time. The only drawback is this keyboard doesn't light up in the dark like other keyboards which are more expensive. Once you have any keyboard memorized, you won't need it to light up in the dark. (This has been a DATAHIVE Product Review by SHAFEE. I have not been paid by Walmart or its business affiliates to write this review, but I wish I was!)
Smoothluver
Everything I Wanted For a Dirt Cheap Price
I have several Logitech products and every one of them worked perfect the day I bought them and still do. This Keyboard is proving to be no exception. Extremely simple Plug & Play installation. No drivers needed. Windows already has them. This keyboard replaced a very dated one that I had been using for years on various PC's. The keyboard on my laptop had so many keys that stopped working I finally just hooked up this external keyboard to run it. This board is MUCH better than my old one. The keys are more low profile making it much easier to type. Plus you just touch them and you've got your letter. VERY quiet, my old one clattered like horse hooves on cobblestones. I like the black color....it's not as glary as my white one was. It's lightweight but it doesn't feel cheap. It's exactly what I was looking for and all for under 15 bucks. Logitech makes a very decent product. My Z523 computer speakers made by Logitech have incredible sound for their size. The subwoofer pumps out a crisp clean THUMP and the Midrange Tweeters are clear and bright. The sound is every bit as good as a pair of Sony floor standing tower speakers I had that cost twice the price.
ThatGuy
A bit temperamental but basically functional.
Bought this as a replacement after spilling some soda on my original keyboard. I purchased this specifically because of the USB connection as well as the low price (low but not lowest -- learned my lesson there a few times). It is on a Dell desktop with Windows 7. It took about 2 minutes for the computer to recognize it the first time. Took a day or two for my left shift button to work and it seems other keys took a while to work as well. OFTEN it behaves as tough the "+" is being pressed. Also, when online playing Trainstation on Facebook, it occasionally zooms in on the flash animation (this has been isolated to the keyboard, though I can't explain why this would happen). Over time these quirks have been working themselves out, but the + thing still happens frequently. It does what I need it to do, but it does not appear to be completely compatible. As long as it continues to work at least this well, I'm not going to bother replacing it, but if I spill more soda, I'm going to try another model.