Logitech Corded Mouse M100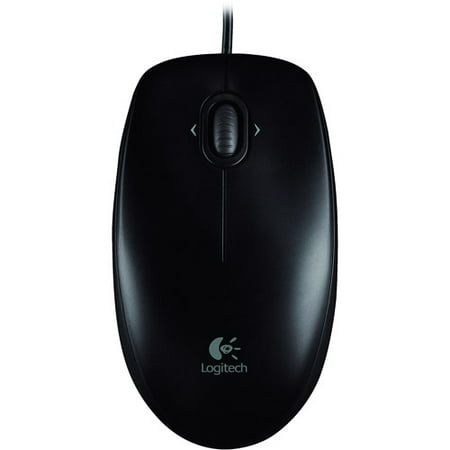 MSRP :

$9.97





Sale :

$8.99

Sold & shipped by Walmart
Product Description

Additional Information

Reviews
Product Description
Designed ergonomically, the Logitech Corded Mouse M100 lets you work comfortably at your computer. With its ambidextrous design, the Logitech optical mouse can be used by both right- and left-handed users. The simple design of this product makes it easy to use. Setting up this mouse is straightforward. Simply plug it into the USB port of your computer. The Logitech wired optical mouse features high-definition optical tracking that provides accurate control and makes object selection a breeze. This USB mouse also offers side-to-side scrolling that makes navigation between spreadsheets and scrolling through documents effortless. The multi-function scroll wheel makes this USB corded mouse more convenient to use. The black color of this product allows it to match most modern keyboards.
Additional Information
Logitech Corded Mouse M100:
Ambidextrous design
This USB corded mouse provides high-definition optical tracking
Side-to-side scrolling plus zoom
This Logitech wired optical mouse relies on USB connectivity
Reviews
fashiongrad
3 year warranty
I purchased this mouse because of price, 3 year warranty, and being ambidextrous. I got it, plugged it in and have been using it ever since. So far so good, no complaints.
JustBobby88
Both highest quality and cheapest mouse.
I can't recommend the Logitech Corded Mouse M100 enough. It is the cheapest mouse in my local Walmart store. It only cost $10.96. This mouse is the highest quality mouse I have ever used. It offers perfect, precise control out of the box, while my three five year old Microsoft mouses struggle to move the cursor. This mouse is the best, there are no quality alternatives.
caliper
corded mouse
fits contour of the hand perfectly
Patriot59
Best buy for a reliable accurate mouse
I got this mouse in-store for this price, but oddly it was the more expensive gray and black one instead of the all black one shown here for $9.97, model # is the same M100 on both - no matter I would buy either color as its about the best mouse ive ever had and didn't have to pay stupid money for. In fact its better than two other M----soft mice I paid notably more for - I will soon be buying another one for my other computer, because it seems soon as you find a good product you like it always gets pulled off the shelves soon after you buy one. Ive also had it with cordless mice, they all take batteries, glitch out early or just don't work right at some point. This optical wired mouse is affordable, has a decent cord, is stone solid reliable and as long as I keep getting this kind of performance at this price Logitech is all I will buy from now on - I have a drawer full of mice that "sort of' work I keep as backups, but now im considering tossing them all and buying two or three more of these M100's -- I highly recommend this as a reliable accurate basic mouse.
Geeeeeeee
LET ME HELP
ALLOW ME TO CLEAR THE CONFUSION. I BOUGHT THE M100 AND IT WORKS LIKE IT IS REPRESENTED. IN ORDER TO ACTIVATE THE TILT FEATURE YOU NEED TO SLIGHTLY PRESS DOWN ON THE "SCROLL WHEEL" UNTIL IT CLICKS. THEN YOU WILL SEE THE SMALL FOUR ARROWS NEXT TO THE CURSER. MOVE YOUR MOUSE NORTH,SOUTH,EAST OR WEST AND VOILE', THE TILT FUNCTION.. THE M 100 IS A FULL SIZE MOUSE. THE CENTER SCROLL IS NOT SMOOTH BUT IT WORKS FINE. THE BRIGHT RED LED LASER LITE BELOW WORKS ON ANY SURFACE WITHOUT JUMPING OR SKIPPING. THE USB CORD IS THICK AND DOES NOT RETRACT. ** Just plug it in and it works.** P.S. SAVE MONEY- BUY ONLINE AND SHIP TO STORE FOR FREE .. I PAID $9.82 AT A FLORIDA WALMART STORE. *** ADVERTISED ONLINE FOR $7.82. (TWO BUCKS)