Logitech Corded Mouse M100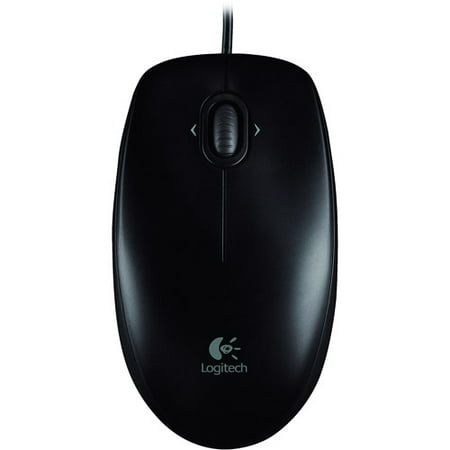 MSRP :

$9.97





Sale :

$4.89

Sold & shipped by Walmart
Product Description

Additional Information

Reviews
Product Description
Designed ergonomically, the Logitech Corded Mouse M100 lets you work comfortably at your computer. With its ambidextrous design, the Logitech optical mouse can be used by both right- and left-handed users. The simple design of this product makes it easy to use. Setting up this mouse is straightforward. Simply plug it into the USB port of your computer. The Logitech wired optical mouse features high-definition optical tracking that provides accurate control and makes object selection a breeze. This USB mouse also offers side-to-side scrolling that makes navigation between spreadsheets and scrolling through documents effortless. The multi-function scroll wheel makes this USB corded mouse more convenient to use. The black color of this product allows it to match most modern keyboards.
Additional Information
Logitech Corded Mouse M100:
Ambidextrous design
This USB corded mouse provides high-definition optical tracking
Side-to-side scrolling plus zoom
This Logitech wired optical mouse relies on USB connectivity
Reviews
Unknown Customer
Mouse Goes to Bootcamp
I installed Windows 10, thru Bootcamp for Mac OS X. Those of you that have also done this have found the trackpad to be a limitation. Having reacquainted myself with Microsoft Visual Studio Suite, I found it VERY necessary to bring back the mouse. The Logitech Corded Mouse M100r, which is branded to work with Windows, Mac, or Linux, installed and worked flawlessly with Windows 10, in Bootcamp. On the box, the system requirements are for: (read as "copyright Windows") Windows XP Windows Vista WIndows 7 or Windows 8 Mac OS X 10.5 or later (read "copyright Mac OS") My configuration is: MacOs Sierra Version 10.12.2 MacBook Pro (Retina 15 inch Early 2013) 2.7 Ghz Intel Core i7 Plugging the mouse into an available USB port, on a Mac Book Pro, with Ivy Bridge, worked right out of the box. Left click, Right click, and scroll are fully supported, as expected. Fully corded, with the following text imprinted on the mouse bottom: "3D Optical Mouse, Rating 5V 100ma" Good mouse. Great value.
Patriot59
Best buy for a reliable accurate mouse
I got this mouse in-store for this price, but oddly it was the more expensive gray and black one instead of the all black one shown here for $9.97, model # is the same M100 on both - no matter I would buy either color as its about the best mouse ive ever had and didn't have to pay stupid money for. In fact its better than two other M----soft mice I paid notably more for - I will soon be buying another one for my other computer, because it seems soon as you find a good product you like it always gets pulled off the shelves soon after you buy one. Ive also had it with cordless mice, they all take batteries, glitch out early or just don't work right at some point. This optical wired mouse is affordable, has a decent cord, is stone solid reliable and as long as I keep getting this kind of performance at this price Logitech is all I will buy from now on - I have a drawer full of mice that "sort of' work I keep as backups, but now im considering tossing them all and buying two or three more of these M100's -- I highly recommend this as a reliable accurate basic mouse.
Glen
OK, with some reservations
I debated with myself about giving this a two-star rating. The scroll wheel was very stiff when rolling up, but much less so when scrolling down. If I pressed slightly sideways on the wheel when scrolling up it was much easier to move. If I pressed the wheel sideways in the other direction it was much harder to move. I went ahead and gave a three-star rating because the stiffness seems to be getting better as I use the mouse. It may have just been a bit of excess plastic from production that needed to be worn off or some such thing. Other than that initial excessive stiffness in the scroll wheel, the overall (subjective) feel of the mouse is fair. The buttons work OK and the fit in my hand is acceptable. All things considered, it is about what one would expect for a $5 mouse. I could see using these in a school lab environment where students may tend to be a little hard on equipment or for very basic home computer use for a tight budget. But if you can afford it I would recommend spending a little more for a much better experience. I don't know if it is allowed to say so here or not, but the MS mouse I ordered (and reviewed) for $12 was worth the extra money in my opinion. It would likely have been true for a Logitech or other brand name mouse if I had been able to find one in that price range.
TarBaby
No more problems.
I hate wireless mice and this wired mouse works fine.
DJ
Good mouse for the price
Good mouse, thought the right button was just a little hard to press, otherwise no issues.