As Seen on TV Polar Pooch Cooling Mat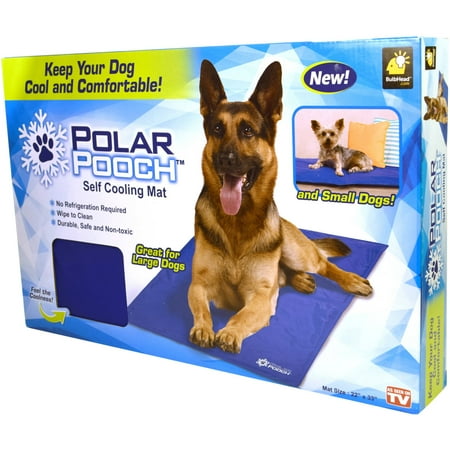 MSRP :

$19.88





Sale :

$18.42

Sold & shipped by Walmart
Product Description

Additional Information

Reviews
Product Description
Keep your favorite furry friend calm, cool and comfortable with the versatile Polar Pooch Pet Cooling Mat. It is made with a durable pressure-activated gel core that begins working as soon as your dog lies down on it. This pet mat works for up to three hours at a time. To recharge, simply stop using it for 15 minutes and it will self-cool and be ready to start cooling your pet all over again. Ideal for small, medium and large dogs, this Polar Pooch cooling mat is suitable for indoor and outdoor use. It requires no refrigeration and is safe and non-toxic. xzxz
Additional Information
With a fur coat and no sweat glands, dogs are only able to cool themselves via panting and sometimes that is not enough to cool a dog hard at play. The As Seen On TV Polar Pooch Self Cooling Mat provides a safe and easy way for your dog to cool down. Measuring at 34" L x 22" W, this cooling pad uses a non toxic, no need to refrigerate cooling gel that will keep your dog cool for hours; this pad will also return to its normal chilled state just after 15 minutes of not being used! The As Seen On TV is ideal for almost any size dog. Great for inside, outside, in the car or the dog cage! Requires no special cleaning formula just simply wipe to clean! Keep your dog cool and comfortable throughout the year with the As Seen On TV Polar Pooch Self Cooling Mat! window.dataLayer = window.dataLayer || []; function gtag(){dataLayer.push(arguments);} gtag('js', new Date()); gtag('config', 'UA-112193061-1');
Reviews
Juliasjoy
Don't waste your money it's a piece of junk
I bought this for my Lab and I was so disappointed. The gel portion is not attached to anything and slides or clumps around freely inside the casing. It's impossible to flatten it out so don't ever attempt to pick up the mat to move it or else you are left with an unusable pile of gel. In the photo the gel is to the right of my dogs head all clumped up and the rest of the mat is flat and empty.
ditz
bad
Didn't cool even in the shade
Lorie
Nice thought
I got this for when it was over 100* and our dog wanted to be outside but she really doesn't like to lay on it but it is quite cooler to my touch ! Just that the princess prefers to be in the AC on the couch !
Dana
Polar Pooch
My husband & I were strolling through WalMart and he happened to see this mat on a shelf and pointed it out to me. We do not own dogs. However, I have issues with night sweats and have tried almost everything including adding a window ac unit to our bedroom. I thought, what the heck. the mat is inexpensive enough that if it doesn't work, I can donate it to a rescue group. It works very well. As a matter of fact, I slept with it, and didn't notice that it had quit cooling until almost 4:00 in the morning! I am usually in a constant state of movement trying to find the cool spot. I may go back for another one. Right this very instant, I am sitting on it in my office! It doesn't seem to be slick and although it is draped over the seat because it is too large, I do not have gel issues, yet. I have been sitting on it for 3.25 hours. I actually wish I could find one about 1/3 smaller. That would be perfect for my chair and my pillow!
PuppyBlue
Turned our puppy BLUE
Beware of this product. We bought this product for our 3 month old sheepdog puppy. She loved the product, however, one very early morning, around 4am she was in her crate and starting whining. So I got up and took her outside to relief herself. She came back in and went into her crate. I didn't realize she was wet from the dew on the grass. In the morning around 8am when we took her out of her crate we discovered we had a "blue" dog. Her white legs, underbelly and chest were blue. Smurf blue! We tried bathing her and it didn't come out. I mixed up some peroxide with some shampoo as I am a hairdresser and tried applying that without gloves to make sure it wouldn't burn her. Even with that mixture very little blue come out, it had definitely stained her coat. We took her to the groomer they tried but ended up shaving down her legs and underbelly not to the skin but short. She is still a silver blue and we will have to wait for her coat to grow out a bit more and trim it again. It's NOT coming out... Do not purchase this product! I found an AKC cooling mat, its much nicer and its beige, so there shouldn't be any color issues.